ENGLEWOOD, Colo. --The Broncos' second organized team activity saw the "No-Fly Zone" live up to its reputation with a strong day.
Here's what happened during the practice:
... CBs Aqib Talib and Bradley Roby each intercepted passes, with Roby returning his pick for a touchdown. Lorenzo Doss joined them with a leaping, one-handed stab that was among the highlights of the practice.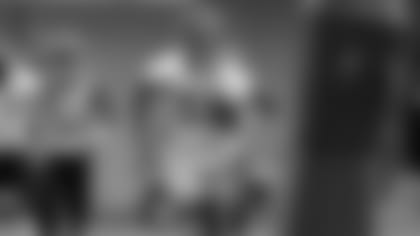 Doss's interception was not the only play he made on the ball. During a seven-on-seven period, he nearly intercepted another pass. That Doss is around the ball so often should come as no surprise, considering that he made five interceptions during an eight-practice stretch during last year's training camp.
Doss has a chance to earn the No. 4 cornerback spot in the wake of Kayvon Webster's free-agent departure. With more days like Wednesday, he could seize the spot.
"The thing that he proved last year when he did play was that when he gets on the field, he has the potential [and] the instincts to make plays on the ball. That's just his nature," Defensive Coordinator Joe Woods said. "So the biggest thing for him is to continue on that same progress."
... QB Paxton Lynch showed good decisiveness under pressure, delivering several passes as the pass rush bore down on him. Lynch also scrambled for a solid run after he quickly stepped up out of pressure off from the edge from Von Miller and Shane Ray during a team period late in practice.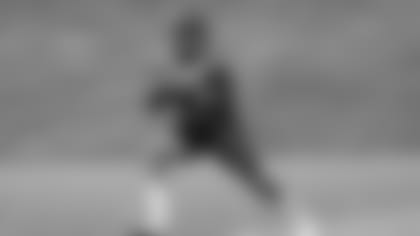 ... Rookie WR Carlos Henderson had a strong day, and showed signs that he could be part of the answer as the Broncos look to find effective short-range options working out of the slot. Late in practice, QB Trevor Siemian found him on a pair of short passes that Henderson extended into lengthy gains.
But Henderson isn't just about short receptions; as he showed at Louisiana Tech, he can get downfield. His first reception saw him break open 15 yards downfield, allowing rookie QB Kyle Sloter to locate him near the sideline despite pressure from rookie OLB Ken Ekanem.
... Fifth-round pick Isaiah McKenzie accounted for the offense's longest gain of the day, using his 4.42 speed to sprint up the right sideline for a touchdown pass from Sloter.
... Siemian and WR Cody Latimer collaborated on one of the best pass plays of the day, connecting on a deep post route during a seven-on-seven period.
... Second-round pick DeMarcus Walker is still finding his way, but he showed good recognition and explosiveness to burst into the backfield on a handoff to Juwan Thompson, forcing the fourth-year back to turn outside toward the sideline.
... First-round choice Garett Bolles had some promising flashes, including one play when he helped spring Devontae Booker for a long gain on a handoff from Siemian.
... Booker, Thompson, C.J. Anderson, Bernard Pierce, and rookie De'Angelo Henderson all ripped off solid gains, showing quickness in their cutback moves.
... Free-agent pickup Kasim Edebali and second-year veteran Vontarrius Dora each generated pressure working from outside linebacker during team periods.
... Sloter showed accuracy and composure for a second consecutive day. He smoothly fielded a pair of slightly high snaps late in the practice.
... If new Special Teams Coordinator Brock Olivo can have the same kind of success that his mentor, Dave Toub, achieved in Philadelphia, Chicago and Kansas City, the Broncos will have one of the best special-teams units in the sport.
To that end, Olivo has incorporated plenty of concepts of Toub's teachings, while also using ideas shared by Special Teams Assistant Chris Gould, who worked under Joe DeCamillis the last two seasons. The result is a melding of ideas that Olivo believes will bring out the best in his units.
"It's a great way to create this hodgepodge. You pull together all the good ideas that you think are the best of what we know, and we roll from there," Olivo said. "The majority of it is the stuff I brought from Kansas City, no question. But as I've said many times before, I'm very fortunate to have Chris Gould as my assistant, because he brings a lot to the table."
Given the type of detailed work the special teams has received so far, it ought to be well-prepared for the season.