ENGLEWOOD, Colo. --It is impossible to deny that the Broncos' offense has been more effective and efficient in shotgun formations the last two weeks than with Peyton Manning under center.
"Well that's true," Head Coach Gary Kubiak said Monday. "I mean, we've got to get better in a lot of areas. But, no, I would agree with that."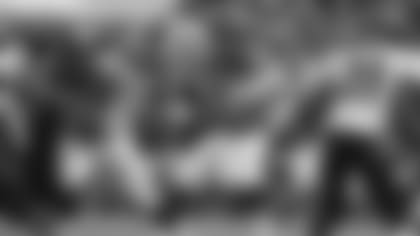 When passing from the shotgun, the Broncos have averaged 5.0 yards per pass play and moved the sticks once every 3.27 pass plays. When passing from under center, the Broncos have averaged 1.4 yards per pass play -- a figure skewed by an extreme sack rate (one every 6.3 pass plays) and have achieved first downs once every five pass plays.
There's a bit more balance in production on the ground; the Broncos average more yardage per carry from the shotgun (3.33 yards) than under center (2.68), but are much more effective at getting first downs from under center (one every 5.7 carries) than from the shotgun (just one in 12 rushes). (Those numbers are adjusted to eliminate the game-ending kneeldown in Week 1.)
But that output is hardly optimal. The Broncos' rushing game ranked 27th in first-down rate and 31st in yardage per carry heading into Monday night, and the rest of the offense's issues flow from there.
"The biggest thing offensively to me is protecting the quarterback and finding a way to make big plays in this league, and the thing that enables you to do those two things is running the football, and we're not running the ball well at all," Kubiak said.
The overall numbers -- 4.76 yards per play and one first down every 3.65 shotgun snaps compared with 2.20 yards and one first down every 5.40 snaps under center -- tell the story of an offense still finding its way. Even the stats in the shotgun would have ranked 30th (yards per play) and 20th (first-down rate) last year.
Kubiak has made it clear that he wants the offense to become more physical. And while running the football is usually easier under center, the discrepancy in production over the last two weeks begs the question: Can the offense be sufficiently physical and effective on the ground out of the shotgun?
"It comes as a team, regardless of whether you're under center or in the gun: You've got to be physical running the football," Kubiak said. "I think it's pretty obvious when you look around the National Football League.
"Running the ball out, to be honest, is a challenge at times. If that's something you're doing best, you've got to find a way to run it that way. Being physical is a state of mind. It's an identity. It's a commitment. It's not something you talk about and go do. It's something you work at all the time."
It's something that should improve with cohesion -- whether the Broncos work under center or in the shotgun. Both have different techniques, but as tight end/fullback James Casey noted, each formation can result in the physical football Kubiak wants.
"Oh, yeah. It's just how you're giving the ball to the running back," Casey said. "It's a little bit different angles for the running back, and the line has got to get used to the different angles of how the defensive line is going to attack them, because it's coming from a different angle from the shotgun as opposed to under center, but, yeah, you can do it either way.
"And you want to be dynamic. You want to do both so you're not one-dimensional. We're working on a lot of different things, and we're going to show teams a lot of different stuff, and we're going to get this running game going."
The Broncos are 2-0, so they've withstood the issues. But even with an elite defense, the Broncos can't sustain their solid start without fixing the issues on the ground.
"We've had to throw the ball a lot to find a way to win at the end of the game. That's what we've had to do," Kubiak said. "It still gets back to when you're all said and done, are you going to have any physicality about you? Are you going to be able to do that?
"We've got to continue to push ourselves to get better at that."