ENGLEWOOD, Colo. -- **Peyton Manning, Aqib Talib and Kayvon Webster did not practice as the Broncos began their preparations for the Detroit Lions.
Manning was at practice and wore a helmet, but only had mental and walk-through repetitions as he took a rest day similar to the ones he received during OTAs, minicamp and training camp.
"He threw the ball a lot on Monday, so we're going to get him in the routine of how we're going to do it through the course of the season," Head Coach Gary Kubiak said.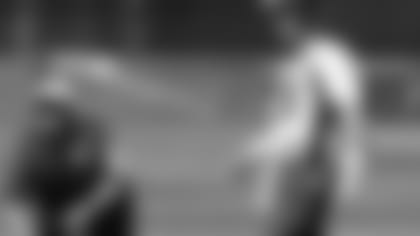 Manning didn't throw, but did get mental repetitions.
"I was out there, doing everything that I can, participating in the walk-throughs and the blitzes," he said. "I feel like I was into it, and I'm trying to take advantage of it."
Talib was sent home because of an illness. He was the second player to miss practice in recent weeks because of illness; WR Andre Caldwell was sent home from practice on Sept. 10.
"We've had a few guys with it, so it's kind of bounced around the last couple of weeks," Kubiak said. "[Talib] came in this morning and was feeling really bad. He tried to go to meetings and stuff, but the doctors sent him home. We expect him back [Thursday]."
DE Kenny Anunike (knee), safety Omar Bolden (foot) and RG Louis Vasquez (knee) saw limited work. Anunike has made it through two consecutive practices after missing four weeks following a scope on his right knee Aug. 20.
The Broncos wide receivers got plenty of reps to start the second practice of the week and lead off our practice gallery.