ENGLEWOOD, Colo. -- **OLB Shane Ray was back at practice for the first time since suffering a sprained medial collateral ligament on Oct. 18, but OLB DeMarcus Ware was out as he deals with back spasms that recurred Sunday.
The timetable for a recovery from a typical MCL sprain is anywhere from three to six weeks, and Ray's return to practice three and a half weeks after the injury put him right in line with that timetable.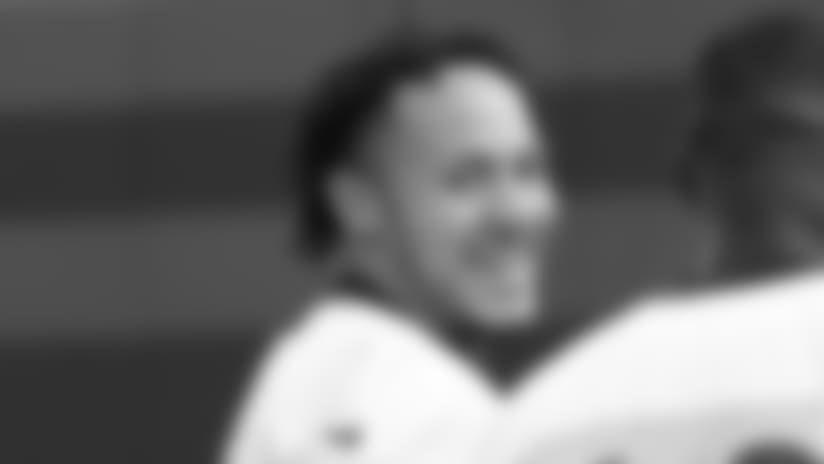 "He looked good," Head Coach Gary Kubiak said. "We did a lot of teaching today. We maxed up on reps -- we did double what we normally do on Wednesday. We did a lot of teaching."
Ray is expected to be full speed Thursday, Kubiak said. If he responds well, Kubiak expects him to be "ready to go" for Sunday against the Chiefs.
Ray looked quick in individual drills and appeared to move and cut with no limitations.
"I felt good," Ray said. "I didn't feel any pain. I felt comfortable. I just felt like me again. Hopefully I'll be back on the field soon and I'll be able to play.
"I actually felt a little bit fresher because I've been down for four weeks. I'm excited to see what I do when I get back on the field."
The Broncos will exercise caution with Ware, given that he has dealt with back issues twice in the last month.
"Is that going to be a week? Is that going to be two weeks? I think it's going to be a day-to-day thing," Kubiak said. "He was really sore coming out of the [Colts] game, moving around very gingerly."
But Kubiak added that Ware was moving around well Wednesday, even though he did not practice.
"I think we're very fortunate. We've just got to make sure that we get him good and well before we bring him back, and hopefully he's there for the long haul."
With Ware and Ray's health in mind, DE Kenny Anunike worked with the outside linebackers during their drills at the start of practice. Kubiak indicated in October that with Ray and Ware fighting their injuries at the time, the second-year veteran would be an option to work as part of a rotation.
Anunike was a 4-3 defensive end last year before moving inside after the Broncos converted to a 3-4 alignment His edge-rushing skills make him a contingency plan, even though his 275-pound frame is larger than that of the typical 3-4 outside linebacker.
QB Peyton Manning watched his fellow quarterbacks go through drills as practice began Wednesday as he received a rest day because of soreness in his foot.
"It's just really sore coming off the [artificial] turf [in Indianapolis]," Kubiak said. "It's been sore for a couple of weeks."
Manning will be day-to-day, Kubiak added, noting that he expects him to practice Thursday "unless something changes."
"It's kind of that time of year where you have different things, like all players," Manning said. "But we made some progress today and hopefully it will get a little better [Thursday]."
He saw limited work in last Wednesday's practice, focusing on mental repetitions and handoffs, and practiced the previous Wednesday, but sat out the Wednesday sessions from Week 3-6. (The Broncos did not have a Wednesday practice in Week 2 because that week's game took place on a Thursday night.)
WR Emmanuel Sanders (ankle) and TE Owen Daniels (shoulder/knee) joined Manning and Ware out of practice. Both were on hand at the session.
WR Jordan Norwood saw limited work Wednesday. He was back catching passes for the first time since he injured his hamstring at the start of the Oct. 30 practice.
Norwood did not practice last week, although he was on the field last Friday in injury rehabilitation work with Strength and Conditioning Coach Luke Richesson.
---
Emergency Room Care/ Denver ERs
The HealthONE System of Hospitals now offers you and your family convenient ways to find the closest HealthONE ER and average wait times. HealthONE's Fast LocatER is our mobile suite of tools that you can take with you on the go.
Our 24/7 Emergency Rooms for adult and pediatric patients are prepared to serve your medical emergencies. Get our average ER Wait Times by texting "ER" to 23000. Standard message and data rates may apply.
Phone Service

Prefer to call? Just dial 720-523-3888 and enter your zip code, and you will receive our closest HealthONE ERs.