ENGLEWOOD, Colo. --Left tackle Ty Sambrailo and wide receiver Cody Latimer returned to practice, but several key players were sidelined because of injuries or the need for rest as the Broncos began their preparations for the Cleveland Browns on Wednesday afternoon.
Sambrailo (shoulder) and Latimer (groin) did not practice last week, and neither played against Oakland. Sambrailo's practice work was his first since he suffered the shoulder injury in the second half of the Sept. 27 win at Detroit.
Ryan Harris and Tyler Polumbus have worked at left tackle in Sambrailo's place the last two weeks.
Sambrailo practiced on a limited basis Wednesday, taking part in the individual periods
"We're hoping tomorrow is better," Head Coach Gary Kubiak said. "We'll keep going day to day. We'll see if we put the pads on him tomorrow and we'll make a decision."
Eight players did not practice Wednesday:
TE Owen Daniels:He received an off-day. Daniels has been given veteran's rest days in recent weeks, but those were on Thursdays.
QB Peyton Manning: For the fourth consecutive week, Manning received a Wednesday rest day. Having the off-days for Manning and Daniels coincide should provide extra opportunities for the pair to hone its collective timing in practice.
LG Evan Mathis:Mathis has been given rest days the last two weeks as he deals with a hamstring injury, and was in a baseball cap standing near the offensive linemen Wednesday.
CB Aqib Talib:He was on the field, but was in a bucket hat watching his fellow cornerbacks go through their paces. Talib missed part of the second half at Oakland with an ankle injury, but returned after being examined in the locker room.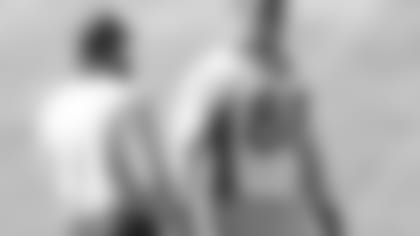 WR Demaryius Thomas:The Pro Bowl wide receiver spent the opening periods of practice working with Strength and Conditioning Coach Luke Richesson. Thomas suffered a neck injury in Week 4 against the Vikings, but played last Sunday.
RB Juwan Thompson:He was at practice, but worked out between fields as he recovers from the hamstring injury he suffered at Oakland on Sunday.
RG Louis Vasquez:As with previous weeks, Vasquez received a veteran's rest day Wedneday.
OLB DeMarcus Ware:After being carted back to the locker room last Sunday at Oakland, the Broncos' leading sacker was not on the practice field at all.
"I think we're in a day-to-day process," Kubiak said. "Obviously, he did not practice today; we kept him inside, so we're going to do right by him. But I can tell you today he's doing pretty darn good.
"... A guy like him is going to push it to the limit to play, and that's what he's going to do. We'll do the right thing."
WR Bennie Fowler and OT Ryan Harris also practiced, but were limited.
---
Emergency Room Care/ Denver ERs
The HealthONE System of Hospitals now offers you and your family convenient ways to find the closest HealthONE ER and average wait times. HealthONE's Fast LocatER is our mobile suite of tools that you can take with you on the go.
Our 24/7 Emergency Rooms for adult and pediatric patients are prepared to serve your medical emergencies. Get our average ER Wait Times by texting "ER" to 23000. Standard message and data rates may apply.
Phone Service

Prefer to call? Just dial 720-523-3888 and enter your zip code, and you will receive our closest HealthONE ERs.