ENGLEWOOD, Colo. --Evan Mathis was on the sideline in a baseball cap for the second time in three days as the Broncos practiced Friday morning and is questionable for Sunday's game against the Raiders.
"He's been battling his hamstring just a little bit," Head Coach Gary Kubiak said. "He practiced yesterday on a limited basis and today he was a little sore, so we just held him [out].
"We're counting on him being ready to go. He feels like he'll be ready to go. It was our call."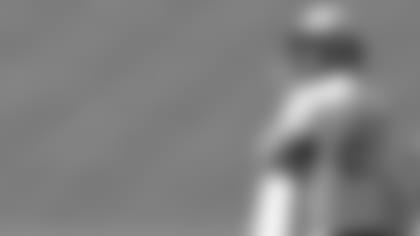 Mathis was given a day off Wednesday and also had an off-day last Thursday, but his absence from on-field work means that his only work this week was be on a limited basis Thursday.
Kubiak said he did not think Mathis' injuiry would linger.
"I just think that it has bothered him a little bit. He played through it last week and didn't miss a snap," Kubiak said. "Our goal was to give him Wednesday off and go back to work on Thursday. We did that, but he was sore today, so we're just responding to how he came out of yesterday's practice."
Kubiak said that he would try to rotate his offensive linemen a bit more going forward and give some time to Max Garcia and Tyler Polumbus. In addition to Mathis, offensive tackle Ryan Harris and right guard Louis Vasquez have sat out or been limited for practices.
"I think you're going to see Max play some. You're going to see Polumbus play some. I think you're going to see us play deep up front with some of things we've got going on," Kubiak said.
"Anything we can do to get their legs back underneath them as quickly as possible, to have them be as fresh as possible, is going to help us out," Garcia added.
It also gives Garcia and Polumbus valuable snaps in the event that they are needed for more extensive work in future weeks.
"I get better myself going out there and getting live reps -- especially with moving guys around, it just makes guys have to be more aware and more focused and just play with great technique, because you might be at a position where you're not naturally used to (it). So you have to be more technique-sound. I think that's what really helps."
Wide receiver Bennie Fowler is also questionable for Sunday because of a sore hamstring that developed during Friday's practice.
"We just sent him back in because we were counting on him to be ready to go [like Mathis], but he did start practice," Kubiak said.
Offensive tackle Ty Sambrailo was ruled out for Sunday. During Friday's practice, he continued his work on the sideline with a strength and conditioning coach.
Sambrailo has not practiced since injuring his shoulder Sept. 27 at Detroit. Kubiak said he hopes to have him back at practice next Wednesday.
Wide receiver Cody Latimer also continued to sit out in the wake of his groin injury Sunday.
All other Broncos practiced Friday, including tight end Owen Daniels, who was given a rest day Thursday.
---
Emergency Room Care/ Denver ERs
The HealthONE System of Hospitals now offers you and your family convenient ways to find the closest HealthONE ER and average wait times. HealthONE's Fast LocatER is our mobile suite of tools that you can take with you on the go.
Our 24/7 Emergency Rooms for adult and pediatric patients are prepared to serve your medical emergencies. Get our average ER Wait Times by texting "ER" to 23000. Standard message and data rates may apply.
Phone Service

Prefer to call? Just dial 720-523-3888 and enter your zip code, and you will receive our closest HealthONE ERs.