ENGLEWOOD, Colo. --Ronnie Hillman was back practicing, but C.J. Anderson remained on the sideline as the Broncos began their Friday morning practice in advance of Sunday's game against their long-time rivals from Oakland.
Head Coach Gary Kubiak said after practice that Hillman will start after practicing on a limited basis Friday. He also took some walk-through repetitions Thursday.
"Ronnie is ready to go. Ronnie will start," Kubiak said. "Ronnie is ready to go. He practiced well today. I think he'll be fine."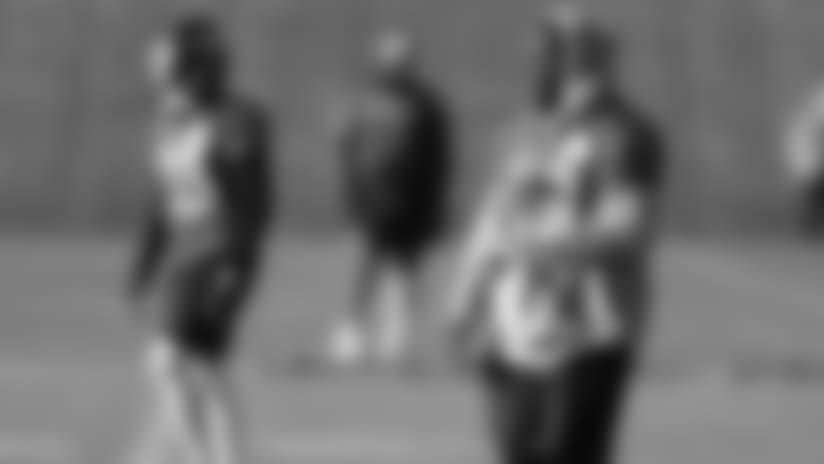 Anderson has not practiced since he suffered an ankle injury late in the first half of last Sunday's win over the San Diego Chargers. Anderson is questionable for Sunday.
"He's still sore, still very sore," Kubiak said. "I think that we still have a chance of getting him to game day and being available for us, but [RB] Juwan [Thompson] has had a good week."
Juwan Thompson is in line to see additional playing time if Anderson cannot play Sunday, but Kubiak hopes to have three running backs in uniform regardless. If Anderson can't play, that would necessitate promoting Kapri Bibbs from the practice squad, but then the Broncos would have to waive or release someone else from the 53-man roster.
"I've played with two [running backs] before. On a given day, you kind of have some emergency ways that you could go about it," Kubiak said. "We just kind of have to look at the big picture right now. We have through tomorrow to make some of those decisions, look at the big picture and see what we think gives us the best chance this weekend."
On the defensive side, David Bruton Jr. took part in secondary drills for the first time since suffering a knee injury in the fourth quarter last Sunday.
"He's still really, really sore," Kubiak said after Bruton practiced on a limited basis. "We thought between him and Omar [Bolden] that he may have the better chance of the two to maybe give us a little help this weekend, but we'll have to see where he is. He's pretty sore today."
... ILB Danny Trevathan (concussion), T.J. Ward (ankle) and QB Peyton Maning (torn plantar fascia) were the only Broncos not on the field Friday, and all were ruled out for Sunday.
... TE Vernon Davis had his helmet on Friday and practiced on a limited basis. He is questionable for Sunday, but Kubiak expected him to complete the post-concussion protocol Friday afternoon and be good to go against the Raiders.
... Kubiak said Manning would continue on his throwing regimen as he continues to work his way back from a plantar fascia tear. Kubiak said he didn't know whether Manning would be on the sideline or back in the locker room Sunday.
"He could definitely [be on the sideline], but if he wants to do it exactly like we did against New England -- if he wants to do it [in the locker room] and is more comfortable doing that, that's fine," Kubiak said. "I'll have to visit with him, but he worked out [Friday] morning and worked out well."
... OLB Shane Ray returned to practice after missing Thursday's work because of an illness. He had a full workload Friday and is probable for Sunday.
... S Omar Bolden was at practice and had his helmet, but was watching the secondary drills from behind the end zone. He did not practice all week and is questionable for Sunday.
... WR Andre Caldwell was limited because of a quadriceps injury for a third consecutive day Friday and is questionable for Sunday. Fellow WR Bennie Fowler is also questionable after being limited all week because of an ankle injury.
... Eleven other Broncos are listed as probable for Sunday, including OLB DeMarcus Ware and NT Sylvester Williams. Both had full practice workloads Friday.
---
Emergency Room Care/ Denver ERs
The HealthONE System of Hospitals now offers you and your family convenient ways to find the closest HealthONE ER and average wait times. HealthONE's Fast LocatER is our mobile suite of tools that you can take with you on the go.
Our 24/7 Emergency Rooms for adult and pediatric patients are prepared to serve your medical emergencies. Get our average ER Wait Times by texting "ER" to 23000. Standard message and data rates may apply.
Phone Service

Prefer to call? Just dial 720-523-3888 and enter your zip code, and you will receive our closest HealthONE ERs.