ENGLEWOOD, Colo. --Peyton Manning was listed on the injury report with a back injury, but Head Coach Gary Kubiak wasn't worried about his quarterback and says he was "okay" after having a full practice workload Monday night.
"He's just sore coming out of the game," Kubiak said. "He took some shots."
Manning did not expect to be listed on the injury report.
"I was kind of surprised that I was on it, to tell you the truth," Manning said. "But I think it was a pretty physical game on Sunday, so in many ways, maybe I'm honored to be on it."Manning absorbed four sacks Sunday -- the most he's had in a game since Oct. 20, 2013 against the Indianapolis Colts -- and was hit once more by Kyle Arrington as he threw the pass that Ravens cornerback Jimmy Smith intercepted and returned for a touchdown.
"You know my thoughts on the injury report -- I think the media should have to do an injury report, as well," the quarterback said, proceeding to create a list of injuries that some media members covering the Broncos might have.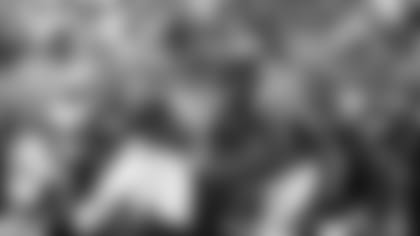 ANDERSON: 'I'll BE READY TO GO'
RB C.J. Anderson did not practice Monday because of a toe injury, but doesn't think it will keep him from playing Thursday night. He practiced on a limited basis Tuesday.
"It hurts. It did hurt," he said. "But we've got trainers, I trust them, and everything's fine."
Anderson suffered the injury as he was tackled by Lawrence Guy after catching a 6-yard pass across the middle with 3:08 remaining Sunday.
"I broke a tackle, was getting ready to get the first down and a big dude [Guy] landed on me when I tried to accelerate and take off," Anderson said. "It's not as bad as we thought, and we've got great trainers, and it's feeling really, really good right now."
Anderson was also listed with an ankle injury on the practice report, but said he wasn't concerned about it.
STEWART BACK TO THE FIELD:**
Safety Darian Stewart returned to practice on a limited basis Tuesday after missing Monday's work because of a groin injury.
Kubiak thought Stewart was injured on the play before his game-clinching interception.
"But he's fine," Kubiak added. "He'll be back out there today."
Safety Omar Bolden missed a second consecutive day of work because of a foot injury suffered Sunday. Defensive end Kenny Anunike (knee scope) was also held out of practice, although both were on hand to watch the session.
Defensive end Malik Jackson also saw limited work for a second consecutive day.