ENGLEWOOD, Colo. --Peyton Manning threw passes and took part in individual and seven-on-seven drills on Wednesday as the Broncos began practice preparations for the Steelers.
"He did fine," Head Coach Gary Kubiak said. "He took a step today. We'll take a look at a little bit more [Thursday], so it's just day-by-day right now, but [it was] a step back in the right direction."
Manning's work also included some scout-team repetitions, since he's been ruled out for any participation in Sunday's game at Pittsburgh.
"Well, it was strange, for sure, but I'm happy to see him out there getting some reps," OLB Shaquil Barrett said. "Seeing him back out there is going to be good for the team."
Manning's on-field work was the first with his teammates since the Nov. 15 loss to Kansas City, when he was pulled from the game because of a foot injury that contributed to four interceptions in the first two and a half quarters.
The 18-year veteran quarterback had three throwing sessions of approximately a half-hour apiece last week with team strength-and-conditioning coaches.
"We had some work last week which he felt good about [and] I felt good about," Kubiak said. "I had a chance to watch it live one day -- and on film the other two days because I was busy with meetings -- but I thought we came out of that week very good, and said, 'Okay, well, let's take the next step of getting out there with the team, getting in some environments around the crowd, the rush, those type of things."
Manning threw to wide receivers, running backs and tight ends during the "pat-and-go" warmup period that began practice, and then worked on dropbacks and throws during the individual period.
He appeared to look comfortable planting on the left foot that he said had been an issue for "quite some time" before he was forced to the sideline against the Chiefs.
"It's another step in the process, and it was a good step," Kubiak said.
Returning to practice is the next step in his recovery, but he will be gradually eased back into work and will not start this Sunday at Pittsburgh, leaving Brock Osweiler to make his fifth consecutive start in Manning's place.
Manning was not the only Bronco to return to practice; he was joined by ILB Danny Trevathan, who was back after missing the loss to the Raiders because of a concussion. Trevathan had been in the league's post-concussion protocol following a collision in the Dec. 6 win at San Diego.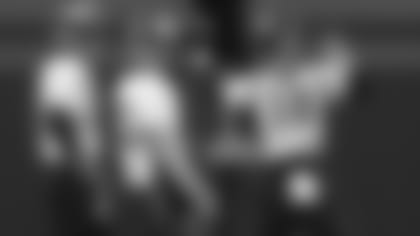 Also of note from the practice inside the Pat Bowlen Fieldhouse:
... RB C.J. Anderson remained sidelined with an ankle injury. Anderson was at practice, but did not have a helmet and watched his teammates go through workouts. He shared an update on his status Wednesday morning via his Twitter account.
... S T.J. Ward worked with strength-and-conditioning coaches behind the end zone. It marked his first work during a team practice since he injured his ankle against New England on Nov. 29.
... Safeties Omar Bolden (hamstring) and David Bruton Jr. (knee) both practiced. Each missed the Raiders game because of their injuries, which were incurred against the Chargers. Bruton practiced on a limited basis last Friday, while Bolden sat out the entire week.
... S Darian Stewart and OLB Lerentee McCray were at practice, but without helmets and watching off to the side after suffering hamstring injuries against the Raiders.
... TE Owen Daniels did not have a helmet, but was at practice. He has received occasional veterans' off-days throughout the seasons.
... LG Evan Mathis was consigned to watching drills. Mathis has been struggling with an ankle injury since late in the Nov. 22 win at Chicago.
... WR Cody Latimer took part in practice on a limited basis, just three days after suffering a hamstring injury.
... ILB Todd Davis was sidelined with a shoulder injury.
---
Emergency Room Care/ Denver ERs
The HealthONE System of Hospitals now offers you and your family convenient ways to find the closest HealthONE ER and average wait times. HealthONE's Fast LocatER is our mobile suite of tools that you can take with you on the go.
Our 24/7 Emergency Rooms for adult and pediatric patients are prepared to serve your medical emergencies. Get our average ER Wait Times by texting "ER" to 23000. Standard message and data rates may apply.
Phone Service

Prefer to call? Just dial 720-523-3888 and enter your zip code, and you will receive our closest HealthONE ERs.