ENGLEWOOD, Colo. -- **Wind gusts that reached as high as 54 miles per hour early Wednesday morning forced the Broncos inside the Pat Bowlen Fieldhouse for Wednesday's practice.
The session took place without OLB DeMarcus Ware and WR Emmanuel Sanders. Ware hasn't practiced since his back injury flared up against the Colts on Nov. 8, but he continues to make progress and could see some on-field rehabilitation work "maybe by the end of the week," Head Coach Gary Kubiak said.
Sanders played last Sunday in spite of not practicing because of an ankle injury, and sustained a finger injury in his work against the Chiefs three days ago.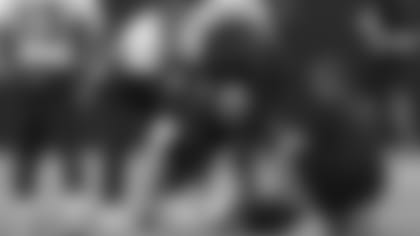 Sanders would have practiced if the Broncos had not been forced inside, Kubiak noted.
"We gave him a day off of the turf," Kubiak said. "He took all of the walk-through and everything, so I would expect him to do everything [when he returns]."
QB Peyton Manning also sat out, as Kubiak announced Monday.
Manning will not practice this week and will be inactive for Sunday's game against the Bears. His status will be re-evaluated next Monday after a week of what the 18-year veteran called "active rest."
Manning underwent an MRI examination on his rib cage Monday, but "everything was fine," Kubiak said.
DE Antonio Smith (hip) and DL Vance Walker (shoulder) were both at practice, but both stood on the sideline. Smith suffered a hip injury that is "bothering him a little bit," Kubiak said, and Walker was out with a shoulder injury.
"I expected [Smith] to practice, came over to walk through and we decided to take him in. I'm hoping that they're both back out there [Thursday]," Kubiak said. "Probably Antonio before Walker depending on how his shoulder is doing."
With Smith and Walker sidelined, DE Kenny Anunike returned to working with the defensive linemen. He practiced with the outside linebackers last week.
---
Emergency Room Care/ Denver ERs
The HealthONE System of Hospitals now offers you and your family convenient ways to find the closest HealthONE ER and average wait times. HealthONE's Fast LocatER is our mobile suite of tools that you can take with you on the go.
Our 24/7 Emergency Rooms for adult and pediatric patients are prepared to serve your medical emergencies. Get our average ER Wait Times by texting "ER" to 23000. Standard message and data rates may apply.
Phone Service

Prefer to call? Just dial 720-523-3888 and enter your zip code, and you will receive our closest HealthONE ERs.