ENGLEWOOD, Colo. --Chris Harris Jr., like everyone on the Broncos' 53-man roster, had a second consecutive full practice workload Thursday.
That status is not news for anyone else; in general, the Broncos are as healthy as they have been all season, although their safety depth remains compromised by the season-ending injuries to David Bruton Jr. and Omar Bolden, both of whom are on injured reserve.
But given that Harris played last Sunday with practically just one arm as his left shoulder was wrapped and in pain, Harris' progress is significant.
"I'm light years better than I was last week at this time," Harris said. "I'm feeling more comfortable putting hands on [opposing receivers] and kind of putting my hands on them and holding them and having them kind of break away from me. I'm gaining that confidence. As long as there are no setbacks, I should be good to go."
Defensive Coordinator Wade Phillips has also seen the improvement in Harris.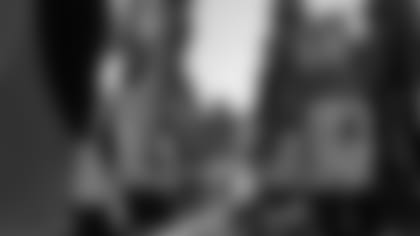 "Now he's practiced the last couple of weeks, I think he's a little better than he was," Phillips said. "We still have to see Sunday what he can do. We did, obviously, in the game have to change our strategy with putting [CB Bradley] Roby in, and he only played on third downs.
"[The Steelers] were two out of 12 on third downs, so he still did a good job for us."
Harris' challenge this weekend will be massive, as he is expected to see plenty of snaps lining up against Julian Edelman. The slot receiver has has been the difference between average efficiency and dominance, as the Patriots average 1.5 more points per possession with Edelman than without him.
Prior to Antonio Brown's two-touchdown performance at Harris' expense in Week 15, the fifth-year cornerback had not allowed a touchdown catch since Nov. 24, 2013 -- against the Patriots.
"[Patriots QB Tom] Brady just seems to know where he's going to come out of his breaks," Harris said. "hey run tons of option routes off my leverage, so if I play him outside, he'll go inside."
Harris will not be 100 percent, but then again, who is at this point? It would take much more than not being 100 percent for him to sit out Sunday.
"Just not being able to be anywhere to 60 percent, really," Harris said. "If I could go out there and feel like I could get my job done, I'm definitely going to go out there and play."
---
Emergency Room Care/ Denver ERs
The HealthONE System of Hospitals now offers you and your family convenient ways to find the closest HealthONE ER and average wait times. HealthONE's Fast LocatER is our mobile suite of tools that you can take with you on the go.
Our 24/7 Emergency Rooms for adult and pediatric patients are prepared to serve your medical emergencies. Get our average ER Wait Times by texting "ER" to 23000. Standard message and data rates may apply.
Phone Service

Prefer to call? Just dial 720-523-3888 and enter your zip code, and you will receive our closest HealthONE ERs.

---