ENGLEWOOD, Colo. -- **Unfortunately for the Broncos, the number of players on their injured list surpasses their win total so far this season.
"We're in a situation at a few spots where we're just going to have to really [say], 'Look, it's going to be a week-to-week process for us,' getting to next Sunday and finding a way to be our best against the Raiders," Head Coach Gary Kubiak said.
"We've got some issues to deal with, and we'll try not to get too far ahead right now. We'll get to Wednesday and get back to work."
But when the Broncos do get back to practice, they might be short-handed, depending on how their walking wounded heal.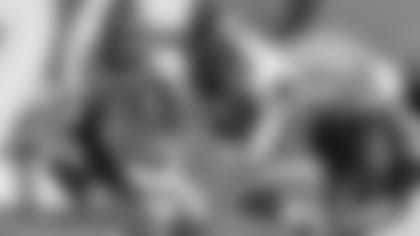 ... RB C.J. Anderson will be considered "day-to-day" after taking what Kubiak termed a "pretty good blow to his ankle" on a reception late in the first half Sunday.
"He's had some ankle issues in the past," Kubiak said. "I think had we not had the other two [running backs], he could have tried to maybe fight through some of it."
Kubiak added that Anderson was "very sore" Monday, and will be "day-to-day" as the week begins.
... QB Peyton Manning will miss another week while he recovers from his plantar fascia tear. Manning could begin throwing on a side practice field Wednesday, Kubiak said.
"Peyton worked hard through the weekend [and] worked hard [Monday]," Kubiak said, adding that Manning would rest Tuesday after doing rehabilitation work at the team facility this weekend.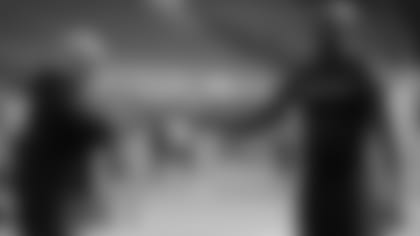 ... OLB DeMarcus Ware's pregame workout Sunday went "really good," Kubiak said, and he opened the door to the possibility that Ware could play next week against the Raiders.
Ware's workout, which was guided by Outside Linebackers Coach Fred Pagac, was designed to approximate playing 30 snaps in a game, and included a variety of fades into coverage and pass-rush moves off the edge.
"All expectations are that if he has a good week, that maybe we could be there at the end of this week talking about him playing," Kubiak said.
"But we won't make that decision. We'll put him through another week [of practice], but it's been very positive in his work back towards a return."
... TE Vernon Davis and ILB Danny Trevathan are in the league-mandated concussion protocol after leaving Sunday's game.
That process will include consultations with an independent neurologist, multiple neuropsychological examinations and a gradual return to practice that depends on the player's progress through the steps of the protocol.
... S David Bruton Jr. is considered "day-to-day" with the knee injury he suffered late in Sunday's win. Bruton was helped to the sideline but was walking around the locker room in the moments after the game.
"We feel very fortunate with David," Kubiak said. "He's in a day-to-day process. We'll see how he does."
... S Omar Bolden is having his hamstring evaluated after he injured it Sunday.
"I think that's going to be touch-and-go through the course of the week," Kubiak said. "It's kind of the same type of hamstring [injury] he had during training camp, I do know that."
... S T.J. Ward will "probably still take some time to get back" after suffering a sprained ankle in the first quarter against the Patriots, Kubiak said. Ward did not make the trip to San Diego to focus on rehabilitation, and he is "doing very well" in that process, Kubiak added.
But with Ward, Bruton and Bolden all injured, the Broncos have just two healthy safeties: Darian Stewart and Josh Bush, who re-joined the team last week in the wake of Ward's injury. Bush played four snaps Sunday.
Cornerback Bradley Roby has also seen some safety snaps this year, and the Broncos have occasionally used alignments that include three cornerbacks and a single high safety; they utilized that package Sunday.
"Roby has played the position, because we do a lot of the three-cornerback stuff," Kubiak said.
Rookies Lorenzo Doss and Taurean Nixon could see playing time as the dominoes fall. Nixon would have to be promoted from the practice squad to the 53-man roster in order to factor into the game-day equation.
"Nixon's a kid that has been doing a really good job for us," Kubiak said. "We thought about activating [him] this past week. There could be some maneuvering there as we get to game day, but that's part of the process right now."
... NT Sylvester Williams continues to recover from the ankle injury he suffered last week and is still considered "day-to-day." Vance Walker and Darius Kilgo rotated in at nose tackle in his place, but the Broncos had less use for a nose tackle because they spent a majority of the game in sub packages.
... RG Louis Vasquez was held out of Sunday's game because of a groin injury, although he was active and could have played in the event of an emergency.
Vasquez's potential availability was similar to that of Evan Mathis a week earlier, who was forced into the lineup because of Vasquez's injury a week after suffering an ankle injury late in the win at Chicago.
Mathis is "playing really hurt for us in a lot of ways," Kubiak said, adding, "He's battling for us."
One week after starting for Mathis at left guard, Max Garcia started for Vasquez at right guard. The starting offensive line played the entire game for the first time this season.
Garcia's play impressed the head coach.
"I thought he played well yesterday," Kubiak said. "There were some mistakes -- some young mistakes, but I think Max has got a bright future and he's showing us and his teammates that each and every week ... We'll continue to get him in there and see how it goes."
... WR Demaryius Thomas suffered some bruises Sunday, "but he's fine," Kubiak said.
---
Emergency Room Care/ Denver ERs
The HealthONE System of Hospitals now offers you and your family convenient ways to find the closest HealthONE ER and average wait times. HealthONE's Fast LocatER is our mobile suite of tools that you can take with you on the go.
Our 24/7 Emergency Rooms for adult and pediatric patients are prepared to serve your medical emergencies. Get our average ER Wait Times by texting "ER" to 23000. Standard message and data rates may apply.
Phone Service

Prefer to call? Just dial 720-523-3888 and enter your zip code, and you will receive our closest HealthONE ERs.

The Broncos rolled past the Chargers Sunday afternoon at Qualcomm stadium. These are the best shots from the win.