ENGLEWOOD, Colo. --Evan Mathis returned to practice Friday, but will be a "game-time decision" Sunday and is officially listed as questionable for that night's showdown with the undefeated New England Patriots.
Mathis did not practice Wednesday or Thursday because of an ankle injury that he suffered late in last Sunday's win. He dealt with a hamstring injury that cost him an entire week of practice in October, but he has yet to miss a game.
"He's made up a lot of ground," Head Coach Gary Kubiak said. "He started slow in the week, and ended the week pretty good."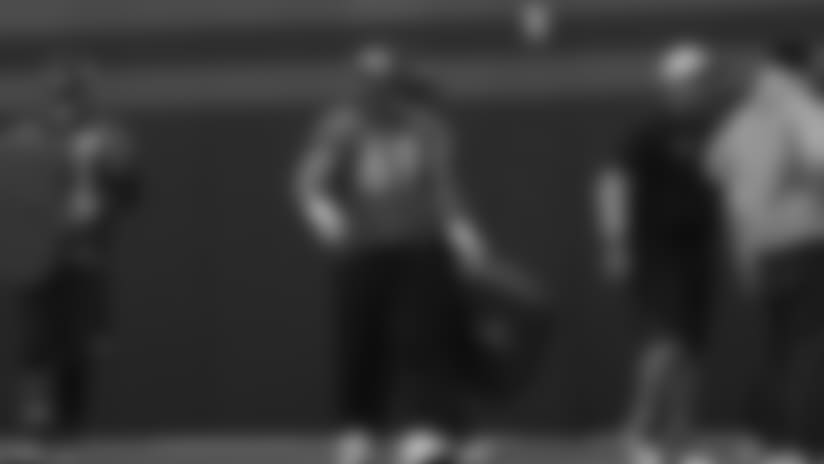 If Mathis cannot play against the Patriots, Max Garcia would start in his place.
"I have a lot of confidence in him. He's a lot like Brock [Osweiler] in a lot of ways," Kubiak said. "He's been working really hard. I know he's a first-year player, but if you go back, there was a time [during the preseason] where Max was a starter for us at the end of camp."
Garcia has filled in at both guard spots for Mathis and Louis Vasquez in recent weeks.
"This would be a tough assignment to draw with his first start, but he's been working really hard to do it, and he's had a good week of practice," Kubiak said.
While Mathis returned, OLB DeMarcus Ware remained out as he works his way back to the field after suffering a recurrence of a back injury Nov. 8 at Indianapolis. He will not play Sunday.
Ware worked out with Strength and Conditioning Coach Luke Richesson during Friday's practice. He said that he hoped he could return to practice by next Wednesday.
"I think the right time is when you're comfortable enough to get out there and do what you do best, and that's rush the passer and make plays. I'm not at that point yet," Ware said.
WR Emmanuel Sanders also completed a full week of practice. He did not play last Sunday against the Bears because of an ankle injury, but is listed as probable. In retrospect, he believes that last Sunday's rest helped.
"I think it did, honestly," Sanders said. "That was a tough decision, because I haven't missed a game in like three years. But I think it was the best decision for me and for the team. I had the opportunity to rest, we won the ballgame, and now I feel really good."
QB Peyton Manning was also officially listed as out because of a plantar fascia tear. He is wearing a walking cast and will not return until at least Week 14.
---
Emergency Room Care/ Denver ERs
The HealthONE System of Hospitals now offers you and your family convenient ways to find the closest HealthONE ER and average wait times. HealthONE's Fast LocatER is our mobile suite of tools that you can take with you on the go.
Our 24/7 Emergency Rooms for adult and pediatric patients are prepared to serve your medical emergencies. Get our average ER Wait Times by texting "ER" to 23000. Standard message and data rates may apply.
Phone Service

Prefer to call? Just dial 720-523-3888 and enter your zip code, and you will receive our closest HealthONE ERs.