ENGLEWOOD, Colo. --Steelers fans might be sitting at their laptops or tapping their devices, impatiently awaiting the smoke signals to reveal whether Ben Roethlisberger and Antonio Brown will be able to play Sunday in the divisional-playoff showdown at Sports Authority Field at Mile High.
But the Broncos aren't paying any attention to the reports from Pittsburgh, or the statements from Steelers players and coaches themselves. And if they do notice them, it's mostly with a jaundiced eye.
"They can drag it along, put the ruse on it all you want, and make it up however you want to; it [isn't anything] but the Jedi mind trick," said defensive end Antonio Smith.
"I expect [Roethlisberger] to play just because of the competitor I know him to be."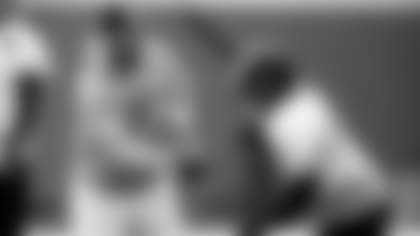 All of the Broncos' game plans have revolved around Roethlisberger and Brown playing. Brown has not practiced this week as he remains in the league-mandated post-concussion protocol, while Roethlisberger has seen limited work each of the last two days.
"We're getting ready for them to play," Defensive Coordinator Wade Phillips said. "If for some reason, they didn't, we have alternate plans. But we expect them to be there and be playing."
Although the throwing shoulder is the body part Roethlisberger admits he least wants to see injured, he's played through enough injuries in the past for the Broncos to understand he'll likely to be out there somehow, some way.
"He's one of the toughest quarterbacks I've seen in a long time, if not the toughest," Phillips said. "They had one like him before, though, that's in the Hall of Fame."
That, of course, is Terry Bradshaw, who led the Steelers to world championships in the 1974, 1975, 1978 and 1979 seasons.
"When I was with the Oilers, we broke his hand during the game, and actually Tony Dungy had to finish the game. We beat them there," Phillips recalled, referencing a 1977 game in which the Houston Oilers trounced the Steelers, 27-10.
"We had them two weeks later, in Pittsburgh, and he had half a cast on, and played and beat us in that ballgame," Phillips recalled. The final score of the rematch was the same, but the teams were reversed, and that loss ended up being the difference as the Steelers won the AFC Central by one game over the nascent, but still developing, Oilers.
Thirty-eight years and three months later, Roethlisberger has the "same kind of mentality" and is the "same kind of great player," Phillips added. That helped him withstand the Broncos' furious pass rush to become the only quarterback to throw for at least 300 yards on the Broncos defense during the 2015 regular season.
"Just who he is as a competitor, I know he's going to be out there on that field -- and he isn't going to limit himself when he's out there, either," Smith said.
And that means the Broncos will go into Sunday assuming that Roethlisberger has his typical range and velocity.
"You've got to go into the game thinking you're going to get what they can do best," Phillips said. "And he's obviously one of the best, if not the best, as far as throwing the ball, and he proved it against us.
"I don't think you go into the game saying, 'Well, he's not going to be able to do that.' If something were to occur like that, or if somebody else is in there, we'd have to adjust, but we don't expect that."
Added OLB DeMarcus Ware: "I think they're going to do the same thing. There are always techniques to hide pain in this NFL. That's just the way it goes. He's going to get out there and play."