Tackle - Justin Rich, The Classical Academy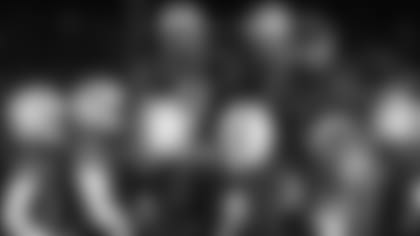 Since becoming the program's head coach in 2017, Justin Rich has helped turn The Classical Academy football program into a perennial power in the 2A class.
During Rich's tenure with the program, The Classical Academy has suffered just one losing season, back in 2018, and has lost no more than twice in a single season, since 2020.
Last season, TCA and Coach Rich became the first team to defeat Eaton, the 2A juggernaut, in nearly two years. It was Eaton's only loss of the season. Then, in this year's opener, TCA did it again, upsetting Eaton 14-7. Over Eaton's last 30 games, they have suffered just two losses, both to Justin Rich and his Titans.
That performance helped head coach Justin Rich earn Broncos Coach of the Week honors for Week 1.
Overall record at The Classical Academy: 45-15
Overall record as a head coach: 47-33 overall
Previous coaching experience:
TCA – OC/LB Coach 2015-2016
CSU-Pueblo - Offensive Assistant 2014
Palmer High School – Head Coach 2012-2013
Augustana College (IL) – Co DC, OLB Coach 2011
Palmer High School – Wide Receiver Coach 2010
Watertown High School (NY) – DC/OL Coach 2008-2009
Ithaca College (NY) – RB Coach 2007
I was blessed enough to serve in the US Army as an officer. I love the purpose; I love the idea of taking young men and training them and making them into something—a better unit. That's kind of always been where my heart was. When I got medically retired from the army, I looked to take that purpose, you know, building better men and try to find a profession with a purpose. I think that football coaching is the closest to that [purpose], that I could find, and I just love being around the other coaches on staff and I love interacting with the young men. It also guaranteed that my vocation, a lot of times, feels like a vacation.
Why do you coach the way that you coach?
I think that there was so much about football that, as an athlete, I didn't know. So, as I became a football coach, I wanted to learn the game as much as possible, and I wanted to pass that knowledge on to the athletes. It's kind of like intelligence in the army; if you know yourself and you know the other team, then you have a better chance of succeeding. So, you have that knowledge as aspect.
The other part is the dealing with players. Football is such a sacrifice on these athletes. So, I think I want to affirm them as much as is possible, because it seemed like, in the 90s, you didn't always get that affirmation. Even if you're working your tail off, sometimes you just don't have success.  I mention the time at Palmer when we went 2-18 because those kids worked hard. We just couldn't put it together. 
So, I think I coach the way I do because I want to give the kids as many tools as they need to use on the field, as far as technique and skill and intelligence on what's happening next. I also want them to know that win, lose or draw, it takes a special kind of kid to play football. I want to affirm them for doing that.
What is a lesson or life lesson you try to teach your student-athletes?
We try to tell our athletes that they're right on time and they're loved. We try to tell them all the time that, as coaches, we love them, and if we love them, they're lovable. We try not to talk about championships, we try not to talk about all that kind of stuff. We talk about being a team worthy of competing for a championship. Everybody wants the big salary job. Everybody wants to get into the best college. Everybody wants to do all this kind of stuff. So, understand that you're right on time with where you're at in your development, but let's try to become the person worthy of that job, of that promotion, of that car. If you work to become worthy of that, typically things work out.
What is your favorite memory from your time with The Classical Academy so far?
I think COVID was so hard. And then, as the football coach, it was hard for me to have to wait for the spring season of 2021. When we finally were able to come together in the spring of 2021 and play football, there was such a sense of joy and freedom to get together and play this game. It was pure joy to watch those kids love the game, love each other and play together. It just felt like freedom. I think that's my favorite season at TCA.
You've spoiled the reigning state champion's season opener each of the past two seasons. What type of pride does that bring to your program?
Both of the wins could have gone either way. You're talking about two or three plays that kind of changed everything. So, the sense of pride that I got is: we know how good Eaton is. You can turn on the film and see that they're a great program, a great school, and a great community. We just talked about going out for 48 minutes with a mindset of not being defeated. "Be undefeated for 48 minutes, and if we if we look at the scoreboard after that, and it doesn't say what we want, we still won't feel defeated. It will feel like we ran out of time."
I think they took that mentality. There were some ups and downs in both of those games, but I have a lot of pride for TCA, the way that those boys fought for 48 minutes, and the way that the assistant coaches looked for answers for 48 minutes. In both seasons, in really tight games with a lot of adversity, we were able to get it done.
What is your goal for the remainder of this season?
You can probably guess this one. We want to become a team worthy of winning our conference, and then, we hope to become a team worthy of competing late, late, late into the playoffs. We would love to get another chance to go down to Pueblo again. But, at this point, we're just becoming a team worthy of having those chances.
Flag - Daulton Sherwin, Ellicott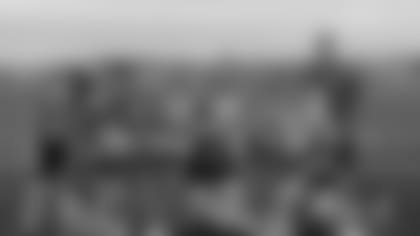 This fall, 74 teams from more than 50 Colorado high schools will participate in the second pilot season of girls high school flag football. In total, nearly 1500 girls will take the field and for most, it'll be the first experience playing organized flag.
Ellicott High School was one of 30 schools playing in their very first girls high school flag football Jamboree this past Saturday (8.26) and as the bus pulled up at Legend High School for warmups, the team shared a range of emotions prior to their first game.
Led by Head Coach Daulton Sherwin, the Ellicott Thunderhawks played three games and concluded their first Jamboree with a 2-1 record. With wins against Ponderosa Gold and Cherry Creek White, Coach Sherwin and the Thunderhawks played inspired football and gained confidence as the day went on.
Because of his positivity, passion for the game and encouraging coaching style on the sideline, Daulton Sherwin has been named this week's Broncos Flag Football Coach of the Week.
Ellicott High School: Calhan, CO
Number of Seasons Coaching Girls High School Flag: 1st Season
Why did you decide to coach girls high school flag football?
The main reason was I love the game of football. I just love the sport and I've always had a passion for the game. Even though I never really got to play growing up, I always wanted to be involved with football and coaching has given me that opportunity. I've always been a big fan of the NFL and now I can share my passion for football with these girls which is a lot of fun. So far, it's been a very fulfilling experience to coach this game and to coach these kids.
With this being a brand-new sport at Ellicott, what were your expectations heading into this season?
I think like any coach, you expect to have a winning record and to compete each and every week. But for this season, it's been more about leaning the game and learning how to play the game. How to understand playing offense and defense and the various languages that come with football. So, there's the developmental piece but we also still have the competitive piece as well. We have a lot of dual sport athletes on this team that want to win and have that expectation to win.
Now that you've played in your first Jamboree, how do you think it went?
I thought it went very well and I was pleased with our performance. In just a few hours, it feels like we got through three weeks of regular season play. We had some highs right out of the gate with a win and then we had some lows in game two. We played a very talented Chaparral team and that bought our highs down pretty quick. But we rallied for game 3, made some adjustments and got another win to end the day. We had some confusion and some mistakes throughout the day, but we stayed together, shook it off and played well overall.
Why do you coach the way that you coach?
I'm passionate and I love football and that's going to come out in my coaching style. I grew up a huge Philadelphia Eagles fan and always had an appreciation for those Eagles coaches. They all had great passion which I always admired. I admired so many players … like Brian Dawkins, who spent a few seasons here in Denver … for their passion and love for the game and I want these girls to love the game as well. Because if you don't enjoy it, it's going to be a long and difficult experience.
Thoughts as you head into Jamboree 2 this coming Saturday (Sept. 2)?
The biggest thing is competing and giving a 110% every moment you're on the field. I feel like we had some effort issues in that second game and we can't have those lapses of effort. Players not sticking with their receivers on defense or running the wrong routes on offense. We need to make sure our focus and effort is there for all three games this Saturday. If we have great effort and continue to work on our fundamentals, we'll be in good shape.