Tackle - Jamie Steele, Thompson Valley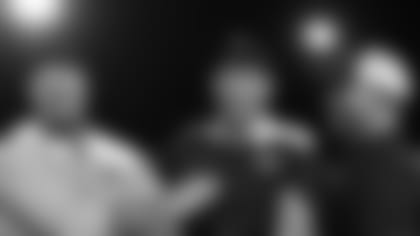 Despite coaching high school football for 28 years, Jamie Steele didn't get a chance to be a varsity head coach until the 2023 season, and so far, the results have been extremely promising.
Steele is 2-1 so far in his first season, and in Week 3, helped Thompson Valley notch their first win over Loveland High School in 16 seasons. The 14-0 victory for the Eagles also represents the first time Loveland has been shutout in seven years.
At 2-1, Thompson Valley is off to their best start since 2015, and they're only getting started.
Photo Credit: Misty Huss Photography
Record at Thompson Valley: 2-1
Overall record as a head coach: 2-1 (Varsity only)
What were your previous coaching positions?
Freshman Head Coach, Loveland: 1996-2013
RBs Coach and Freshman/JV Head Coach, Resurrection Christian: 2014-2017
RBs Coach, Northridge: 2018
Freshman Head Coach, Mountain View: 2019-2021
RBs Coach, Thompson Valley: 2022
Head Coach, Thompson Valley: 2023
Why do you coach high school sports?
I just love being around the game of football and being around players. If I can make a difference in their lives, and they understand and respect the game of football – I just get joy out of that.
What is your favorite part of coaching?
Just connecting with the players and seeing if I can advance them to the next level. Also, helping them experience some success, and I hope to always give them some success there.
How would you describe your coaching philosophy?
I just like to build character through the game of football. I just want the kids to really understand what it's like to commit to something, like football, real life situations, you know. 'You have to be on time, you have to work hard.' I always tell them, 'the six W's—work will win when wishing won't.'
What aspect from the start of your first season as Thompson Valley's Head Coach are you most proud of?
I'm proud of this team. They have a can-do attitude. They love to compete, and they're just wonderful men to work with. I couldn't be prouder of them.
What was the key to shutting out Loveland High School this past week and breaking Thompson Valley's 16-year-long losing streak against the program?
We've worked really hard as a coaching staff and I give all the credit to the coaches this past week, on offense and defense – the schemes that we developed, and how they made them execute. The coaches did great, and the players executed wonderfully. I didn't expect that we would ever shut down Loveland to no scores. That surprised me even. That surprised a lot of people in the state of Colorado, I think.
What is your goal for the remainder of this season?
Continue to grow. I always tell them, 'One game at a time.' If the kids were here, they'd say, 'Yup, Coach Steele says, 'One inch equals feet, feet equal yards, yards equal touchdowns, touchdowns equal wins.'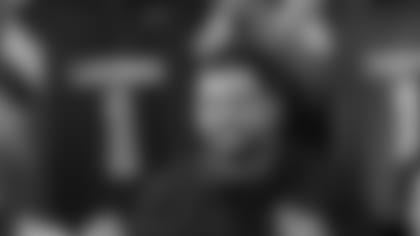 After four flag football jamborees and a total of 12 games played, no team has played better football than the Pomona Panthers. Pomona, in their second season of playing girls high school flag football, is one of two teams with a 12-0 record. Their defense has given up a combined 62 points while the offense is averaging more than 21.
Led by head coach Guy Ryan, Pomona has become one of the premier flag football programs in the state. With dual sport athletes on offense and defense, Coach Ryan and the Panthers are looking to build upon their success from 2022 and remain consistent as the regular season continues. With fundamentals, learning the game and teamwork the key priorities, Pomona has already defeated top 10 programs Horizon, Legend, Thunder Ridge and Ralston Valley.
Congratulations to Coach Guy Ryan, the week 4 Broncos High School Flag Football Coach of the Week.
Photo Credit: DenverBroncos.com
Pomona High School: Arvada, CO
Number of Seasons Coaching Girls High School Flag: 2nd Season
Why did you decide to coach girls high school flag football?
GR: When Pomona was thinking about girls flag last season, the principal asked me if I'd be interested. For me, I knew so many of the girls because I've worked in both middle school and high school athletics so I thought it would be a great way for me to connect with them and teach the girls a new sport. Flag football was new for me as well, so it was fun to learn the game and bring the girls together to play the game.
What's been the biggest difference from season 1 to season 2?
GR: I think the biggest thing is the overall buy in from the girls and the team as a whole. We now have an identity. We can be as good as we want to be as long as we work hard and have fun each and every day. We're going to find a lot of success as long as we continue to work, play together and stick together during the ups and downs. As coaches, all we ask is that they give their best and thus far, we've seen that drive every week.
What's been the biggest difference, league wide, that you have noticed from year 1 to year 2?
GR: It's great to see so many more schools involved this year. And there is a lot more talent out there. But to point at one major difference, I would say the quarterback play has improved a lot from last year. Last year, for us and across the league, play designs for quarterbacks were simple. This year, the play is more competitive, and the play calling is more creative. The running game and the passing game are more creative because teams now have the athletes to execute some of those more complex play designs. It's been tough to coach against, but a lot of fun as well.
What were your expectations heading into this season?
GR: My goal for this year was to just get better and to improve on what we did a year ago. We didn't qualify for state last season so that was our team goal heading into this season. We wanted to win more games, have a chance to win a region and qualify for state. I enjoy competing against the best and I think our team will be up for whatever challenge lies ahead.
How have your participation numbers grown this season and talk about your team culture?
GR: The growth of the program has been really cool to see. The girls have really taken the lead in getting more girls involved. They have done such a great job of recruiting more girls to play and then showing them how we practice and play. It's a close group, a lot of close friendships on the team and that's always special when you can compete and have fun with your friends. They've built a very hard working, yet fun environment that kids want to be a part of. We have a very welcoming atmosphere for anyone looking for a new sport or if someone just wants to be a part of a team.
Pomona Varsity is 12-0. What goals do you have for your varsity for the rest of the season?
GR: Each week as we play better and better competition, I try to identify what other teams have that we don't. What are other teams doing that we don't do? If we can find ways to get better each week, this team can go as far as they want to. While I have the goal of getting to state, getting there might not be enough for these girls. They may decide that winning state should be the goal. We'll learn a lot more about our team in the next few weeks and once the postseason gets here, they'll be ready to play their best. I have a ton of belief in these girls and it's been a great team to coach.