Tackle - Andy Lowry, Columbine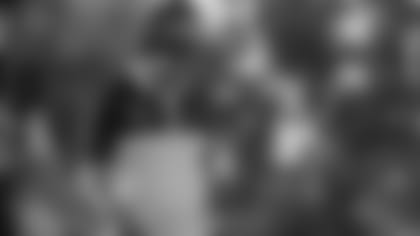 This past month, Columbine's head coach, Andy Lowry, finally got to join the exclusive '300 wins' club, after excelling as a high school football head coach for over 30 years and leading the Rebels to five state titles.
Coach Lowry has built Columbine into one of the state's annual powerhouses, and on top of being one of the state's winningest coaches, he's also one of the most accomplished leaders of young men we've ever seen in Colorado.
Yet again, the Rebels are off to a red-hot 5-0 start, that featured three victories of at least 42 points and four victories of at least 21 points, placing them fifth in CHSAA's Selection and Seeding Index, but Columbine and their head coach are still far from satisfied.
Photo Credit: Brandon Hooten
What is your record at Columbine? 288-68
What is your overall record as a head coach? 301-76
What were your previous coaching positions?
Head Coach, Columbine: 1994-Present
Head Coach, Lakewood: 1992-1993
Assistant Coach, Lakewood: 1987-1991
Graduate Assistant, Western State: 1986
Why do you coach high school sports?
AL: God kind of led me, to be honest with you. I've always loved sports and was going to be a business major and minor in coaching in college, and I've just been playing football my whole life and played through Lakewood and then through Western State. My brother taught me about coaching and said, 'If you want to coach, you better become a teacher.' I was like, 'okay,' and it's just one of those things that I never really dreamt of growing up to be. I think looking back on it, God guided me and put me in this as a vocation and as a job and as a career, and I've been blessed since.
Why do you coach the way that you coach?
AL: I love my job. I'm just really blessed. It doesn't feel like a job. It feels like I'm getting paid for doing the things I grew up doing – being in sports and football. I just always grew up playing football, basketball, baseball, and sports was kind of what I loved. Now I just get paid for doing it. I'm a PE teacher and I've been blessed in the sense that I love working with the kids. I enjoy what I do. I don't think I've ever regretted a day of work in my life, and this has been 36 years of teaching and coaching. So I've just been very fortunate and then very blessed. The kids we have are just great. The culture of our kids and our school, [and] our administration has been so supportive and has kind of set us up to be able to succeed. Then my assistant coaches are just great human beings. They're great people that make me a better person by being around them. They're my friends. They're loyal. A lot of them have been with me for 30 years and the other group of them, that have been with me for 16 years, played for me prior to that. So they are guys who I you know, they trust each other, we're loyal and dedicated to each other and just very good friends. They're great teachers, they break things down well, they know how to teach and encourage at the same time and so they're every bit as much a part of every single one of those 301 victories as I am. I've just been very blessed with the people around me then. My family – my wife, Janet, and son, Thomas, and daughter, Caitlin – they've allowed me to be able to be a teacher and a coach and, and share the life of being a teacher and a coach.
How would your student-athletes describe your coaching philosophy?
AL: Probably demanding. We talked about how, to execute and do all the things we have to do, we have to be really dedicated and disciplined. It's about work. It's a work ethic and it's an attitude and that's the two things that we really expect, so we kind of preach about having to earn it and how it's not given to you. That goes to the offseason and to the weight room, and that's kind of where our program is built – through the weight room and through the offseason. But it's a lot of hard work and a lot of time and a lot of commitment with it, so I've been very blessed with having so many great kids, great football players, and great young men. You get psyched about how many lives teachers and coaches can touch, but at the same time, I know a lot of student-athletes who have really touched my life and who have become very good friends.
What is your favorite memory from your time at Columbine?
AL: That's a hard one. That's a that's a really hard one. I think there's just there's been. There's been I mean, every year there's the there's a great hammering day where from the championships to, you know, lessons of of losing games, you know, unfortunately and in this profession, yeah, there's 301 wins but of those 60 losses, I can actually remember a lot more of the 68 losses, unfortunately, you know, just the Heartbreakers that we've been so close and you know we've we've had all of our say chairmanship, but it feels like we like we should have had a couple more just some luck didn't go our way, you know, a bounce here a call there, whatever it was, and but it's just kind of one of those things. Yeah. The lessons and the memories that those guys leave and, you know, continue to reach out and become better. So part of my life are just very, very blessed. Absolutely. And then what was it like getting to again, you talk about the relationships you have with your team and all your coaches and also many of them are good friends
What was it like getting to celebrate your 300th win?
AL: You know, that's going to be a night that I will always remember. No. 1, it was just an incredible game, where we came back to kick the [game-winning] field goal with about six seconds to go. Our kids came back and executed and gave ourselves a chance. To be honest with you, I kind of knew it was going to happen this year with 300, but I just didn't have it in my mind at all. One of my coaches asked to talk to the kids after the game, and so he did it, and he's the one that told all of us that it was the 300th win. I thought he was a week or two off on it, but he said, 'no, we double-checked it.' So, I was pretty shocked at that time. I knew it was going to happen, I just didn't know it was going to happen then. That's just not why I'm in [coaching], so it was a surprise. It was a great game, it was a surprise to me, and having my team with me and all my coaches, and my son came down from college, and my brother with me – it was a very special night and I'll always remember that.
What does it mean to you to join the 300 club?
AL: There's just so many coaches that are great coaches in our state, and whether they won the 300 games or they've won 150 games or 200, there are just great coaches that do a great job with young men and build their character and build young people. So I just think I'm honored and humbled the fraternity of coaches. The 300 club is one of those things where you just keep plugging away, and you're only you're only as good as your last game, to be honest with you. So you have a kind of short memory. I just shared with the kids the other day that, my dad kind of grew up during the depression, and he always had a saying about, 'It's a short walk from the White House to the outhouse.' When you start to celebrate too much or start to get full of yourself, it's a humbling experience going back to the outhouse. So, I've just always tried to live like that and stay humble.
What is your goal for the remainder of this season?
AL: It's been pretty consistent throughout the years, and I know it's a cliché, but it's about taking it just one week at a time, and I think every coach will always tell you that. And it's true. Every opponent scares you, you have to prepare your kids, and keep them grounded and keep them working hard. I think our goal is to get better each and every week, and whether you win or lose, you're just trying to get better.
Flag - Augustine Agyei, Smoky Hill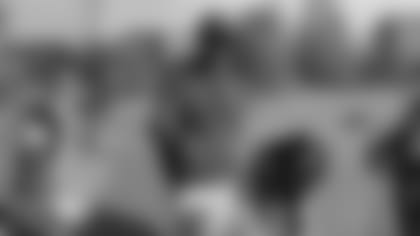 Through five weeks of girls high school flag football, no team has shown more spirit, sportsmanship, and supportive play than the Smoky Hill Buffaloes. With an 8-10 record versus tough competition each and every week, Smoky Hill continues to take the field with a positive attitude, teamwork and consistent play. With a roster full of players who played flag football in 2022, the Buffaloes are one of 22 schools playing in their second season of girls high school flag.
Led by head Coach Augustine Agyei, the Buffaloes have a lot to be proud of as they head into the sixth and final week of the flag football season. Coming off a weekend with a 2-1 record with wins over Regis Red and Denver North, Smoky Hill is starting to play its best ball with the post season right around the corner. With fundamentals, learning the game and teamwork the key priorities for Coach Agyei, the Buffaloes head into the final week of regular season play with a lot of momentum. Congratulations to Coach Augustine Agyei, the week 5 Broncos High School Flag Football Coach of the Week.
Photo Credit: Smoky Hill High School
Smoky Hill High School: Aurora, CO
Number of Seasons Coaching Girls High School Flag: 1st Season
When you found out about Smoky Hill girls flag football, why were you interested in coaching?
AA: I first found out about it during an off-season track practice. Many of our athletes asked to join, and I thought it would be an excellent opportunity for them to do something else during the fall. It had been a while since I last coached football. I helped out one day and couldn't resist not helping out. I thought it would be a great experience to share some of the knowledge and experiences I had with them.
** What were your expectations heading into this season?**
AA: I expected significant growth from last year. We had many girls who played last year, return this season which gave us some experience on our side.
** What type of progress and improvement have you seen each and every week from your team?**
AA: Each week I've noticed a deeper understanding as to why we do certain things or the chess match that other teams are trying to play during the game. I've also seen significant improvement in the basics of route running, catching and throwing.
If I was to ask your players, what kind of coach is Augie, what would they say?
AA: My athletes would hopefully say that I am patient, passionate and fun!
Why do you coach the way that you coach?
AA: I have had coaches to this day that I remember who helped me during my career in high school and college and beyond who made a major impact in my life. I still remember those coaches and what they taught me. My hope is to continue that trend!
With the postseason right around the corner, what goals do you have for your Buffaloes?
AA: The goals that I have are to play a complete game, play with passion, play FAST, play smart and to compete!