ENGLEWOOD, Colo. -- **For a second consecutive year, the Broncos had their draft haul bolstered by compensatory draft picks.
The Broncos received third-, fourth- and sixth-round selections in this year's draft to compensate for the team's net losses in unrestricted free agency last year, headlined by TE Julius Thomas, G/T Orlando Franklin, NT Terrance Knighton, ILB Nate Irving, C Will Montgomery, S Rahim Moore and TE Jacob Tamme.
The Broncos now have 10 picks in this year's draft:
Round 1: Pick 31
Round 2: Pick 63
Round 3: Pick 94
Round 3: Pick 98 (compensatory)
Round 4: Pick 136 (compensatory)
Round 5: Pick 144 (from Baltimore in Gino Gradkowski trade)
Round 6: Pick 219 (compensatory)
Round 7: Pick 228 (from San Francisco in Vernon Davis trade)
Round 7: Pick 235 (from Los Angeles via Houston in Chris Clark trade)
Round 7: Pick 253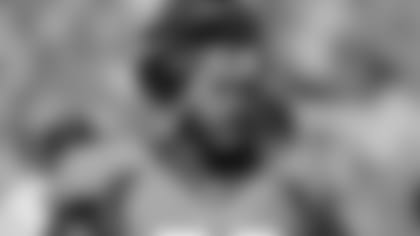 Denver received four compensatory picks last year: a fourth-rounder and three seventh-rounders. Three of those picks remain with the Broncos: guard Max Garcia, quarterback Trevor Siemian and cornerback Taurean Nixon.
Garcia is currently projected to be one of the Broncos' two starting guards. The cannon-armed Siemian had a promising preseason and could be in the long-term mix at quarterback if his development continues.
The NFL's exact formula for dispensing compensatory draft picks is a closely guarded secret, although it is based on the value of free-agent signings and losses as determined by salary, participation and performance.
Up to 32 compensatory picks are added each year.
The Broncos did not gain any compensatory picks via free-agent additions and losses in the drafts from 2006-14. They had one compensatory pick added in 2011 because there were not enough compensatory picks distributed, so supplemental compensatory picks were given to teams starting with the one that had the worst record in the previous season (Carolina, 2-14, followed by the 4-12 Broncos).
Teams that collect compensatory picks are typically among the league's most consistent winners. The Ravens have the most compensatory picks from the 2005-16 drafts (31), followed by the Patriots (23), Bengals, Titans and Steelers (18 apiece).
The Ravens are the league's all-time leaders with 47 compensatory picks since they were instituted in 1994. Denver has had 16 compensatory picks all time, including seven in the last two years alone.