ENGLEWOOD, Colo. -- **In most offseasons, this is just another week of workouts, building toward extensive on-field team work that begins with Phase 3 of the offseason schedule late next month.
But the league permits teams to conduct an extra three-day voluntary minicamp for veterans after hiring a new head coach to help ease the transition to a new administration. That's why the Broncos gathered Tuesday for the first of three days of on-field work -- although the absence of helmets or pads of any kind provides a limit on the kind of work in which the team can engage.
Despite the absence of contact and emphasis on teaching tempo, the energy at practice belied the fact that there are still 138 days left until the regular-season opener against the Baltimore Ravens.
"I think that emotions were flying high today," wide receiver Emmanuel Sanders said. "Guys were excited to be out here, and so was I. I had a go-ball one time and I ran full speed. I was like, 'This is a jog-through tempo?' I was having fun."
The fun came with a purpose: the first on-field immersion in the tweaked schemes that the players have studied in meetings the last two weeks.
"It means a lot because it's one thing to do it on paper," said linebacker Danny Trevathan, who saw limited work Tuesday as he continues his recovery from three 2014 injuries to the area in and around his knee.
"When you come out and get the movement -- we're all getting to learn the defense -- it really sticks to your mind," Trevathan said. "[It] makes you feel like you can play within yourself, be yourself out there and fly around and make plays."
Added cornerback Chris Harris Jr.: "It kind of just gives us a head start. Since we've got a brand new system, we need this time right now to be able to get out there.
"By the time we get to OTA practices, we'll be full speed. We'll pretty much know the whole defense. That's really what these first three days are about."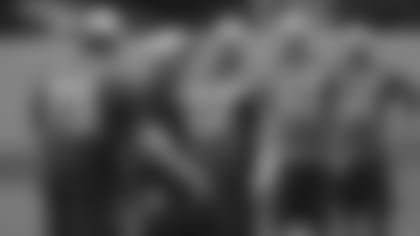 But even though the intensity spiked -- particularly during special-teams drills at the start of practice -- much of what the Broncos did Thursday was at a rudimentary level, players said.
"We're just putting in a little bit of the basics in today," Harris said. "As you're out here getting tired and learning the defense at the same time, you have to think while you're tired."
The same is true for the offense, which also took its first of countless steps to come.
"We're just starting," quarterback Peyton Manning said.
The Broncos were back on the field for the first time this offseason, working with a new coaching staff.