ENGLEWOOD, Colo. --A brisk midday practice that put the focus on young players brought the Broncos' work to a close as they scattered for the bye week.
"The guys that don't have the 400 reps under their belt -- that was the focus today, just to go back and correct some simple things that we've been making some mistakes on and let the young guys go through it, for the most part," Head Coach Gary Kubiak said.
"[It was] just to get a good workout in more than anything -- a good weight workout today and a good running workout."
PRODUCTIVE COMMUNICATION:
This week provides a perfect juncture to evaluate where the team stands. But Kubiak noted that it wasn't just a one-way assessment from coaches to players about their performances to date.
"It's about communication today from coaches to players -- and we want feedback, too," Kubiak said. "We sat down and watched all of the cut-ups with the players and got a lot of feedback.
"We need to narrow down. The deeper that you get into the season, I think, the more you narrow down on, hopefully, what you do best."
On defense, the point of emphasis was clear: cut the penalties, particularly the 15-yarders that have short-circuited three-and-outs and resuscitated opponents' hopes.
Three of the nine touchdown drives allowed by the defense this year included 15-yard infractions.
"Mainly just penalties and then penalties again and then penalties," said OLB Von Miller. "The timing of them is just bad. After a quarterback -- to be third down, we get a roughing the passer and then boom, 15 yards, and then they use that momentum to go down and score.
That's really the only way that we're getting beat right now. If we can knock that down -- it sounds easier than what it really is -- but if we can knock that down, we should see everything else get a little bit better."
And Chris Harris Jr. does not believe the penalties are simply a result of the unit's aggressive play.
"Some of them are not even aggressive, just dumb. We've just got to eliminate those," he said. "We're just helping teams along. We give them an extra 15 yards or extra 20 yards.
"Think about it: If teams really have to work for those 20 yards, it's going to be hard for them to get that."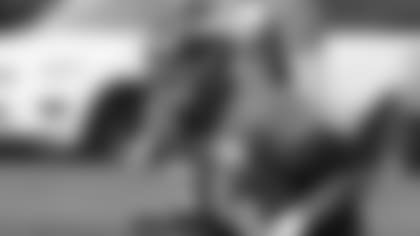 ANOTHER STEP FORWARD FOR SAMBRAILO:
Although plenty of teammates received off-days Tuesday to rest -- a group that included S Omar Bolden, TE Owen Daniels, LG Evan Mathis, WR Emmanuel Sanders, CB Aqib Talib, RB Juwan Thompson, OLB DeMarcus Ware -- rookie OT Ty Sambrailo continued to work as he tries to ensure his readiness for the Packers on Nov. 1.
Sambrailo has not played a game snap since injuring his shoulder in the second half at Detroit on Sept. 27. He practiced on a limited basis last week, but was limited to individual work and was ruled out for the Browns game two days before kickoff.
Sambrailo said Monday that the pain in his shoulder "has subsided quite a bit" since he was injured.
"[It is] just kind of functionality. [I am] kind of taking it day-by-day," he said, "and hoping to get out there next week."
Even though he was injured, he traveled to the Oakland and Cleveland games along with teammates who were also ruled out because of injuries. Not every team takes its injured players on the road.
"It keeps you involved in kind of the whole process," Sambrailo said. "You go to the meetings the night before the game. You sit through what the game plan is and what we're trying to do. When you're sitting at home watching it on TV, you don't necessarily get those meetings and get those talks about what we're looking for and what we're trying to attack.
"I think being able to do that and kind of stay in the mind frame of approaching it like I'm going to be playing, even though I'm not, has been very helpful."
... Injured players will remain in Denver for sessions with team trainers. "If you can't practice Monday, then you're here. That's kind of the rule. It's amazing, a lot of guys got well really quick," Kubiak said, smiling. "Hopefully we'll make up a lot of ground with some of those guys this week."
... The only two players not on the field at all when practice began were OLB Shane Ray (sprained MCL) and ILB Corey Nelson (ankle and knee injuries).