ENGLEWOOD, Colo. --The offensive line competition will continue through the preseason, but when the Broncos begin training camp, Head Coach Gary Kubiak expects to "line up just like we are right now."
That means rookie Ty Sambrailo at left tackle, Ben Garland at left guard, Gino Gradkowski at center, 2013 All-Pro Louis Vasquez at right guard and Chris Clark at right tackle.
"The biggest thing at tackle, it's really hard because you're trying to settle Ty down, and somebody's got to be a swing player, too," Kubiak said Monday. "They're still moving around, and I think we're very competitive all the way across the front. Louis is the one guy who's been a steady guy at what he's done. I think really, after that, we're going to be very competitive the whole way across."
That competition will include experienced veterans like tackle Ryan Harris and guard Shelley Smith, and young players like Matt Paradis at center and Michael Schofield at the tackle spots. Fourth-round pick Max Garcia worked behind Vasquez at right guard and is expected to continue learning that position first.
"I don't think there's anything etched in stone. It's going to be very competitive," Kubiak said.
No matter how the Broncos' line looks in Week 1, newcomers will abound. At least three of the five line slots will be manned by players who did not start for the Broncos in 2014.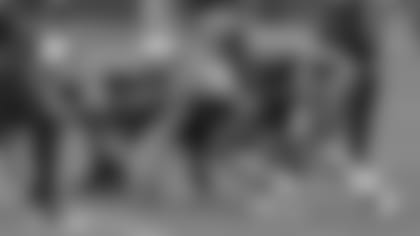 "We're going to be young. If I told you the lineup today, or I tell you in August, that's a fact," Kubiak said. "But I think one of the good things is that we've got a lot of work, a lot of reps with the group.
And if the young linemen improve and grow into their jobs, the Broncos could be set up front for the foreseeable future.
"If you are young (and) you make it work, you've got a chance to be good for a long time," Kubiak said. "I feel like we've got some good young players, and it's our job to get them going.
"If we hit it right, this can be a group that can stay together and play together for a long time."
The Broncos donned helmets again to open the last phase of OTAs and make their final impressions before training camp in July.