DENVER —In Week 2 of the 2016 season, Super Bowl 50 MVP Von Miller sealed a victory over the Colts with a strip-sack forced fumble against quarterback Andrew Luck that Shane Ray scooped up and returned for a touchdown. This was Miller's third sack of the game and just one of 13.5 sacks that he ultimately had in the 2016 season. What you may not know, however, is that this sack didn't just seal the victory for the Broncos, it also contributed $1,000 to the Weld Food Bank.
Prior to the 2016 season, the Broncos and Extraction Oil & Gas teamed up to create a campaign that would donate money to the Weld Food Bank based on something good that the Broncos did on the field. After seeing the success of the Broncos' pass rush in their run to Super Bowl 50, Extraction Oil & Gas President Matt Owens decided to rely on Von Miller & Co. to raise money through their play for the local food bank.
"It's a great way for us to be able to give back to the community in a setting where a lot of people can actually see the work that we're doing with the communities. A lot of times it goes unnoticed, except for those that we are directly affecting," Owens said. "It was good for us because everyone wants to come and cheer on the Broncos. So, if we could donate money every time something good happened during the game, we thought that would be a win-win for everybody."
Including Miller's team-best 13.5 sacks, the Broncos totaled 40 sacks for the season, which would mean a $40,000 donation. However, on Tuesday, Extraction Oil & Gas boosted that total to $50,000 as they presented the donation to the Weld Food Bank to be used at their discretion. The Broncos and Extraction Oil & Gas presented the check at Sports Authority Field at Mile High on Tuesday along with Broncos linebacker Shaquil Barrett, who contributed 1.5 sacks to the cause.
"Sacks bring a lot of glory to you personally; it increases your chance of winning a football game. And now it's helping feed families," Barrett said of the donation. "It's a win-win-win."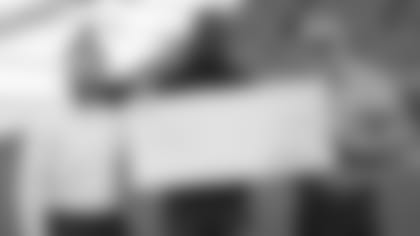 For Barrett and the rest of the Broncos pass-rushing corps, they're just doing their job. For the fans watching, they're just celebrating a crucial play by the Broncos defense. But because of this partnership, these sacks will continue to have a lasting impact far after the 2016 season fades. 
"For every dollar that's donated, we can distribute five meals. When you look at this very generous donation, we're talking about 250,000 meals that can be distributed. In Weld County, we certainly need that," Weld Food Bank Executive Director Bob O'Connor said. "One of every eight people that we serve are facing hunger and that number for kids is one in every five. So that's like 17,000 children that go to bed hungry, not knowing where their next meal is going to come from."
Not only will the donation be enough money to contribute to 250,000 meals, it will also help ensure that these meals are filled with quality ingredients.
"We're working really hard to make sure that people get healthy food like produce and fruits and vegetables," O'Connor said. "I figure we're going to be able to bring over 300,000 pounds of fresh fruit and vegetables and distribute them in no less than 35 mobile food pantry drops which will take care of somewhere around 20,000 individuals. And not just 20,000 individuals — 20,000 individuals for several days." 
So, the Broncos' 40 sacks this season didn't just help them finish with their fifth-consecutive winning season, they're also going to be providing 20,000 hungry individuals with multiple meals — truly, a win-win-win, as Barrett put it.
"I'm just doing what I love, and it's helping out people in need, kids in need," Barrett said. "It's a tremendous feeling to know that I contributed to that just doing what I love."
"This has got to be one of the highlights of my 18-year career," O'Connor added. "Being able to stand here at Mile High and accept that kind of money that I know is going to help so many people … it's incredible."