ENGLEWOOD, Colo. --In Pittsburgh and outposts elsewhere, the daily updates on the status of QB Ben Roethlisberger and WR Antonio Brown will be awaited with bated breath.
At the UCHealth Training Center, they'll be met with shrugs by players whose preparation will revolve around the expectation that both will be back after being injured in the second half of the Steelers' 18-16 wild-card win at Cincinnati.
Roethlisberger suffered a sprained AC joint after being driven into the Paul Brown Stadium turf by Vontaze Burfict. Brown sustained a concussion on a fourth-quarter, helmet-to-helmet collision from Burfict, and will spend the week in the league-mandated post-concussion protocol.
"Ben will be there. A.B. [Brown] will be there," said cornerback Aqib Talib.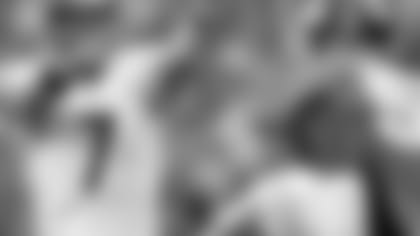 "Obviously it's information that everybody gets around the league, but I'm really trying to stay focused on us right now," added Head Coach Gary Kubiak. "We kind of officially start our week Wednesday again. We're trying to stay in our same routine. I don't pay too much attention to it right now."
Roethlisberger limited himself to short, underneath passes when he returned to Saturday's game in time to lead a game-winning drive aided by the Bengals' emotional Chernobyl.
But the Broncos expect that if the 12-year veteran is ready to play Sunday, he will not constrict himself to checkdowns.
"You've just got to game plan to go play ball, and if he doesn't throw it 40, 50 yards downfield, then he just doesn't throw it 40 or 50 yards downfield," said Talib. "But we're just going to game plan for 100 percent Big Ben and 100 percent A.B."
"I'm not buying that, man," safety Darian Stewart added when asked about the notion of Roethlisberger sitting out. "I'm expecting him to play; I'm expecting him to be 100 percent."
"He's Big Ben. I know he's capable."
And he's durable. Stewart recalls a September 2014 game in Baltimore in which Roethlisberger took a thunderous shot from Courtney Upshaw, but stayed in the game.
"Not at all. He came right back in against us last year when I was in Baltimore," Stewart said. "I'm expecting him to play."
And the truth is, the Broncos want to see those players on the field, not just because they embrace the challenge, but from a human perspective.
"If we didn't want them to be there, that means I would want A.B. to be messed up. That's a good dude. A good family dude, man. We don't want him to be messed up," Talib said. "As long as he's good, he'll be there."
The Broncos were back outside for practice as they begun their first preparation for the Steelers. (photos by Ben Swanson)