ENGLEWOOD, Colo. — Bradley Roby thinks his position coach, Defensive Backs Coach Joe Woods, is the best at what he does. But when Woods approached him and the rest of the group with a new idea for drills, Roby turned a bit skeptical.
"Coach Woods always likes to try new things," Roby said. "I was like, 'I don't know what this is.'"
It was a pair of glasses with blinders on the side. Each defensive back wore them at different points during the first day of training camp, from footwork to man-coverage drills.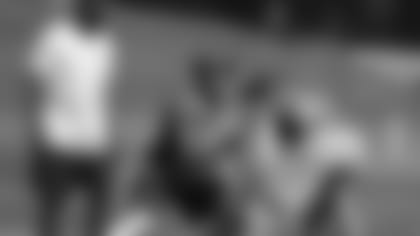 "It's about focusing on one thing at a time, focusing on what you're supposed to be focusing on," safety T.J. Ward said. "You're supposed to be reading the quarterback. […] You're supposed to have your eyes on the receiver. So it's just training your eyes."
As the secondary prepares to make its effort to improve upon 2015's league-leading marks, Woods seems to be focused on fine-tuning how his players read developing plays.
"It helps you just locking in and zoning in and looking at the right things," Roby said. "It's going to help and I think Coach Woods is the best secondary coach in the league, so I'm listening to whatever he says, for sure."
In a manner of speaking, blinders are something of a theme for the team as they look to focus on the upcoming season while leaving 2015 behind them, but these specific ones Kubiak left to Woods and the defensive backs to try something new together as a unit.
"I think there's something about them as a group that they're always doing things together," Kubiak said.