ENGLEWOOD, Colo. --If you are a regular visitor to Broncos training camp this year, you know there are some daily constants: autograph signings, acrobatic catches, and the voices of position coaches Bill Kollar and Reggie Herring echoing off the hillside and the video tower looming above.
To that list, you can add Aqib Talib interceptions.
This week, Talib has made thefts a near-daily staple. He has interceptions off Peyton Manning in three of the last four practices. He didn't have an interception Friday, but did show his athleticism with a leaping breakup of a pass intended for tight end Owen Daniels.
"To me, the difference in this league between a good corner and a great corner is [having] ball skills," said Head Coach Gary Kubiak. "A lot of guys can cover, but when the ball is there, can you make the play on the ball? Can you make the pick? Can you take it the other way?
"That's what separates him. If he gets his hands on the ball, like I told the guys the other day, 'Let's go to work,' that will be a touchdown, not just turnover. He does a great job."
Talib's Saturday pick-six of Peyton Manning in the "move-the-ball" two-minute drill period would have given the defense a win over the first-team offense had an offsides call not nullified the play.
These plays might be news to some, but not to Talib, who had four interceptions last season, returning two for touchdowns.
"I make plays every camp. Go back and check the tapes and stuff," he said. "[I] make plays every camp, but [my] body feels good and I love the defense."
The defense generates pressure, and that was evident on his interception Saturday. Defensive end Malik Jackson and outside linebacker Von Miller collapsed the pocket from Manning's right side, and when the quarterback threw for Andre Caldwell, Talib came up with the football.
Although the Broncos can do without the offsides penalty, the interception was an example of the defense working as it was designed: pressure up front creating opportunities on the back end.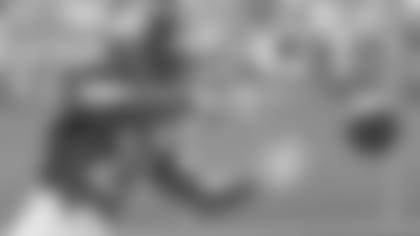 "[We] get a chance to put a lot of pressure on the quarterback. [It] lets us get physical with the receivers. When we [are] off, we get a chance to play with vision and at the same time put a lot of pressure on their quarterback," Talib said. "We mix it up and putting that pressure on the quarterback helps the DBs a lot."
The symbiotic work of the pass rush and the secondary gives the potential for greatness. If Miller, Jackson, DeMarcus Ware and the other rushers up front can make quarterbacks uncomfortable, more errant throws will follow -- and with them, more opportunities for takeaways.
At that point, it just becomes a matter of grabbing the football. Few do that better than Talib.
Other takeaways from Saturday:
1. BRANDON MARSHALL IS FINDING HIS GROOVE.
It's only taken three practices and a slow-but-steady increase in team-period workload for Marshall to begin looking like the dominant run defender he was at weakside linebacker last year. Moving inside in the 3-4 alignment does not appear to have affected his potential for production. Although he must navigate through a thicket of linemen, he's still filling holes and engulfing running backs or forcing them to bounce around in search of another hole.
Marshall's play on the inside set the tone for the defense's overall effort, which Kubiak said was "probably our most dominant performance defensively as far as just our attitude and staying in the moment all day long.
"B-Marsh, he started it up," added safety Darian Stewart. "He had a [heck] of a day."
MAX GARCIA LOOKING FOR CONSISTENCY.**
The coaches' examination of Garcia and Matt Paradis at center and left guard continued for a third consecutive practice Saturday.
In the last three days, Garcia has made it into my notebook with his persistence and his ability to create a seal for C.J. Anderson, Montee Ball or Ronnie Hillman to run through. But he has also had particular trouble with Malik Jackson when the fourth-year defensive end shoots inside and gets his shoulder in before Garcia can get set.
"Max is up and down," Kubiak said. "Max is very strong, heavy-handed, so he has a lot of plays on film that are highlights, and he's got a lot of plays on the film that need to be better."
Vacillations like these are typical for a rookie.
3. OWEN DANIELS, STABILIZING FORCE.
Manning's throws to Daniels are more reminiscent of those that he's made for targets he's know for years than to a tight end he just got to know this offseason, beginning with the throwing sessions at Duke University in April.
No one on the roster knows about Daniels' moves better than Stewart, who faced him in practice with the Ravens last year. Daniels beat Stewart for a 28-yard reception during a "move-the-ball" period late in practice, setting the offense up at the defense's 17-yard-line for a Brandon McManus field goal.
"[He is] just savvy. He has a little wiggle to him, so he kinds of get you. He may out slow you a little bit. He's been in the league a while, so he knows his way around it."
PRECAUTIONARY ABSENCES CREATE OPPORTUNITIES.**
Kubiak understandably wants to minimize risk as much as he can, which left WR Emmanuel Sanders and CB Chris Harris Jr. on the sidelines. Others sitting out included ILB Steven Johnson and safety David Bruton Jr.
Their absences and the continued ramping up of work for players like WR Demaryius Thomas and ILBs Brandon Marshall and Danny Trevathan gave some first-team repetitions to players such as WRs Andre Caldwell and Jordan Norwood, ILB Corey Nelson and CB Bradley Roby, among others.
Although Nelson had some bumpy moments against the run, he excelled in pass coverage near the goal line, helping break up two end zone passes to Daniels and Virgil Green. Roby saw his workload increase with Harris sidelined, which put him on the field in the base package -- and one-on-one against Demaryius Thomas. Ruby's aggressive play continues to get him attention, but he knows he needs to draw fewer penalties.
"It was an okay day for me and I had some small penalties that I kind of messed up on, so I'm kind of mad about that," Roby said. "It's training camp. You have things that you need to work on, so all days bring light on things I need to work on."
For key veterans like Manning, Talib, Miller, Daniels, DeMarcus Ware, Louis Vasquez, Sunday will mark their second off-day of training camp. With an off-day for the entire team to follow Monday, the veterans will have 48 hours to get refreshed before returning Tuesday.
"It'll be pretty much a young practice [Sunday] morning," Kubiak said. "We're going to have our pads on. We need to get some work done."
The true value of these days won't be evident for months, but for the moment, they're welcomed by veterans -- and an extra opportunity for young players to get more repetitions on film.
The best shots from Day 9 of training camp at UCHealth Training Center. (All photos by Eric Lars Bakke)