ENGLEWOOD, Colo. --Among the Broncos' offensive players, only Owen Daniels knows more about the concepts Head Coach Gary Kubiak wants to install than James Casey.
He knows the cerebral demands of installing this offense. He's seen how difficult it can be for some players to grasp.
But what he sees from his new team is a collective understanding of the offense. The offseason of classroom study and the summer of on-field work is starting to pay dividends, especially as the installation pace accelerates and more concepts take root.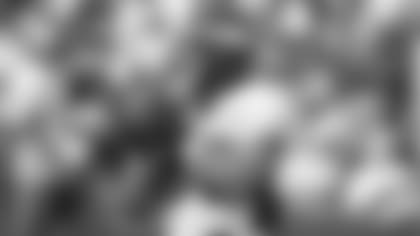 "I think we're very, very advanced right now where we're at in camp," Casey said. "Obviously Peyton [Manning] helps speed up that process because he's seen so much football and he's such in command out there, that I think we're ahead [compared with] anything I saw in Houston."
Even with Manning's presence, the Broncos' progress surprises Casey.
"I think it is surprising that everyone's picking up everything so fast, because there's a lot of little intricacies in this offense, a lot of details. Everything's very on-point. Coach Kubiak has got assignments for everybody in certain positions, and everyone's really buying in, really taking it upon themselves to know exactly what they're doing. I'm seeing a lot of great things out here in practice.
"We're still learning. We're still building on seeing what we're good at [and] seeing what we're not good at. But by the time we get to these preseason games, hopefully we'll have a good idea of what we're doing and we can go demonstrate this in these preseason games."
The first preseason game will not reveal much, especially for the first team. The learning will continue into the regular season.
But even with the shuffling along the offensive line as the Broncos try to find their starting unit, the offense is starting to click after a rough opening to training camp.
VON MILLER'S EXUBERANCE.**
During Tuesday's practice, the outside linebacker was so amped up after going under Ryan Harris' arm without losing any speed that he sprinted all the way back to the locker-room doors. Friday morning, he hopped and danced his way from pre-practice stretching to the first period of defensive work, waving his arms and jumping to fire up the UCHealth Training Center-record crowd of 5,507.
"I'm just having fun," Miller said. "Playing football is what I do best, so when I'm out here, I should be happy out here, I should love coming to practice.
"People shouldn't drag me out to come to practice just to do something that I do better than anything that I do in life. While I'm out here, I just enjoy my teammates and just try to stay in the moment."
It helps that Miller continues to breach the pocket off the edge, providing a difficult challenge for RT Ryan Harris. Miller forced Manning to step up in the pocket for some throws; against quarterbacks who do not possess Manning's feel for the pass rush, Miller will rack up the sacks.
MANNING'S COMFORT LEVEL.**
In recent days, the offense has begun incorporating some concepts of recent years into a scheme that, in the end, will likely be a melding of Kubiak's typical offenses and the one the Broncos ran the last few years. There were more shotgun and pistol looks Friday, with handoffs setting up some long runs that were reminiscent of the 2013 season in particular.
But there was one play in particular that showed that Manning is doing just fine in an offense with a bit more work under center. During a team period midway through practice, Manning dropped back, read the defense and threw even before he was set, finding Daniels on a short crossing route.
A pass like that reminds you that Manning is one of the all-time great multi-taskers to come through the sport. There are some players who pass through the NFL without the ability to walk and chew gum at the same time. Manning, on the other hand, is pretty much the opposite.
Just because Manning might end up operating under center more often does not mean he won't be able to read and slice up a defense with the same efficiency and speed as he did in previous years.
PARADIS, GARCIA BACK UP FRONT.**
Kubiak, Offensive Coordinator Rick Dennison and Offensive Line Coach Clancy Barone opted to work Paradis and Garcia for a second consecutive day on the first team at center and left guard, respectively.
Even if they don't earn starting jobs during this training camp, their work together could offer a glance at the Broncos' long-term future up front. Two things jumped out: their occasional double-teams of NT Sylvester Williams -- which says a lot about Williams' play during training camp -- and their work on one of C.J. Anderson's best runs of training camp. In the parlance of Vince Lombardi, they created "a seal here and a seal here," and Anderson ran "in the alley."
No one expects them to be perfect, and Garcia and Paradis weren't. When Malik Jackson rushed inside, Garcia had trouble with him. Garcia won't be the last guard to find difficulty containing Jackson when he bursts to the inside. But each day helps their progress.
SAMBRAILO A QUICK STUDY.**
More and more, Ty Sambrailo is settling in at left tackle, and DeMarcus Ware's guidance is a significant reason why. When Ware and Sambrailo duel in one-on-ones, the rookie wins his share of the meetings, and is doing a better job getting his feet positioned to guiding Ware outside and away from the pocket when the Pro Bowler attempts a speed move to the edge.
"Some moves that I would do on him, at first they would work. I would ask them, 'Why do you think these moves would work?' These right here are some of the hand gestures or hand movements that you can move to stop it,'" Ware said. "The next day he comes out and he stops me.
"And I'm like, 'You know what? The next guy that pass rushes is going to do the same thing, and they're going to be surprised when you go against them.' He's one of those guys that is going to step up big for us, so why not tell him how to play and what to do? It makes him more effective quickly."
And given all that has been placed in front of Sambrailo so soon, the Broncos need him to continue applying these lessons quickly.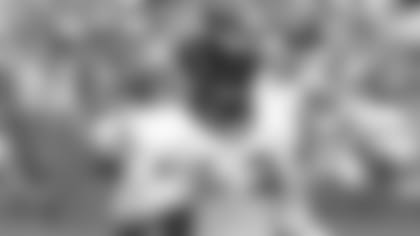 5. JOE DON DUNCAN'S ATHLETICISM.
Ten to 15 years ago, Kubiak leaned towards converted running backs as fullbacks, because they had skills to be viable threats when needed as ball carriers and pass catchers out of the backfield. Howard Griffith and Mike Anderson were the best examples of this trend.
But in 2015, he looks for converted tight ends that offer the flexibility to line up at fullback and the positions where tight ends line up -- close to the offensive tackle or just outside in the slot. With players like those, Kubiak and Offensive Coordinator Rick Dennison can change their formation without changing personnel.
That's what made Casey a good fit in Houston and now Denver, and that's what makes Duncan an intriguing prospect. For the second consecutive day, he used his athleticism to get open for a big reception downfield.
"It's very rare. That's why he's here," Casey said. "That's why he's in the NFL. That's why he's playing fullback and some tight end stuff because he is a bigger guy. He's like 260-something and he can run well, catch and he can block."
Duncan's biggest task is learning the nuances of fullback, but with more downfield receptions, he could become a threat on wheel routes out of the backfield and short routes across the middle. Few linebackers can cover a 270-pounder with speed and good body control.
The best shots from Day 8 of training camp at UCHealth Training Center. (All photos by Eric Lars Bakke)