ENGLEWOOD, Colo. --This is what Head Coach Gary Kubiak meant when he said July 30 that he would "probably be pretty aggressive in our movement with people" on the offensive line.
When the Broncos' first-team offense went to work Thursday morning, 60 percent of the offensive line was different than it was when training camp began last Friday. And while only the change from Chris Clark to Ryan Harris at right tackle appears to be written in pen, you couldn't ignore the sight of Matt Paradis at center and Max Garcia at left guard, manning the spots held down by Gino Gradkowski and Ben Garland, respectively, in previous days.
"I wasn't anticipating it. I knew it was coming eventually. I didn't know it was coming today," Paradis said.
Even if Paradis was not making a strong push, there would be ample reason to give him some first-team looks. If he settles as the backup center, he needs some repetitions with Peyton Manning to begin honing their timing just in case injury forces him into the lineup.
They missed on one snap, leading to a fumble that defensive end Kenny Anunike recovered. But Paradis also looked stout going against nose tackle Sylvester Williams, who has enjoyed a promising camp. Paradis has faced Williams in plenty of one-on-one drills, so that was nothing new.
There's a significant gap in experience between Paradis and Gradkowski, given the latter's full 2013 season as a starter with the Ravens. That isn't the case between Garland and Garcia; Garland played 47 snaps last year in limited work and has only been an offensive lineman for two years. How they split first- and second-team work over the next few days will merit close monitoring.
Although Garcia needs refinement -- like any rookie -- he is tenacious, confident and willing to handle tough one-on-one matchups, as he showed July 31 when he faced Von Miller twice during a pass-rush drill. Miller, as expected, whipped past Garcia, but it was a valuable learning experience and evoked memories of Chris Harris Jr. taking on Von Miller during the 2011 camp: in both cases, there isn't a challenge for which they won't raise their hands.
"I didn't know what to expect. I just knew that I was going to come in here and work hard," Garcia said. "I was going to come in here focused and try to be as prepared as possible, with getting in the playbook and just being confident in what I'm doing, so I can play fast when I hit the field. I feel like that it's transitioning well for me and I'm where I want to be, but I'm always working to get there."
The Broncos knew they would have a new offensive line once Ryan Clady succumbed to a torn anterior cruciate ligament on the first day of OTAs. But they didn't know how young it would be -- and they still don't.
But if the best quintet possible involves at least three players with not even a single snap of regular-season experience on their resumes, then the Broncos would ride that. As Kubiak has noted, if you hit on young players who improve with time, experience and cohesion, you can build an group that endures and only improves over the years.
"If we're the best five that are up there, then so be it," Garcia said. "We're going to come out here; we're going to compete, just like we've been doing.
"I think [Thursday] coaches just wanted to see what we could do just running with the ones. We'll go back to the film and see how we did. If we didn't do too well, we'll hit the field [Friday] and get some redemption and go on from there."
What else stood out from Tuesday's work?
While Brandon Marshall saw his first team-period work of training camp, Danny Trevathan sat out practice with an illness. But even though Marshall is ahead of Trevathan in their recoveries, Kubiak is pleased with the progress of both.
"I'm not concerned at all," Kubiak said. "I just think it has worked out that way and I think that if Danny was not here [Thursday], that he was going to do a little bit more, too."
Marshall looked comfortable working in the 3-4 alignment for the first time with the Broncos. He read the flow of plays, didn't get lost in traffic and looked to be in command of the huddle -- almost as though he had not missed an entire offseason following foot surgery.
"It felt good. I've been doing a lot of studying, so to get out there and do it is actually a little different," he said. "I've studied enough; I'm a heady player, so I was able to get in there, step right in and do what I needed to do."
Marshall isn't sure if he'll play in the preseason, but he expects to "definitely" play by Week 1. From there, it will be a matter of dealing with soreness as he completes his recovery with two screws in his foot throughout the season.
But he proved in the playoff loss to Indianapolis just four weeks after his initial foot injury that he can play through pain. Marshall's toughness and game intelligence are clear; now he just needs some practice work to get up to speed.
Obviously, there are no guarantees that Marshall and Trevathan will be ready for Week 1. But the Broncos are one step closer.
MANNING THROWING WITH ZIP.**
An early completion on a deep post to WR Emmanuel Sanders set the tone for Manning. His day wasn't perfect; CB Aqib Talib intercepted him for the second consecutive practice. But as the offense expands its repertoire, Manning is pushing it downfield and outside more often, and showing more than enough velocity to get the football where it needs to go.
"I don't know if you all are going to believe what I say, but I think it's a little more zip on it," said wide receiver Demaryius Thomas. "I don't know how he can do that. He's an older guy—one of the oldest guys on the team -- but I feel like every year around this time, there's almost more zip on his ball. You can notice it.
"He threw a couple posts today, probably 50, 60 yards, and I'm like, 'Whoa.' It's making me excited."
Of equal promise for Manning is the way he feels the pass rush. On the deep shot to Sanders, he stepped up and away from DeMarcus Ware, who rushed around the right edge. With the personnel up front still in flux and the linemen continuing their immersion in the zone-blocking scheme, Manning's quick reads, sixth sense at feeling the pass rush and knowledge of when to minimize contact will serve him well.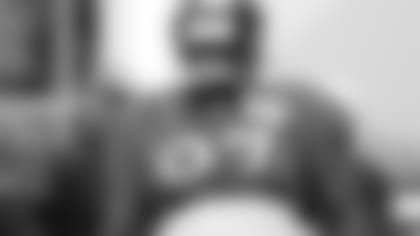 3. MALIK JACKSON BACK UP TO SPEED.
With Derek Wolfe facing a four-game suspension, Jackson knew he would have to be cautious when he strained his calf muscle last week. But when he was cleared to see some team-period work Thursday, he attacked, exploding through the line to generate pressure. In one instance, he defused a handoff to C.J. Anderson single-handedly with a quick inside move that allowed him to get past Ty Sambrailo into the backfield.
"I'm just more anxious because I got hurt on the first day," Jackson said. "So now I just want to get back out here with these guys, show the coach what I can do and show the team what I can do and where I am at [health-wise]. It's more just excited, but I'm just ready."
He was ready last Friday, but admitted that he had "a little bit" of a calf strain before he checked in for training camp. He aggravated it during the July 31 practice to open camp, and the Broncos took it easy on him after that, knowing they can't afford to lose him.
"I just have to be quiet, just get to work in the training room and not rush myself back because it is a long year," Jackson said. "I need them and they need me, so we just have to work on getting it back together."
Based on how he exploded Thursday, he should do just fine as long as he monitors his calf strain closely.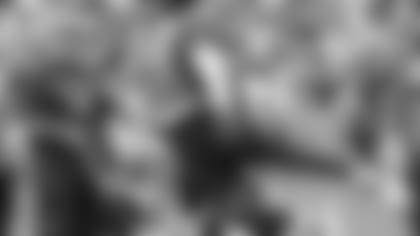 He continues to burst around the edge with the same speed he demonstrated prior to tearing his anterior cruciate ligament on Dec. 22, 2013. Every day, he makes one play -- or sequence of plays -- that leaves jaws hanging agape. Thursday, it was his back-to-back moves against Louis Vasquez and Ryan Harris during the one-on-one pass-rush period,
Miller also had a speed rush past tight end Virgil Green that might have been a sack under game conditions.
He wasn't the only front-seven defender to impress with his speed; defensive end Kenny Anunike took advantage of some work with the first team and used his quickness and agility off the snap to disrupt some run plays as they developed.
Outside linebacker DeMarcus Ware also had some success with a bull-rush at Ty Sambrailo that knocked the rookie left tackle off-balance during a one-on-one drill.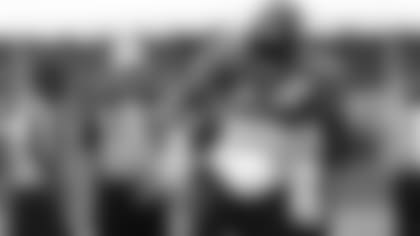 5. GETTING EVERYONE INVOLVED IN THE SPECIAL TEAMS.
Special Teams Coordinator Joe DeCamillis brought out the volleyballs for a drill that incorporated almost every member of the linebacking and secondary corps, simulating a field-goal rush off the edge. Another coach tossed up a volleyball after the players ran through a gauntlet of tackling dummies, and the players all took their turns leaping to bat the football down.
Although the coaches used a volleyball, the aerial moves displayed were reminiscent of acrobatic Tim Howard saves for the U.S. men's national soccer team. And even stars were involved; Pro Bowlers Miller, DeMarcus Ware, Chris Harris Jr., T.J. Ward and Aqib Talib all took their turns taking off and flying onto a cushioned mat.
If the Broncos are ever in a crucial, game-ending situation where they need a blocked kick to preserve a win or a tie, DeCamillis wants the team's best athletes on the field to try and knock down the kick. So if you see Miller, Ware or another one of the Broncos' Pro Bowl defenders lurking on the edge later this season, don't be surprised; they put the work in during practice long before.
The Denver Broncos returned to the field at UCHealth Training Center after having a day off.