ENGLEWOOD, Colo. -- **"Red" didn't necessarily mean stop for the offense as the Broncos emphasized red-zone work during their spirited two-hour practice in full pads.
Running the ball in the red zone will be a point of emphasis at some point; as Head Coach Gary Kubiak noted, "I like being physical all over the field."
The run, of course, can set up more opportunities for the passing game, which was one of the NFL's most effective in the red zone the last three years.
"I think if you can make people play eight guys in a box in the red zone and you're not throwing against an eight-man drop or a three-man rush, it sure is a lot easier to run the ball, too," Kubiak said. "The only way you're going to get people to do that is to be able to run the football well down there."
That might take a bit of time, but for the most part, the passing game was effective in the red zone, which is where the Day 5 takeaways begin:
BIG PLAYS ON THE OUTSIDE.**
Demaryius Thomas' return to full-scale work over the next week will be welcomed. But in his absence, Emmanuel Sanders and Cody Latimer have held up just fine as the first-team duo, with Sanders flourishing in the red zone and Latimer catching everything thrown his way.
Sanders had a lunging grab to beat Chris Harris Jr. that made it into the day's highlight package, and was a consistent target of Peyton Manning's inside the defense's 20-yard-line. Latimer opened his day by streaking past Aqib Talib in a one-on-one drill for a pass from Peyton Manning and continued grabbing passes throughout the seven-on-seven and team periods of the day.
"We all know where we want Cody to be a month from now as far as being a part of this team and a big contributor," said Offensive Coordinator Rick Dennison. "He's on his way. He got the wind knocked out of him a little bit today, but he's doing a good job and a good job on special teams, also."
The Broncos will use more two-tight end and two-back sets as a part of their offense; they have made that clear all year. But there will be opportunities for three-wide work, and the better Latimer does, the more that package will become viable -- especially given Latimer's abilities as a blocker, which distinguished him at Indiana before the Broncos drafted him.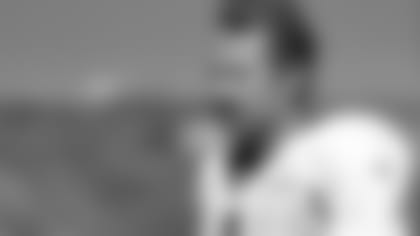 After working in end-game simulations early in training camp, Special Teams Coordinator Joe DeCamillis opted to have kickers Connor Barth and Brandon McManus attempt four field goals apiece from 33, 37, 43 and 49 yards. Barth hit all four of his attempts; McManus hit three and missed wide left from 43 yards.
McManus' leg strength was evident last year, and it remains his calling card. He crushes the football; even when he misses, the ball soars deep and high into the crowd gathered on the west-side viewing slope.
DeCamillis and Kubiak have made it clear they want to use just three roster spots for specialists among punter, kicker, long snapper and kickoff specialists. That's why it was significant that Barth was working on kickoffs Tuesday; he handled that for one game last year before the Broncos brought McManus back from the practice squad. Tuesday, he joined McManus and Karl Schmitz on kickoffs.
Barth's kickoffs in the Week 12 win over Kansas City last year were consistently short, as they were when he kicked for Tampa Bay, which begs the question: what can a veteran kicker like Barth do to remedy that issue?
"There are certain technique things they do," DeCamillis said. It's just like anything else, the more you do it and the better your technique is, the better you're going to be at it. Hopefully, we can get them better."
STILL FLUID ON KICKOFF RETURNS.**
Omar Bolden and Andre Caldwell each had their turns during the kickoff-return period. Bolden's production late last year after seizing the job from Caldwell would seem to give him an edge, but their roles on defense and offense, respectively, will have an impact.
Bolden as a kickoff returner is a known commodity; he reads his blocks well and has a long stride when he gets going. But his experience on punt returns is scant, and he struggled in the punt-return period Saturday, muffing one return and bobbling another before he corralled the football.
"He was just catching on the field after practice. He's progressing," DeCamillis said. "We just have to see what he does in that first game against Seattle. That's going to be the big tell-tale sign for him. He's done a good job so far."
WR Solomon Patton did not work on kickoff returns Wednesday, but will be in the picture there, as well as on punt returns. Patton had a quieter day on offense than on previous days, but his return skills have impressed DeCamillis.
"For a guy that's that size, he runs strong, which means he's going to break some tackles when he gets there, which for most of those guys, doesn't happen," DeCamillis said. "We're impressed with him so far. Hopefully he can continue."
It's also apparent that the Broncos want plenty of mobile muscle in front of their kickoff returners. Working together in front of Bolden were 265-pound TE Dominique Jones, 270-pound FB/TE Joe Don Duncan, 240-pound TE/FB James Casey, 230-pound long snapper Aaron Brewer and the 215-pound Latimer, the Broncos' second-heaviest receiver. That athletic group could give Bolden -- or whoever ends up returning kickoffs -- plenty of room.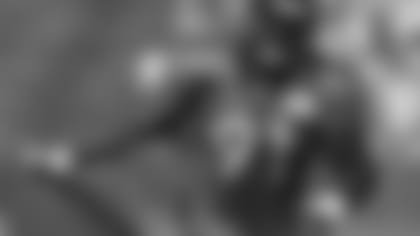 4. KENNY ANUNIKE PASSING THE TEST.
The most pressing question about the second-year Duke alumnus was always going to be this: How will he handle playing at the five-technique defensive end spot at approximately 275 pounds once the pads go on? The answer? Quite well, at least so far. Anunike has been able to use his quickness to get inside of an opposing offensive lineman and burst into the backfield, and hasn't been swallowed in the traffic that develops on a run play.
"He has gained some weight, he has a lot of strength and he's not getting knocked off of the line of scrimmage," Phillips said. "To see him with pads on—because he really did well without pads—and not get blown out of there or knocked back, and be able to do some of the things he did without pads, is encouraging."
Anunike has been able to continue using his quickness to win his share of one-on-one pass-rush drills against opposing guards, including one play Thursday where he actually got enough of a push to knock rookie guard Max Garcia back before spinning past him.
"He still has a way to go," Phillips said, "but he's done a good job so far and I think that he has picked it up since we've gotten pads on."
5. THE PAUSE THAT REFRESHES.
This was the first -- and last -- time that the Broncos will practice five consecutive days in succession this year. When they return from their Wednesday respite, they will have four consecutive days on the field before getting next Monday off; after that, the longest burst of full-scale on-field work will be four days leading up to the preseason game against the 49ers. (They will have plenty of weeks in the regular season when they're on the field four days in a row, but the last of those is typically a walk-through session.)
Fatigue during Tuesday's practice was understandable for the Broncos who didn't get a veterans' rest day Monday. Exacerbating the exhaustion was the fact that the last three days were in shoulder pads.
"Usually when you've had your pads on for about three days, that is probably about as bad as they're going to feel all year long," Kubiak said. "I told them today, it's also probably the time you become your best as a player because you have to push through those things."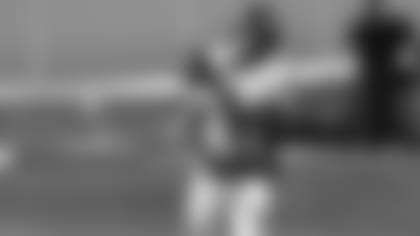 New wide receiver Corbin Louks had a reception on a short crossing route from Trevor Siemian on Tuesday. Louks wears jersey No. 6. Siemian wears No. 3. 6 x 3 = 18. Yes, I'm ready for a day off, too.