ENGLEWOOD, Colo. -- **Saturday night, Peyton Manning will see J.J. Watt on the other side of the line of scrimmage. After sitting out the 22-20 win at Seattle last week, Manning will make his 2015 preseason debut in Houston and will play "quite a bit," Head Coach Gary Kubiak said.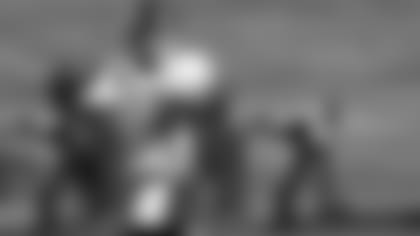 "Is that a quarter and a half? Is that a half? Is that a quarter? I don't know," Kubiak said. "I'll see how the game goes, but I want them [Manning and the first team] to get a bunch of snaps under their belt."
Every day against the Broncos' No. 1 defense offers preparation for the Texans' pass rush. But Tuesday was a rough day for Manning, who found himself under consistent pressure from DeMarcus Ware and Von Miller. That's where the Day 19 Takeaways begin:
1. AS GOOD AS IT GETS OFF THE EDGE.
In evaluating the progress of the Broncos' reconfigured offensive line, it's important to note the quality of their competition: a defense with five Pro Bowlers and arguably the best bookend edge rushers in the game with Miller and Ware together.
"Their pass-rushing ability is second to none, honestly, in my opinion," said tight end Owen Daniels. "You've got two of the best out there. It makes it real difficult. They've got different leverage every play, and they can go wherever they want to. But they're awesome players—[OLBs] Von [Miller] and DeMarcus [Ware]. The back end's great, as well.
Ware, in particular, dominated his one-on-one matchups against left tackle Ty Sambrailo. During the two-minute drill period near the end of practice, Ware drove Sambrailo to the ground en route to mounting the pressure that led to a third-down incompletion. Sambrailo shook his arms in frustration after the play.
Miller excelled at reading the plays as they develop. He defused one pass play by not biting on the playfake and stalking Manning as he rolled out, forcing a throwaway.
"I think that you look at the big picture," Kubiak said. "I want Ty to be a Pro Bowler and sixth-year player today, but I also understand the process that he is going through. He, Max [Garcia] and Matt [Paradis], watching them and I think that as coaches we have to have patience when we see some of those things. Make sure that we're correcting them and trying to help them, and not so much as trying to motivate them because they're motivated.
"That's not a problem, but it's about technique and learning how to play against those great players."
The pressure helped open up possibilities on the back end, with red-zone interceptions of Manning by Aqib Talib and David Bruton Jr. near the end of practice.
The defense also dominated the two-minute period, allowing just one first down apiece to the No. 1 and No. 2 offense. Neither unit came with 47 yards of the end zone.
"They're challenging us in terms of route-running and pass protection," Daniels said. "But when it gets down to it, it's going to make it a lot easier on us when it comes to the regular season playing other teams."
STATEMENTS FROM THE PLACEKICKERS.**
The 70- and 65-yard field goals from Brandon McManus and Connor Barth were the day's highlights, but of equal importance to their competition was the field-goal period in which each had seven attempts at distances ranging from 31 to 60 yards. McManus went 5-of-7, missing from 51 and 55 yards; Barth missed only from 60 yards when he hit the right upright.
"You're hoping you're going to get a little separation and both of them made [the long-distance kicks]," said Special Teams Coordinator Joe DeCamillis, noting the kicks each uncorked during the two-minute drill. "It's a tight competition."
And even though Barth replaced McManus on placekicks last year, the latter's upside has been obvious. DeCamillis studied McManus' kicks last year to ascertain what went wrong during his midseason slump, and in the end attributed it to one primary factor: youth.
DeCamillis understands that young kickers often bounce around the league. He knows that few are ready for the job immediately.
"Unfortunately, you look at kickers and they should make everything, right, whoever they are. If they haven't done it a bunch yet, they're going to have those hiccups," DeCamillis said. "You have to be able to come back from it and hopefully he did."
THE PLACEKICKS MATTER, BUT DON'T FORGET ABOUT KICKOFFS.**
DeCamillis offered a reminder that their performance on placekicks alone will not determine how their competition ends.
"Just like we said, though, the kickoff thing's going to come into play for whoever that guy is," DeCamillis said. "You have to be able to do both."
The difference in their kickoffs was palpable on Saturday -- moreso in placement and hang time than distance.
"You want height and direction, as well. You want to put it in what we call management space," DeCamillis said. "When you go back at those big plays every week and you look at the big plays that happened, they're both on punts and kickoffs—every one of them, or not every one of them, but a lot of them are out in the middle of the field with not much hang time. That's pretty simple to see."
There were some coverage issues that exacerbated the issues, DeCamillis noted.
"It was disappointing, but not discouraging," he said. "Those are all correctable mistakes. I didn't see effort as a problem. I did see some missed leverages and some missed fits, so we've got to get that corrected, but I thought effort was good."
PLENTY OF PUNTING WORK.**
Spencer Lanning will get a legitimate shot in the punting competition, and with good reason: the Broncos had their eyes in his direction in June after the Browns waived him in June following their trade with the 49ers for Andy Lee.
"The first time that he got let go from Cleveland, he was on our radar then," DeCamillis said. "He's a talented guy and just makes it a more competitive situation."
During the punt period, Colquitt and Lanning worked first on blasting the football, then on placement. During the full-tilt period -- in which they punted from near their end zone -- Colquitt averaged 48.3 yards per punt and an unofficial 4.21 seconds of hang time; Lanning's averages were 54.0 yards and 4.47 seconds.
Omar Bolden and Solomon Patton fielded punts, but Kubiak still hopes that Jordan Norwood can be in the mix.
"I'd like him to be able to return for us. He got a couple [of punt returns] last week," Kubiak said. "They weren't very good opportunities, but hopefully we'll get him some more."
THE MORE YOU CAN DO, THE BETTER YOUR CHANCES.**
Emmanuel Sanders' hamstring injury has given Norwood first-team repetitions when the Broncos go into three-wide receiver formations, where he works alongside Demaryius Thomas and Cody Latimer.
Norwood received two handoffs after lining up in the backfield late in practice and has been a frequent target of Manning on underneath and intermediate routes.
"He's done a really good job. He's very smart. Today, we actually did some things with him moving him in the backfield and stuff, but I think that Jordan can do a lot of things," Kubiak said. "We'll see."