ENGLEWOOD, Colo. --With the field drained of water, the Broncos conducted a quality -- albeit quiet -- practice. Here are the five takeaways from the day's work:
1. GETTING THE TOP TWO INSIDE LINEBACKERS TOGETHER.
Tuesday offered the first glimpse of the Danny Trevathan-Brandon Marshall combination as 3-4 inside linebackers in a team or nine-on-seven period of practice. But it wasn't their first time together in extensive work.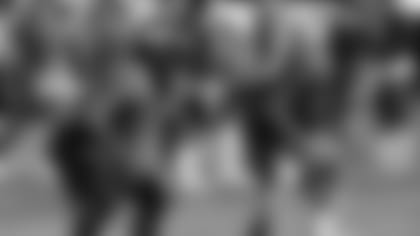 Heading into the Week 15 trip to San Diego last Dec. 14, there was a low buzz of excitement over putting the Broncos' last two leading tacklers on an every-down basis. The defense had flourished without Trevathan because Marshall had been a revelation as the weakside linebacker, just 12 months after spending nearly all of the regular season on the practice squad.
What could they do together?
The Broncos barely had a chance to learn. By the end of that AFC West-clinching win over the Chargers, both were injured. Marshall would return for the postseason, but would have surgery in April after struggling to recover from the mid-foot injury he sustained at Qualcomm Stadium. Trevathan was out for the year and faced kneecap surgery.
A brief glimpse at them together on Sunday became a longer look Tuesday, beginning when the Broncos opened a nine-on-seven period at the beginning of practice with Marshall and Trevathan juxtaposed with each other on the inside.
It took just two plays before one of them throttled the offense. Marshall saw the hole developing and attacked, engulfing C.J. Anderson.
Both are capable of making that kind of play, and as they recover, expect to see more of them filling holes and showing the same kind of prowess against the run they did in the last two years.
"They look better and better each day. I'm pleased with that," Defensive Coordinator Wade Phillips said. "When you have both guys that led the team in tackles, it's nice to have them back. But they're not there physically yet. They need to get in football shape, too, so that's a part of it. It's good for them and good for us."
And they need to build on-field chemistry together. They worked out as a tandem throughout the offseason, but they need all the work they can get now so they can communicate effectively.
"We both have to go out there and see what we're both working with," Trevathan said. "We've been working our tail off during the offseason together and it's good for us to go out there in live action a little bit and go out there and see how we perform out there together. I think that we handled it pretty well. We've been hitting the blockers coming off, hitting the fullbacks and just learning this defense. I really believe we could be one of the best [units] out here."
MALIK JACKSON CONTINUES TO DOMINATE.**
It becomes clearer with each practice that LG Max Garcia will not see many tougher defensive linemen than the one who often lines up on the other side of the line of scrimmage from him every day.
Jackson continues to show quickness off the snap, and gets his shoulder low and underneath an opposing guard, allowing him to quickly get leverage when he goes inside. He said Tuesday that he is at "98 percent" and is still trying to get his legs under him. What would he be at 100 percent and after full recovery from a calf injury?
3. COMPETITION AT SAFETY.
Although Pro Bowler T.J. Ward is set, offseason pickup Darian Stewart is in the throes of a competition with David Bruton Jr. and Omar Bolden for the free safety spot.
Stewart has received first-team work throughout the offseason work and training camp, but Head Coach Gary Kubiak said it is a "very competitive situation" between those three safeties, with Ward as the "stable force."
After some offseason chatter about using Bradley Roby at safety, the second-year cornerback's focus has remained at his listed position, so he as not been in the mix at safety. But it appears the door is open -- at least a bit -- for Bruton or Bolden to try and seize the job.
SETTING AND CHANGING THE TEMPO.**
No-huddle work has been a more frequent sight in Broncos practices in recent days, including Tuesday's practices. But just because the offense huddles at times does not mean it will always move at a deliberate pace.
"We'd also like to be able to huddle and play fast, too," Kubiak said. "You can do that, also. There are teams that play on the ball that sit there and let the clock go down to two or three [seconds]. There are teams that huddle and snap it with 20.
"We teach it all and we're going to continue to do that."
Added Offensive Coordinator Rick Dennison: "I think being able to change the pace like you're a pitcher throwing an off-speed pitch, a fastball two-seam or four-seam. Whatever you can do to get the advantage and I think that we'll do that on a game-to-game basis."
5. IT WAS JUST TOO QUIET.
When I'm at my desk, I prefer silence or noise I can control at my will -- a game on the television, the same song repeating over and over on iTunes until I finish a story. (Today's song: Island in the Sun by Weezer.)
But training camp is meant to throb with noise, energy and excitement. It's 4,000-plus fans going berserk for a one-handed catch during a warm-up drill. It's the audience growing louder with each hop-step Von Miller takes as he dances toward the west hillside, each jump a little higher than the last.
Monday's storm meant that on Tuesday, we had none of that. Players and coaches seemed to try and compensate, but Wednesday, it will be back to the new normal -- with crowds bigger than any others seen at the UCHealth Training Center over the years.
With the rain away and the Broncos returned to the practice field at UCHealth Training Center for Day 12 of training camp. (All photos by Eric Lars Bakke)