DENVER --For the Rivera family, Monday night's "A Christmas to Remember" at Mile High Station was a night to remember long before the Broncos showed up.
For them, it was a night to spend as a family. A whole family.
"It's very special," Jolene Rivera said. "It's very special to have our brother with us."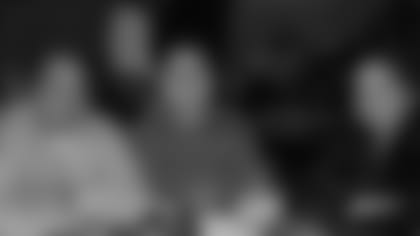 While the families reunited for dinner with the incarcerated men in their family to celebrate Christmas together, albeit a couple weeks early, several Broncos were on their way to make the special night that much more meaningful.
It wasn't just the presence of Jordan Norwood, Brandon Marshall, Kalif Raymond, James Ferentz and Sylvester Williams that made Monday's event matter even more to the reunited families.
It was what their attendance represented, serving as role models to the recently incarcerated men who were working toward creating a better life for themselves and their families.
"We were just talking about how them using their personal time and spending it with random families is very special," said Felix Rivera, who was visiting an incarcerated family member. "It's meaningful for us to be able to spend it with our family, but it means a lot because they don't have to do that. They could be doing a lot of other things."
They could have spent their one free day this week doing nothing at all, but, the cause was not one that could be passed up, especially for players like Williams, who was raised by a single father who taught him how to create a better life for him and his son.
"'Just stay focused and think about the big picture,'" Williams said he told the men he met. "'Your family means everything to you and just try and stay on the right path and keep going.'"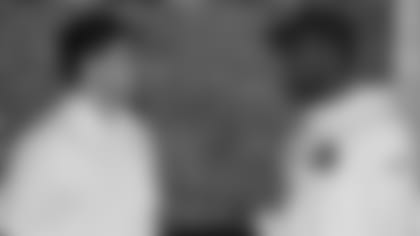 Added Norwood: "Meeting a lot of these guys who are incarcerated or recently incarcerated, even just getting to chat with them for 30 to 45 seconds, ask them what their name is, hearing who their favorite NFL players are, it's awesome to be able to see them with their kids out here — just the joy that they have on their face interacting with their kids is pretty cool to be a part of.
"Whether they know it or not, it's a blessing for me to meet them and interact with them."
It was these interactions that brightened the lives of the young girls and boys in attendance and encouraged the fathers, uncles and brothers to continue to strive toward creating a better life for their families.
"[For the Broncos] to do something like this — it means a lot, it shows a lot to me. I'm going to be telling my kids later on [that] these are professional athletes and they're doing something special for other people. I want them to really learn from that," Felix Rivera said. "They could be doing a million other things and they're here. So that is what I want my kids to notice."