ENGLEWOOD, Colo. -- **With Ty Sambrailo recovering from a shoulder injury suffered in last Sunday's 24-12 win over the Detroit Lions, the Broncos turned to a familiar face for additional depth, signing Tyler Polumbus.
To make room for Polumbus on the 53-man roster, the Broncos waived safety Josh Bush.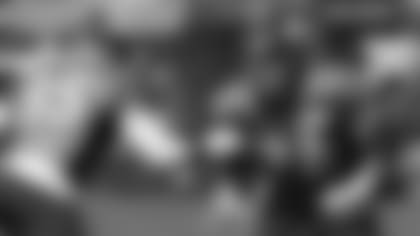 Few players know zone-blocking based schemes better than Polumbus, who has played in various iterations of the scheme in Denver, Seattle, Washington and most recently Atlanta during his eight-season career.
"He's played a lot of snaps in his career. We need somebody here that has some playing [experience] under his belt, and he's been playing the last three weeks," Head Coach Gary Kubiak said. "It was a nice fit for us to be able to pick him up."
That familiarity will help him get up to speed in an offensive line that is coping with injuries to Sambrailo and guard Evan Mathis, who did not practice Thursday because of a hamstring problem. Kubiak expects Mathis to practice Friday, but Sambrailo's status remains clouded as he recovers from the shoulder injury he suffered Sunday.
Polumbus' experience puts the Broncos a bit more at ease, giving them three healthy tackles as he joins Ryan Harris and Michael Schofield.
"At least he's a player that's been active. He's been in a system where they talk the same verbiage as we talk," Kubiak said. "If we need him quick, then he was the best possible option for us."
Polumbus is not only a familiar face to Broncos fans, but to fans of football in general in the state. He matriculated at Cherry Creek High School before moving on to the University of Colorado, where he started 28 games in four seasons before joining the Broncos as a college free agent signee on April 28, 2008.
While with the Broncos, Polumbus started eight games and played in 31 overall during his two seasons, both of which were spent under the tutelage of current Offensive Coordinator Rick Dennison.
"He certainly knows what he's doing," Dennison said. "He's been in this scheme both here and in Seattle. He played a little bit in Seattle. They do similar things and also Washington and Atlanta. There's some carryover."
Polumbus made his first career start for the Broncos on Nov. 9, 2009 against the Steelers and started all but one game the rest of that season. Those starts made him the 11th player to start for Colorado-based teams in high school, college and the NFL.
After the 2009 season, Polumbus bounced around the league for 14 months. With Dennison no longer on the staff in 2010, the Broncos waived him in the preseason. The Lions claimed him off waivers, then traded him to the Seahawks five days later. Polumbus remained with the Seahawks until Oct. 25, 2011, when they waived him after 22 games played, nine of which he started (including two postseason games).
Fifteen days after the Seahawks let him go, Washington signed him. He started 42 games there over the next three and a half seasons.
Washington offered Polumbus the chance to work in a zone-blocking-based system under then-head coach Mike Shanahan, and he eventually found his footing. After allowing eight sacks in 2012 (per ProFootballFocus.com), Polumbus allowed half as many in 2013, and at one point went 11 consecutive games without conceding a sack.
He joined the Falcons in May after he was not re-signed, but they released him Wednesday to make room for practice-squad tight end Mickey Shuler Jr., who was promoted to their 53-man roster in the wake of the concussion Jacob Tamme suffered Sunday.
"It's been a crazy 24 hours, but I'm excited to be here," Polumbus said.
"You never want to get that phone call. When you get the call from the guy that you know that calls you [when you are being released], you're like, 'Uh, why are you calling?' That's not a good feeling, but there is 24 hours there that I sat at home with the wife and kids and tried to enjoy a little family time and not stress too much. I got the call that Denver was interested and we were on pins and needles waiting to find out if it was going to go through."
And specifically, he's excited to be in the area he knows best.
"Everybody is excited. I think my Facebook is going out of control right now, I'm sure," he said. "I just looked at my phone and I had about 100 text messages. It's good to be back home."