ENGLEWOOD, Colo. -- **Vance Joseph will be the 16th head coach in Denver Broncos history.
One day after interviewing him, the Broncos announced that they agreed on a contract, bringing a quick end to a search that began with Gary Kubiak's retirement from coaching, which he announced to the team on Jan. 1 after the season-ending win over Oakland.
Joseph, who served as Miami's defensive coordinator last season, was the third candidate interviewed by the Broncos, following Kansas City defensive coordinator Dave Toub and Atlanta offensive coordinator Kyle Shanahan -- but ended up being the right fit in part because of his leadership skills.
"He brings a leadership quality that you really love about him," said Miami head coach Adam Gase. "He has such a great personality and such a strong personality -- that alpha-type personality where he demands a lot from players and they give him everything he has."
Added Miami cornerback Byron Maxwell: "V.J. brought great leadership and taught us the intangibles of being a leader, what all of that entails and how you have to bring it every day with the guys looking at you.
"His leadership qualities will make him a good head coach. He knows how to talk to you. He knows how to communicate to guys in the generation. He's a leader of men and he understands that."
Kubiak also sees leadership qualities in his former assistant.
"Vance has been in preparation for this opportunity for many years. He is a leader of men who gets the most out his players," Kubiak said. "V.J. is demanding yet passionate in his relationship with them. He is a tremendous addition to the Bronco family.
"I am so proud of him. His future and the future of the Denver Broncos is very bright. I congratulate V.J. and it's well-deserved."
Joseph's resume includes six seasons on the 49ers' staff working with the team's secondary, followed by three seasons in Houston as defensive backs coach under Kubiak before a two-season stint with the Bengals from 2014-15.
The secondary Joseph guided in Cincinnati gave the Broncos fits in 2014, when the Bengals defeated Denver 37-28. Bengals defensive backs intercepted Peyton Manning four times during that Monday night game, including a game-sealing 30-yard pick-six from Dre Kirkpatrick.
That performance was one reason why Gase, the Broncos' offensive coordinator at the time, brought Joseph aboard to run the Dolphins' defense last year.
"Going against him over the last few years, he was probably the one guy that would drive me nuts," Gase said during the 2016 offseason. "I know he gave us tons of fits when we played him when we were in Houston. And then two years ago when he was in Cincinnati and we were in Denver, it was a tough matchup.
"His knowledge of defense and what he brings to the table and his ability to really go after an offense, as far as really teaching his guys what's going on, it's very impressive."
Joseph brought his takeaway touch to Miami last year, as the Dolphins increased their turnovers forced by 56 percent, going from 1.0 per game in 2015 to 1.56 last year. Miami also generated more pressure, improving from 89 quarterback hits to 96, and forced twice as many fumbles, improving from just eight forced fumbles in 2015 to 16 last year.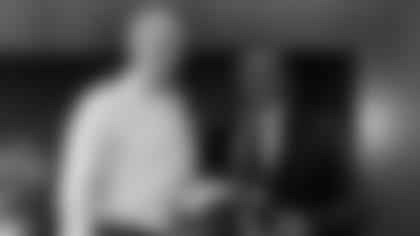 Joseph's work also caught the eye of Patriots head coach Bill Belichick, who saw Joseph's imprint on Miami's defense all the way back in Week 1, when the Dolphins held the Seahawks to 12 points and generated a pair of takeaways in a 12-10 Miami loss at Seattle.
Joseph's ability to use a variety of tactics to generate pressure jumped off the film.
"We watch smart coaches," Belichick said during the 2016 season. "Vance came from Cincinnati, which there are some elements to some of the things that Cincinnati does there with the linebackers up at the line of scrimmage. There [are], again, some secondary pressures, some blitz-zone."
But beyond his tactical acumen, Joseph earned the job for his leadership and man-management skills.
"The one thing about Vance Joseph is that he's a very detailed guy. He's very straight-forward and a great communicator. He would do a great job," said former 49ers head coach Mike Singletary, under whom Joseph worked from 2008-10.
"I'm very excited about the opportunity that he has going forward. I hope that he's able to take full advantage of it."
A look at the NFL career of Dolphins defensive coordinator Vance Joseph. (photos by AP Images)