ENGLEWOOD, Colo. -- **The key numbers of the Broncos' joint practices with the 49ers were as follows: two days, one finger-pointing moment during line one-on-one drills that went no further, no fights, and no injuries beyond the typical muscle strains of summer practices.
"It was good work," Head Coach Gary Kubiak said. "[Wednesday], we had our pads on. Today, to me, to be in shorts, we got great work against each other. We had speed and went through a lot of situations, but I thought it was very, very good for both football teams."
And there was plenty that the Broncos could carry forward from the last two days, as well:
NOT BITING ON THE ZONE-READ OPTION.**
One of the most important aspects of this week was the work it gave the Broncos against a mobile quarterback who effectively uses deception and misdirection to create opportunities.
Four of their first nine regular-season games feature opposing quarterbacks who were among the NFL's top 10 at their position in rushing yardage last year: Kansas City's Alex Smith (Weeks 2 and 10), Minnesota's Teddy Bridgewater (Week 4) and Indianapolis' Andrew Luck (Week 9). This work will help make those battles easier.
"It really helps, plus [the 49ers] run the zone and the read, so it's something our guys obviously don't see from us," Kubiak said. "You're always trying to put yourself through those situations."
You expect veterans like Von Miller and DeMarcus Ware to handle the zone read well and not bite on misdirection or get steered out of position. But what was most impressive was how backup outside linebacker Shaquil Barrett was able to disrupt plays by staying disciplined and not giving in to the temptation to pursue.
"Playing defense is reactions. It's not just assignments, it is reactions," Defensive Coordinator Wade Phillips said. "When they give you different looks, you have to react a different way."
For Barrett and the rest of the defense, the reaction was most often correct, and the 49ers had few open lanes the last two days.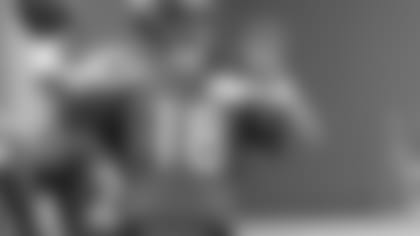 2. CRANKING IT UP IN THE TWO-MINUTE DRILL:
Both the offense and defense dominated against the 49ers' starters in the two-minute drill period at the end of practice -- although it took a while for the offense to get going. Three incompletions opened the drive before Peyton Manning fired a 27-yard, fourth-and-10 strike to Demaryius Thomas up the right sideline. Manning completed four of his last five passes on the series: two for 34 yards and a touchdown to Thomas, one for five yards to Andre Caldwell and one for 31 yards to Cody Latimer.
The defense dominated all day, so its success in the two-minute period was expected. Pressure from DeMarcus Ware opened the series with an incompletion, and a tip by Brandon Marshall sent the football into Darian Stewart's grasp -- although he invited unnecessary risk by returning the football instead of taking a knee. Stewart fumbled on the return, but Malik Jackson recovered.
PLENTY OF WORK FOR DAVID BRUTON JR.**
Phillips utilized Bruton in dime packages last week at Houston, and worked him into some alignments alongside T.J. Ward during Thursday's practice. Although Stewart has enjoyed a strong summer capped by his interception Thursday, Bruton has made an impression, as well, and Phillips wants to find opportunities for him.
"We work Bruton as a linebacker and we want to get our best players on the field as much as we can," Phillips said. "Bruton's worked some as a linebacker and he's worked as a safety. He's very versatile. He's one of the smartest guys we have, so that helps also. That helps him and us, so we try to utilize that."
EVAN MATHIS WILL BE READY, JUST NOT THIS WEEKEND.**
It would be unreasonable -- and unwise -- for the Broncos to give their newest offensive lineman any work against the 49ers on Saturday night, and unless he has a brief cameo in the preseason finale, it appears likely that he will make his debut when the regular season begins on Sept. 13.
But Mathis started his path by taking individual repetitions and then spending part of practice near Offensive Line Coach Clancy Barone, learning as much about the offense as he could.
"[He is] very into what we're doing. I don't think that's going to take long at all," Kubiak said. "We'll probably work him hard tomorrow, get out here and do some field work and those type of things, and work him through the weekend."
Offensive Coordinator Rick Dennison isn't concerned about Mathis' ability to pick up the scheme.
"If he was just coming out of college, it would probably be tougher, but he's played in the league. He's probably got some carry over or some cross-over at some point in time -- and he's done these things before," said Dennison, referring to his work with similar zone-blocking principles in Philadelphia.
"It's just figuring the language for him, and then I think he'll be fine."
Brandon McManus was a perfect 7-of-7 on field-goal attempts, giving him 19 successful attempts in a row during the two days of joint work with the 49ers.
But Kubiak indicated Wednesday that he didn't want to "over-kick" McManus now that he is the only placekicker on the roster. To that end, punter Spencer Lanning handled kickoffs and punts during Thursday's practice. Lanning got good distance on his two kickoffs -- 74 and 76 yards -- but his hang time was below 4.00 seconds on each.
With McManus working on kickoffs, the competition between Lanning and Britton Colquitt will come down to punts. Lanning had a hang time of more than 5.00 seconds on two of his four punts Wednesday while working on placement.
The San Francisco 49ers closed their time at the UCHealth Thursday for their second of two intense practices hosted by the Broncos. (All photos by Eric Bakke)