ENGLEWOOD, Colo. -- **Evan Mathis was listed as the Broncos' starting left guard before he even walked onto the field at the UCHealth Training Center for his first practice with the team.
Despite Max Garcia's improvement at left guard in recent weeks, there really wasn't any doubt from the moment that Mathis agreed to terms that he wouldn't be ticketed for the first team.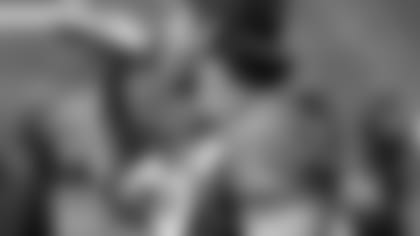 "That's why we brought him here," Head Coach Gary Kubiak said after the joint practice with the San Francisco 49ers on Wednesday.
"But we have a lot of confidence in Max. Max has done a great job. I talked to Max first thing [Tuesday] and I explained to him that it wasn't about anything that he's done, it's about us having a chance to get a great player and improve our football team."
Mathis spent part of practice working with Strength and Conditioning Coach Luke Richesson.
"Luke said he looked good. I think [Thursday] he'll probably do a little bit of individual work," Kubiak said. "But we'll work him through it. We're not going to just throw him out here; we're going to have a plan every day."
Mathis spent his offseason working at Zone Athletic Performance, a training center he owns in Scottsdale, Ariz. He's in shape -- and without the wear and tear of training camp.
"[During] training camp, a lot of guys fight to maintain strength. Your body might take a few steps back banging on each other," Mathis said. "For me, I've just been working really hard. [I] haven't been running into walls or anything in my free time, just growing my strength. I think it'll be a benefit in the long run."
In the short run, expect Mathis to be brought along at a brisk, yet sensible pace. Kubiak indicated that he will not play Saturday, but that he will be ready for Week 1 -- and the extensive role that awaits him as the starting left guard.
... Kubiak praised the tempo of practice and said that it finished approximately 20 minutes ahead of schedule because it moved at such a crisp pace.
... "There may come a point" where Garcia factors into the picture at center, Kubiak said. Garcia was a center at Florida, and his background there could help him work into the swing backup role at the three interior spots.
... The presence of new blockers on the opposite side of the line of scrimmage didn't deter Von Miller, who recorded multiple pressures at the 49ers' expense and dominated in the one-on-one pass-rush drills. "Today was a good day and another great day of practice,' Miller said. DeMarcus Ware, Shane Ray and Shaquil Barrett also each broke through for multiple pressures in the same period, including back-to-back pressures by Ray, who was working the edge and piercing the pocket from the back side. Malik Jackson also batted down a Colin Kaepernick pass during a team period.
...Although the offense looked crisp and efficient throughout much of the day, with several long runs, plenty of holes and some wide-open receiving targets, it bogged down during the two-minute period at the end of practice. The first two series, run by the No. 1 and No. 2 offenses, ended in interceptions by Antoine Bethea off Peyton Manning and Eric Reid off Brock Osweiler.
The teams lined up and ran the period again. Manning's second drive was much better; he went 3-of-4 for 30 yards, finding Jordan Norwood, Demaryius Thomas and Cody Latimer for receptions to set up a 48-yard Brandon McManus field goal as the clock expired. But Osweiler's second series ended in a Jimmie Ward interception that was set up by pressure from Corey Lemonier.
... At the same time, the defense had a rare lapse, allowing a deep touchdown pass from Kaepernick to Garrett Celek. That was the exception on a day where the 49ers had few open receivers, explosive runs or throws without some degree of pressure from the Broncos' front seven.
... Osweiler struggled in the two-minute period, but he looked adept on bootlegs rolling to the right, where he had a pair of completions.
... In the wake of the release of Connor Barth, McManus handled all the placekicking work. He went 12-of-12. including 11 in one field-goal period at distances ranging from 28 to 50 yards. All of his kicks were into the wind.
"Obviously, we have to be smart with Brandon, too. We can't over-kick him right now with him being on his own," Kubiak said. "He kicked a lot today."
... During the punt period, Britton Colquitt received three opportunities and Spencer Lanning had two. Lanning averaged an estimated 44.5 yards per punt with a hang time of 4.44 seconds. Colquitt averaged an estimated 41.7 yards on his three punts with a hang time of 4.35 seconds. Each had one punt go out of bounds (hence, the estimation). All punts were against a stiff breeze.
... Omar Bolden handled punt returns and cleanly fielded each one that was catchable. He let another two that were short bounce in front of him.
... LT Ryan Clady sat on a bench and watched the opening period of practice before heading to the conditioning center for rehabilitation work as he continues his recovery from the torn ACL he suffered May 27.
... Former Broncos DT Justin Bannan, guard Chris Kuper and WR Brandon Stokley watched practice.
... WR Emmanuel Sanders watched practice, but Kubiak is "hopeful" he might return before the end of the week. "I don't know if you'll see it [Thursday]," the head coach said.
... OLB Lerentee McCray and safety Ross Madison remained sidelined.
... CB Tony Carter (hamstring) was back in pads, but his work was limited as he continues to be eased back into full duty.
... DE Kenny Anunike (knee) and TE Jeff Heuerman (torn ACL) were the only Broncos who were not on the practice field in some capacity.
The San Francisco 49ers arrived at UCHealth Training Center on Wednesday for their first of two intense practices hosted by the Broncos. (All photos by Eric Bakke)