ENGLEWOOD, Colo. -- **Danny Trevathan is ready to go.
The inside linebacker is expected to see his first game action since last Dec. 14 when the Broncos face the San Francisco 49ers on Saturday. Head Coach Gary Kubiak expects to use Trevathan for "around 20 plays," a similar workload to the one that fellow ILB Brandon Marshall had last week in his return from April foot surgery.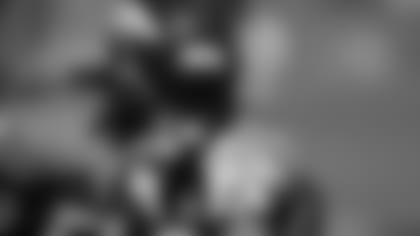 Trevathan has been a bit behind Marshall in his recovery from offseason surgery on his kneecap. But he's seen full practice work during the last two weeks, and Kubiak believes he's ready for game speed.
"I think we're right on schedule," Kubiak said.
Although Marshall and Trevathan have enjoyed plenty of work together in practices the last three weeks, game repetitions are crucial in making themselves ready for Week 1.
"Getting those guys working together is important," Defensive Coordinator Wade Phillips said.
"You can't really get game speed [in practice]," Trevathan said. "All you can do is work as fast as you can when you're out here. You've got to adjust your tempo.
"In the game, it's going to be good for me to get the feeling to assure myself that I can still move, be confident and play with everybody, which I'm sure that I am. It's up to people to decide. It's up to me to go out there and make the plays when it's time."
And that time appears to be now after a 12-month period defined by injuries, beginning with the fracture he suffered during a training-camp practice last year while preparing for a game against the 49ers. It was the first of three injuries to his knee or the bones around it over a four-month stretch.
It's doubtful that any player will be more enthusiastic Saturday than the fourth-year linebacker.
"The emotions are going to show on game day," he said. "Right now, I'm just preparing my mind. I've been doing this going on four years. I know what it takes and I know the mindset that you need to go out there and play at this level that we're trying to compete at."
... Guard Evan Mathis donned his Broncos helmet for the first time and took repetitions during the individual period. He spent time standing next to Offensive Line Coach Clancy Barone, immersing himself in the play calls as he took mental repetitions.
... NT Sylvester Williams had a strong day, dominating in the one-on-one drills and notching a sack of 49ers QB Colin Kaepernick one play after Malik Jackson whipped around 49ers OT Erik Pears for a sack.
... OLB Shaquil Barrett generated consistent pressure in the one-on-one period and had a sack during the "move-the-ball" period at the end of practice. But one play that jumped out was against the run, when he stayed at home as the zone-read developed, and then pounced to stop 49ers RB Carlos Hyde. Barrett can explode off the edge, but he's also patient enough to stay at home and not get caught out of position against the run. He's been a revelation this summer.
... The teams closed their full-speed practice work with a spirited two-minute drill period, with each offense given the football at its 30-yard-line with two minutes remaining, two timeouts and a 26-21 deficit.
Both of the Broncos' No. 1 units won their periods. Denver's defense limited the 49ers' No. 1 offense to a single first down, and halted their advance at the Denver 46-yard-line. The 49ers retreated from there, and on fourth-and-8, Darian Stewart intercepted a Colin Kaepernick pass that was tipped by Marshall. Stewart tried to return the football and fumbled, but Jackson saved the day by falling on the football.
Jackson's alert pounce was a welcome change from earlier in practice, when the defense failed to jump on a pair of Kaepernick fumbles in close succession.
... As the defense dominated on the south field, Denver's offense marched down the north field to a 7-yard Peyton Manning-to-Demaryius Thomas touchdown connection with 50 seconds remaining. The drive began with three consecutive Manning incompletions before he hit Thomas on a 27-yard pass up the left sideline. Two plays later, he found Cody Latimer for a 31-yard gain. Manning finished the drive 4-of-8 for 70 yards.
... Denver's second- and third-team defenses were equally dominant. The No. 2 defense held the 49ers without a first down, with Derek Wolfe and Barrett each recording sacks of QB Blaine Gabbert. The drive could have ended on the second play -- a second-and-15 from the San Francisco 45 following Wolfe's series-opening sack -- but Omar Bolden dropped a potential interception.
The No. 3 defense then dominated its series, which was pockmarked by offensive penalties, pressure from the defense and two bad Dylan Thompson passes: one that bounced off the helmet of fellow rookie Blake Bell, and another that seventh-round pick Josh Furman intercepted.
... Brock Osweiler's drive with the No. 2 offense ended with a failed fourth-and-1 from the San Francisco 27-yard-line as he tried to connect with Isaiah Burse, who was running a quick slant route. Earlier in the series, he kept the drive alive with an 8-yard pass to Burse on fourth-and-5, and moved the ball into San Francisco territory on a 21-yard pass to Bennie Fowler, who was running a slant to the right side.
Denver's third-team offense drove to the San Francisco 10-yard-line before the horn blew to end the period with the Broncos facing third-and-4. Trevor Siemian and Zac Dysert split the repetitions. A 35-yard Siemian-to-Dominique Jones pass up the left sideline highlighted the possession.
... Safety Omar Bolden handled a majority of the punt returns Thursday, and Special Teams Coordinator Joe DeCamillis expects that he will back to handle punt returns "some" during Saturday's game.
... K Brandon McManus was 7-of-7 on a series of field-goal attempts ranging from 28 to 50 yards.
... Practice took place in front of onlookers from Sports Authority, who provided some cheers and enthusiasm from the west hillside.
... Former Broncos safety Nick Ferguson, QB Preston Parsons and offensive lineman Mark Schlereth watched practice.
... CB Chris Harris Jr. was held out of practice because of a sore hamstring. Kubiak and team trainer Steve Antonopulos chose to sideline Harris for Thursday's work in the belief that the off-day would allow him to play Saturday.
... WR Emmanuel Sanders did not practice, but did some running Wednesday, Kubiak said. He wants Sanders to catch some passes from Manning during a "jog-through" session Friday morning. "I think everything's on schedule for him to be a full-time participant next week," Kubiak said. The intention is to have Sanders ready for the regular-season opener against the Ravens on Sept. 13.
... OLB Lerentee McCray remained on the sidelines because of a groin injury.
... CB Tony Carter was held out as a precautionary measure. He's dealt with a hamstring problem in the last 10 days. Kubiak's goal is for him to play Saturday.
... DE Kenny Anunike (knee) and TE Jeff Heuerman (torn ACL) were the only Broncos who were not on the practice field in some capacity.
The San Francisco 49ers closed their time at the UCHealth Thursday for their second of two intense practices hosted by the Broncos. (All photos by Eric Bakke)