ENGLEWOOD, Colo. -- **For the man long called the Broncos' "quarterback of the future," the future has arrived, at least for one week.
At his Monday press conference, Head Coach Gary Kubiak announced that Brock Osweiler would start next Sunday in Chicago in place of the injured Peyton Manning.
Manning's "total focus" will be on rehabilitation this week. He will not practice or dress for the game at Soldier Field. Rookie Trevor Siemian will be Osweiler's backup.
The status of Manning will be reviewed next Monday after he spends the week working on rehabilitation from injuries to his foot, rib cage and shoulder, all of which have caused him problems in recent weeks. The foot injury set in during the Nov. 8 loss at Indianapolis, Kubiak said.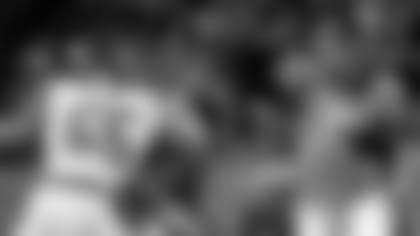 "All of our full attention is going to be to getting Peyton back and healthy," Kubiak said. "That decision has been made.
"I know that it's the best decision for him, for us to get him back and healthy. We need to know where we're heading this week with Brock and get our football team ready to play Chicago."
Manning was pulled from Sunday's game after completing just five of 20 passes for 35 yards, no touchdowns and four interceptions.
Still, Manning refused to use the injuries as an excuse.
"If you look back on it now, I have a hard time saying that's why I played badly," Manning said Sunday. "Could that be the reason? I guess it always could be. But to me, that's an easy way out. That's kind of an easy line to say after the fact.
"I had a bad game and I'm not sure what else you can say about that," Manning added later. "Whether it was because of my injuries or my poor decision making, I tend to lean on the poor decision making and some bad throws. I had some underthrows to some guys, so I wish I would have played better."
Regardless, Manning will now have the chance to properly heal -- even though it will cost him playing time for the first time since he missed the entire 2011 season because of multiple neck surgeries.
"When I go back and review the week in general as it went -- and in my opinion not listening to some things that were going on, and then obviously we come out of the game -- I just know that we have to step back here and we have to take the time and make sure that he takes care of himself and we get him back to himself and feeling good," Kubiak said.
Osweiler's first start will come against a team filled with coaches who know his development well, most prominently Bears head coach John Fox and offensive coordinator Adam Gase, who was Osweiler's position coach during his 2012 rookie season.
"Yeah, Coach Fox knows a lot about us, but we also know a lot about him," Osweiler said. "I think it's going to be a great football game, and it's going to take the entire team to go into Chicago and get a win this weekend.
"During his three years with Fox and Gase, Osweiler's work was limited to mop-up duty late in blowout wins. He had nearly as many passing yards Sunday (146) as he did in 13 appearances over his first three seasons (159).
On Osweiler's first two possessions Sunday, he went 5-of-11 for 56 yards with an interception and two other passes that were nearly picked off by Sean Smith and Eric Berry. But after that, he completed nine of 13 attempts for 90 yards and a 7-yard touchdown pass to Andre Caldwell. He found confidence and a groove.
"Brock did a good job [Sunday]," Manning said. "He has always prepared hard and I think he'll take advantage of this opportunity."
Osweiler's extensive work in Wednesday practices when Manning often rested has helped, too.
"They've done a great deal [for him], and that showed because of how he went in there and played," Kubiak said. "He's basically had the football team on Wednesdays, and throughout the offseason he had the football team one out of every three days. He's grown from that. He went in there and played with a lot of confidence the other night."
This week, he'll receive even more work -- and more responsibility. And after three and a half years of development, the Broncos hope that Osweiler is now ready for a week -- and a game -- that comes on his 25th birthday, and will be unlike any other in his career.
"This is different," Kubiak said. "It's all yours starting today. It's not like you all of a sudden got put in the game on Sunday; it's preparation; it's everything. It's a little bit different for him. But I know he'll do a great job in his preparation, and Knapper [Quarterbacks Coach Greg Knapp] will do a great job with him."
Added Osweiler: "Everybody is very supportive. I've had multiple guys come up and say, 'Hey, we're going to fight for you. We believe in you.' To have that support from my teammates, that really means a lot."