ENGLEWOOD, Colo. -- **Brock Osweiler will remain the Broncos' starting quarterback, Head Coach Gary Kubiak notified the team at its Wednesday morning meeting.
As the Broncos prepare for Monday night's game against the Bengals, Peyton Manning will focus on his rehabilitation from a torn plantar fascia. He is not expected to practice Wednesday or be active this week as he works back toward full health.
The decision came after conversations Kubiak had with Manning earlier this week.
Osweiler's first five starts have been brilliant at times and a learning process at others -- in other words, typical for a quarterback making his first NFL regular-season starts.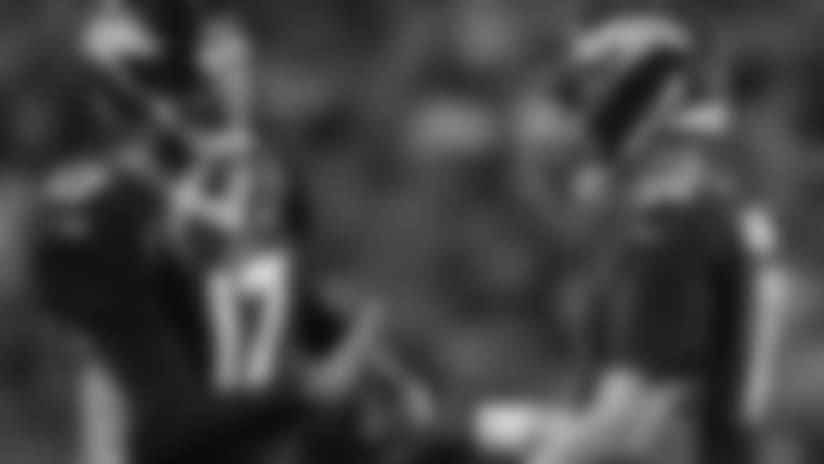 The game that best encapsulated his ups and downs as a young starter was last Sunday's loss at Pittsburgh. In the first half, he completed 14 of 18 passes for 214 yards and three touchdowns, and also ran for another score. The Broncos converted all eight of their third-down attempts, marched to four consecutive touchdowns and scored 27 points -- their highest first-half output in nearly two years. But in the second half, he went 7-of-26 and threw an interception as the offense was shut out.
Osweiler's quarterback rating splits this season reflect the first- and second-half dichotomy; he has a sizzling 109.4 first-half rating, but his second-half rating is 44 points lower. His sack rate also spikes in the second half, rising from one every 19.8 dropbacks to one every 9.5 dropbacks.
Improving the performance of the entire offense in the second half will be a priority this week after being outscored 36-0 after halftime in three December games.
"I think [Osweiler] has done a hell of a job," Kubiak said. "We need to rally around him and we'll continue as a group to try to get [Manning] healthy, and he's doing everything he can to get himself healthy and be available for the team."
Manning has spent most of the last month focusing on rehabilitation work, and spent a week in a walking cast and another three days in a walking boot to aid his recovery. Multiple throwing sessions followed over the next week, and he was cleared to practice last Wednesday and Thursday before suffering a setback Friday.
"The most important thing is we get him healthy," Kubiak said. "We took some steps last week toward doing that -- I think a couple of good steps—and then obviously Friday wasn't a good day compared to the others.
The last time he worked was last Thursday and then this morning. Hopefully we'll have a good week this week and we'll see. Just trying to get him healthy."
Manning will work out on his own this week but will not take part in practice.
He accompanied his teammates to Pittsburgh last weekend and was on the sideline, where he was seen providing counsel to Osweiler, as he did the previous week.
"He's contributed a great deal, yeah. He's very much involved," Kubiak said Monday. "He had a lot of good ideas [Sunday]. He's doing everything that we ask him to do and he's doing it because he wants to do it."