ENGLEWOOD, Colo. -- **Peyton Manning will practice this week, and if all goes well, he will be the backup quarterback behind Brock Osweiler for Sunday's game against the San Diego Chargers, Head Coach Gary Kubiak announced Wednesday afternoon.
"It's always been about Peyton's health, getting him back in position to help this football team," Head Coach Gary Kubiak said.
"That's a good step," Manning added. "It's been a long haul, It's a positive step to get back on the field and maybe be able to make more of a contribution during the week of practice, and more on Sunday than just being in street clothes.
"I'll do what I can to help the team, help Brock, and I'm happy to be more a part of it now than just being in street clothes and kind of quarantined in the indoor facility, working out on my own to be more a part of a team is a positive step."
Manning has only had two practices -- on Dec. 16 and 17 -- since he left the Nov. 15 game with the Chiefs in the third quarter following a plantar fascia tear. Aside from those two practices, he focued on rehabilitation and throwing sessions in recent weeks.
But after successfully making it through a week that included four throwing sessions bisected by a day off last Friday, Manning will move back into practice work this week, taking second-team and scout-team repetitions.
"I kind of pushed the envelope in those workouts [last week]," Manning said. "To get back out there with some people around you, some linemen around you, throwing to your wide receivers -- that's the only way to really get back into it. I look forward to that, and I anticipate [the foot] certainly holding up all week."
This role is unusual for Manning, who was the starting quarterback from Day 1 of his first season in Indianapolis in 1998. But then again, this entire ordeal has been unusual.
"I've never missed six weeks of time. I've never missed any significant time, really, besides four years ago when I was hurt with a neck injury," Manning said. "It's been a frustrating injury, but I had a good week of rehab last week, a good week of work on my own in the indoor facility." "Whatever I can do to get a win against the Chargers, that's where my focus is," Manning added later.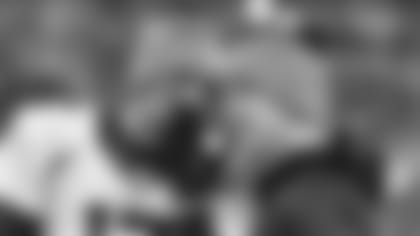 The decision was a result of what Kubiak called "a combination of things," including Manning's health and Osweiler's performance the last six weeks, during which the Broncos have won four games -- including a pair of overtime victories over division champions New England and Cincinnati.
Kubiak reiterated throughout his press conference that Osweiler has done "one hell of a job" since filling in for Manning.
"Brock's our quarterback, and nothing has changed from that standpoint," Kubiak said. "... The team knows that Brock is our quarterback."
IN THE AFTERMATH of the claims in an Al Jazeera documentary that alleged that his wife received human-growth hormone shipped to him under his wife's name, Manning said that he was "still angry" over the assertions made in the documentary by Charlie Sly, who later recanted the statements he was shown making via an undercover camera.
"I don't have a whole lot to add to what I said on Sunday," Manning said. "The report wasn't sure Sunday; it's not true today; it won't ever be true."
NFL spokesman Brian McCarthy said in an email to *USA Today* that the league is "reviewing the matter," and that its "procedure is to follow up on any information that potentially involves a violation of this nature."
"I'd be glad if they come in here tonight, tomorrow, and do it and get it over with," Manning said.
"The sooner the better, if they're listening."
Manning added that he had not decided whether he would pursue legal action against Al Jazeera for the allegations made in the documentary, adding that he didn't "want to deal with that" until the season concludes.