John and Kathy Osweiler had last Sunday circled on their calendar for nearly seven months.
As residents of Phoenix, they can't get to all of their son Brock's games. But during the 25-year-old quarterback's four-season career, they tried to make it as often as possible -- both in the preseason, when he played regular snaps, and at times in the regular season.
When the 2015 schedule was released in April, the Week 11 game in Chicago presented the perfect opportunity for a family reunion on the road.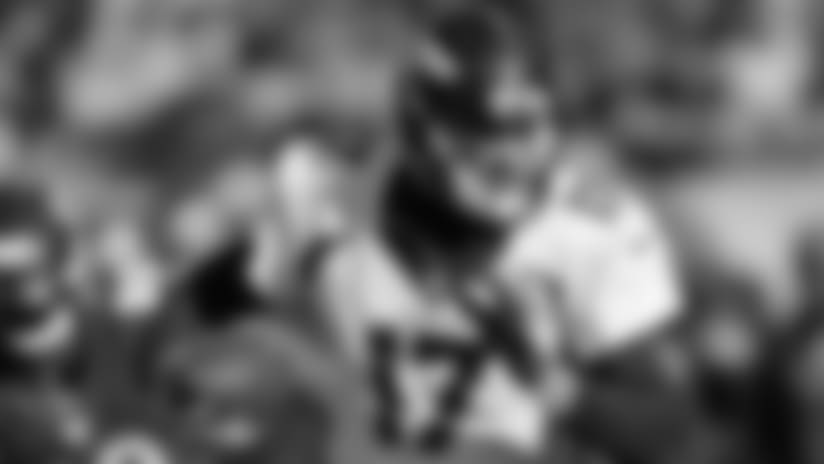 "Being the fact that Chicago is the place where Brock played his first preseason game [in 2012], and that it was his birthday, we went ahead and booked the trip," John Osweiler said.
Nothing would stop them -- not even a snowstorm that dumped 11.2 inches of snow on Chicago O'Hare International Airport. Nor could the ensuing havoc it wreaked on air traffic deter them. The Osweilers' flight was cancelled, but they quickly began mapping out the journey -- 15 hours and just over 1,000 miles from DIA to Soldier Field, mostly along Interstate 80 through Nebraska, Iowa and Illinois.
Osweiler's wife, Erin, and a friend found an air itinerary that left from Colorado Springs; they eventually made it to Chicago. Meanwhile, John and Kathy began driving, arriving in the city at 2:30 a.m. CST.
Just eight and a half hours later, they were on the field, applauding as Osweiler strode through the tunnel in the northeast corner of Soldier Field, set to begin warmups as the Broncos' regular-season starting quarterback for the first time.
But before warmups began, Osweiler made a beeline for his family for a picture to commemorate the moment. Despite the enormity of the day in Osweiler's life -- beyond it being his 25th birthday -- he was the picture of calm.
"When he ran over real quick to take the picture with us -- honestly, I could just see the confidence in his face. He was not nervous," John Osweiler said. "It was like he was getting ready to play just another football game, just like in high school."
It was the culmination of dreams and goals that Brock Osweiler possessed since the late 1990s.
"There's a lot of work that Brock's put in over the years, and like I've always told people over the years: His determination goes back to when he was seven or eight years old," his father said.
The young Osweiler was still in elementary school then, but he already lived for football and basketball, the two sports for which he'd receive scholarship offers within a decade.
"Every kid wants to be in the NFL or the NBA. But Brock would literally stay outside for an extra hour in the middle of winter to throw the football, catch the football or shoot baskets," his father said. "He's always had the work ethic."
It's one thing to work hard. It's another thing to set the highest level of success as a concrete goal. But even at eight years of age, young Brock Osweiler had a plan.
Inspired by watching a film on Hall of Fame coach Vince Lombardi, John Osweiler said that Brock went to work on something that would serve as a constant reminder of where he wanted to go and how he would get there.
"When he was in third grade, my wife and I went into his room, and he had a poster up on the wall. Basically it was split in half, on goals: how he was going to get to the NBA, and how he was going to get to the NFL," John Osweiler said.
By making it, he's already a smashing success; just getting one start qualifies him among the elite of all who pursue their football dreams. And no one could have been prouder than his parents as he efficiently guided the Broncos to a 17-15 win.
"It was really cool to see," John Osweiler said, "and as the game developed, it couldn't have been better."
They will be in attendance Sunday night, as well. The Osweilers -- and the Broncos, of course -- hope that Brock's best is yet to come.