ENGLEWOOD, Colo. --Brock Osweiler, to his credit, understands his situation.
He is a quarterback who will make his fourth career start Sunday against Oakland. In the lengthy history of the NFL, no quarterback who ever became a long-term success did not step into the starting role as a finished product.
Even the best had hiccups. In 1983, John Elway got removed from the lineup, re-inserted, and removed again. That same year, Dan Marino had the gold standard of rookie seasons, and in his sixth career start, had a clunker at New England, completing just 14 of 37 passes and finishing with a 38.2 rating.
Experience, sometimes through taking lumps, is still essential to learning how to be an NFL starting quarterback.
And although Marino proved to be a notable exception, one quarterback after another crawled before he walked and walked before he could run an offense at full speed.
In other words, a long list of great quarterbacks -- Elway, Tom Brady, Drew Brees, Ben Roethlisberger, Russell Wilson and plenty of others since time immemorial -- began as "game managers."
"They say [Brady] did it [in 2001]. They say Roethlisberger did it [in 2005]," said RB C.J. Anderson. "I mean, if you're winning games, it doesn't matter how you manage it."
Simply managing the game isn't part of a championship equation without other parts of the team succeeding.
But the defense is first in the league in yardage allowed on a per-play and a per-game basis. It has the best sack rate in the league -- one every 11.2 pass plays. Only two teams have more takeaways. It has also allowed the fewest touchdowns in the NFL this season (19, tied with Cincinnati), and the 190 points surrendered by the defense (15.83 per game) is surpassed only by the Bengals (15.17 points).
"If you don't put our defense in bad situations, if you don't put them in short fields, they're going to make that opposing offense's job very tough to go 70, 80, 90 yards to score points," Osweiler said.
From Weeks 6-10, the Broncos played four games, and opponents started nine drives in Denver territory, an average of 2.25 per game. In the three games since then, just three opposing possessions began on the Denver side of the 50.
Furthermore, the rushing game has improved in recent weeks; since Week 11, it ranks third in average per game (161.0 yards) and seventh in average per carry (4.53 yards).
"My job is to always see the big picture," Osweiler said. "Run the offense, understand how the special teams is doing, understand how the defense is doing, manage the football game and put our team in the best position to win football games."
There it is. Osweiler said it himself: "Manage the football game."
In the eyes of some people, that's a dismissive term. Over the years, the term "game manager" somehow became a pejorative — a notion the Broncos don't buy.
"If you manage the game, you're doing exactly what you set out to do," said offensive tackle Ryan Harris. "If you manage the game, I've never seen somebody lose a game. So you're managing the game, you're doing everything you can to win, and we want to keep doing that."
"He does what they ask him to do: make the right calls, make the right checks, make the right adjustments to put us in position to win a game," added RB Ronnie Hillman. "That's what it means to manage."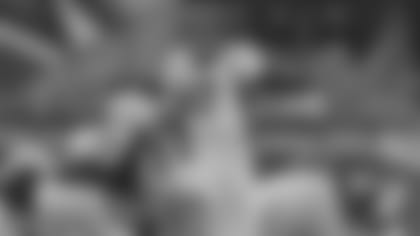 What Osweiler has managed so far is overall success. Three wins in as many games. More touchdown passes than interceptions. The offense isn't setting scoreboards, but has mounted successful drives when they were needed most, and has cut the mistakes, from two interceptions per game in the first nine contests of the year to just two in the last three games.
"I think, as a quarterback, you need to understand what puts your team in the best situation to win football games," Osweiler said. "Right now, for me, that's doing certain things on the field on Sundays. That's maybe not asking me to throw the ball 40 or 50 times, but [Head] Coach [Gary] Kubiak, [Defensive Coordinator] Coach [Wade] Phillips and the rest of those coaches ... they're going to put together the best game plan to give our team an opportunity to win."
"It's my job to understand the big picture and manage the team throughout the game on Sunday so that we have that opportunity to win the game in the fourth quarter."
That means learning that you don't have to be the hero. Take risks, but make sure the risk-reward ratio is proper. Don't be afraid to take the sack -- or, better yet, escape and throw the football away.
That was something Peyton Manning learned a long time ago, and he passed his teachings on to Osweiler.
"I think more or less what I've learned from Peyton is when to throw it away and just [accept that] 'Hey, you know what? I had to throw the ball away. I'm going to move on to the next play,'" Osweiler said.
"We say in our quarterback room, 'Sometimes the best play is a throwaway.' It's just understanding the down and the distance, the game situation and the protection. There are a lot of factors that go into making that decision, but at times -- and it might be hard to see -- an incompletion sometimes is your best play on the field for that play."
"Game managers" have won Super Bowls. Trent Dilfer. Brad Johnson. Joe Flacco. Russell Wilson, in his second season. Wilson appears to be elite now, but in 2013 he was still defined by what he was becoming, not what he was.
Each of those quarterbacks had a defense that was capable of dominance -- although for the 2012 Ravens, that play came in spurts, and not with the same consistency as the 2000 Ravens, 2002 Bucs and 2013 Seahawks. Those three are the elite defenses in whose company the Broncos could reside if they can maintain this form into January -- and, they hope, beyond.
And more and more, the Broncos also have the running game to complement that defense -- and once Vernon Davis returns from his concussion, four receiving targets with a Pro Bowl pedigree.
Whether Manning returns to health or Osweiler remains under center, the possibility of a title exists because of how the overall team is constructed, and how the quarterback can handle the situation -- even if it's the guy making his first professional starts.
"Brock's not surprising any of us on this team, because he's prepared," Harris said. "Even before he had his opportunities, we knew he was preparing well -- just things that he would say regarding the game plan or his presence in the huddle.
"He's confident. He's a veteran. He may be in his first year starting, but he's veteran guy, and he has a lot of leadership and talent. He's helping us win."