DENVER --A small scheduling conflict pushed former Broncos' QB Brian Griese's fundraising luncheon back to September this year.
The conflict? Denver's trip to Super Bowl 50.
That game, plus all the corresponding events that followed, made it impossible to hold the normal spring event for Judi's House, a bereavement center founded by Griese.
On Tuesday, when he welcomed more than 80 donors to Osteria Marco in Denver to gear up for the Sept. 7 event with the help of cornerback Chris Harris Jr. as a guest speaker, that seemed like a trade-off Griese would be willing to make again.
The Lombardi Trophy, however, doesn't seem nearly as important as the work Judi's House does for the thousands it serves.
When Griese was just 12 years old, he lost his mother to breast cancer. Later, using his former NFL quarterbacking career as a platform, Griese made sure to limit the number of children in the Denver area who would undergo the same sort of pain.
"He just didn't want to be a burden to the rest of his family," Judi's House Director of Development and Communications Margaret Bachrach said. "So he kept it all in and he grieved in his own way and didn't really get the professional counseling and coping skills he needed."
Together with his wife, Dr. Brook Griese, a clinical psychologist specializing in childhood trauma and loss, Brian founded Judi's House to help families heal.
The bereavement center, which is the only free-standing organization in the Denver Area devoted solely to supporting grieving kids and families, has served more than 8,000 children and caregivers since its opening in 2002.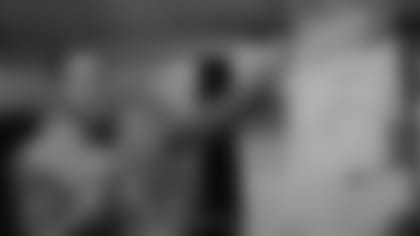 And the fundraising for the center never ends. Judi's House, which operates on a multi-million-dollar budget each year, relies on donors to keep its doors open. On Tuesday, the people in attendance made sure to help get Judi's House a little bit closer to its goal.
"I think because of who Brian and Brook are in the community and how well they're respected, they've got so many fabulous supporters and friends," Bachrach said. "The people in this room are really family to Judi's house."
Donors purchased more than five tables for the Sept. 7 kickoff luncheon. Future Hall of Fame coach Tony Dungy and award-winning broadcaster Bob Costas will also be in attendance for the annual event. Last year, Brian's father, Bob Griese, and Archie Manning were the speakers, but Brian joked Tuesday that they'd surpassed that level of celebrity with the addition of Costas and Dungy.
Bob promptly told his son he'd return to Denver to attend this year's event and judge for himself.
The majority of the conversation focused on football, as Harris discussed his journey from an undrafted free agent out of Kansas to one of the best cornerbacks in the NFL. He also responded to a series of questions from the audience, which quizzed him about how to cover larger receivers, the toughest receiver to play against and matchups he's looking forward to in 2016.
But Griese also pivoted the conversation toward the larger theme of the event: dealing with difficult family situations. Harris, who grew up in a single-parent home, said he could empathize with those children at Judi's House. He, like many of those kids, was forced to grow up quickly and at a young age.
"Being able to come in and talk about just raising funds for Brian's foundation is a great opportunity just because the kids losing their parents, I mean, that's a tough deal," Harris said after the event. "So to be able to bring help to the (other) parent and also the kid, I think that's a huge opportunity."
That's not the only reason the Judi's House event struck a chord with Harris on Tuesday night. Now that he has a daughter and another child on the way, he said he better understands the heartbreak that comes with this variety of loss.
"Just having those kids now, I couldn't imagine if I'm gone and them having to live their life without me," Harris said. "And also I've had very close relatives that had to live without their parents so I can definitely see the effects of it and the much needed help that they need."