ENGLEWOOD, Colo. --A quick look at some key elements to watch for in the Baltimore Ravens' attack:
Just one year working with then-offensive coordinator Gary Kubiak made a massive difference for the Ravens, who soared from dead last in yardage per play in 2013 (4.51 yards) to ninth (5.72 yards). But Kubiak now stalks the sideline in Denver, and former Chicago Bears head coach Marc Trestman now guides the offense.
Trestman kept certain concepts of the offense, and he has a background in the West Coast nomenclature that Kubiak knows well dating back to his time as an assistant coach on the 49ers' staff in 1993-94.
With QB Joe Flacco finding explosive WR Steve Smith Sr. downfield and making the most of RB Justin Forsett, Baltimore had the weapons and the performance. But despite the progress, Trestman will incorporate his own philosophies.
"Some of it looks similar, but of course, the new guy is going to want to make his imprint on the team, so I think it's probably going to be a mixture," ILB Brandon Marshall said. "We've just got to study what we saw on film, and what they did last year, and just read our keys."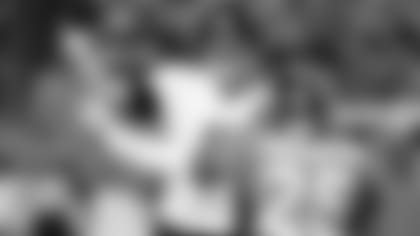 The Broncos expect to see elements of Trestman's offenses from the Bears in the Ravens on Sunday, and prepared accordingly.
"A little bit," Marshall said. "He's not just going to come in and run somebody else's offense. They might want him to focus on a certain thing, but he's going to want to put his stamp on it, as well."
Few tandems of edge rushers are more dangerous than the Ravens' duo of Terrell Suggs and former Broncos Pro Bowler Elvis Dumervil. Dumervil shook off an up-and-down 2013 to rack up 17 sacks last year, matching his career high from 2009, which was his first year working as a stand-up outside linebacker in a 3-4 alignment.
But when the Broncos' first team allowed pressure in the preseason, it came up the middle. Even though Suggs and Dumervil will attract attention on the flanks, look for the Broncos to watch the Ravens' starting inside duo closely.
"(Daryl Smith) and (C.J. Mosley) -- they've got some great linebackers. They're very physical guys and we're going to have to step in there and pick those guys up," running back Ronnie Hillman said. It's definitely going to be a very good game as far as picking up blitzes in the A gap and we're just going to see how it goes. I don't plan on slowing down from it."
That part of the Ravens' pass rush is a work in progress.
"What we have to do is make sure we solidify the inside, because last year we got a lot out of (Pernell) McPhee, and he set up a lot of things for those two guys, plus himself," Baltimore defensive coordinator Dean Pees said Thursday. "So, we're working on that. I think we have a good chance of getting that done." 
Kicker Justin Tucker remains among the league's elite; in the last two seasons, he has drilled 67 of his 75 field-goal attempts, and the Broncos know well his penchant for delivering in the clutch.