Local chefs Troy Guard, Elise Wiggins and Lon Symensma, as well as Centerplate executive chef Christopher DeJohn, describe the new dishes they'll be offering at Broncos Stadium at Mile High. Also, learn about the new drinks, technology and brand partnerships that you'll be able to find at Broncos games this year.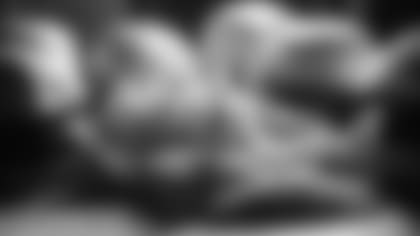 New options from the Colorado Culinary Council
Beef sliders and fries — Chef Troy Guard of TAG
Chef Guard: "When people come to the stadium, they want to eat something that's kind of familiar. Even what Lon and Elise have is familiar, but then with new ingredients. What we did — I grew up in Hawaii — so I used a Hawaiian slider roll. We've got locally sourced organic beef that's ground for us, our own special blend. We put some aged cheddar, a little sliced pickle and then we do a little sriracha mayonnaise and a little caramelized onions. So a lot of great flavors. Also with the fries, they're fresh, they're Kennebec potatoes, and then we blanch them and fry them ourselves. Then we toss them in duck fat and put some seasonings [on them]. In the seasonings there's about eight different spices — salty, sweet, spicy — and they're just addictive. Really, really nice. I think it's something people will like to try, because it's a little twist on your ordinary type of burger. Just a little bit something different to elevate it. Again, the organic beef, the Hawaiian buns, all the fresh ingredients, nothing comes straight from a bottle — it's all handmade."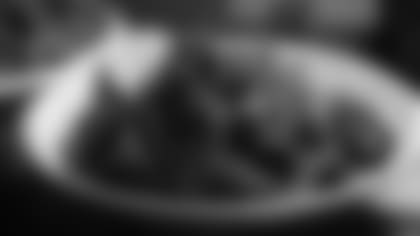 Rice and noodle bowls — Chef Lon Symensma of ChoLon
Chef Symensma: "My first dish that I made is called a Saigon noodle bowl. It's a chilled rice noodle bowl. On top is has some pickled red onions, pickled chilis, some tomatoes, cucumbers and then ton of fresh herbs — basil, mint and cilantro. Also on top is some crispy shallots. The idea with this dish is you get the nuoc chom dressing on the side, which is essentially a mixture of fish sauce, lime juice, sugar and a little bit of garlic. And then you just pour that dressing over it, mix it together and it's a very Vietnamese style of way of eating a cold salad.
"And then our other dish is a hot dish. This is a red curry rice bowl. We have the chilled noodles and the hot rice. On the bottom is some really nice stir-fried rice, some charred vegetables on top of that and then a red curry sauce, which is made with coconut milk, so it's really rich and creamy. You can have your choice of beef or chicken on that, and then cilantro as a garnish on top and a squeeze of fresh lime to mix it in as they like."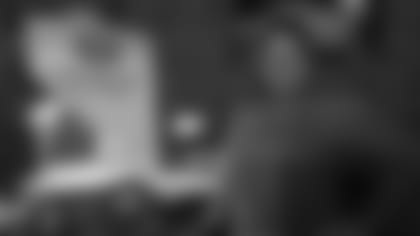 Wood-fired pizzas — Chef Elise Wiggins of Cattivella
Chef Wiggins: "The first pizza, as you can see, it has a fluffy outer crust. This is called the cornicione. This is part of the authenticity of a Napolitano dough. We really wanted to do something authentic for the stadium. People typically think, 'Oh, it's frozen' or 'It's from a conveyor belt,' but I've been working with the staff for a month on how to make the dough, how to let it ferment for 48 hours and then how to throw the dough or spread it out. Each pizza is not premade. They're all hand-tossed and handmade right before it goes out to the guest. This first one we have here is what I call, 'I want to satisfy the meat-eaters of the stadium.' This is steak, ribeye, and it's also got some roasted mushrooms in there and some preserved tomatoes that have just a little bit of vinegar on them, caramelized onions, smoked mozzarella, fontina and then mozzarella as well. Then we do a little bit of arugula on the outside. And the surprise is a little bit of tarragon. I find that tarragon has a little bit of licorice flavor and it brightens up a heavy meat dish. I know everyone's gonna go crazy over this one.
"And then, of course, the next one we have is the classic margherita that everybody thinks of. It's a tomato-sauce base with Pomodoro, and then Buffalo mozzarella. Buffalo is known for having a little bit of a sour tang to it. Just delicious. Then it's finished with fresh basil leaf and extra virgin olive oil afterward. Truly how the Italians eat it in Italy."
Centerplate's new menu items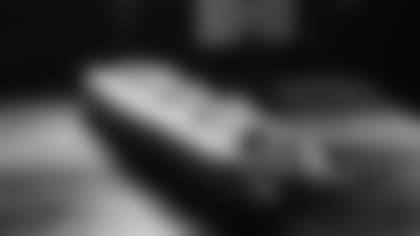 The Thunder Dog is a foot-long hot dog piled high with tender and smoky chopped brisket, triple hot cheese sauce, fried onions and a drizzling of sweet BBQ Sauce.
Chef DeJohn: "Hot dogs — that's probably our No. 1-selling item at stadiums. This is our three-to-one. It's called the Thunder Dog, after the horse. We topped it withour barbecue and hit it with triple-hot cheese sauce. It's unbelievable. It's not one of those dietary dishes. It's a sloppy, knife-and-fork type of dish. But you'll love it. That will be offered at 110 at our Legends Grill — the same as Chef Troy's items, as well."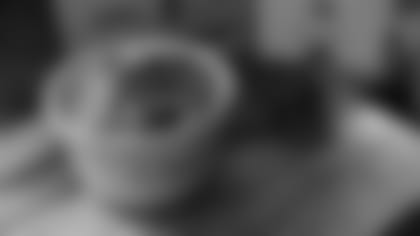 Green Chili Mac n' Cheese
A creamy bowl of white cheddar mac n' cheese, infused with spicy 505 Green Chile, topped with slow smoked pork shoulder, along with fried and green onions.
Chef DeJohn: "We've been trying to work on this one for the stadium for a long time. We've got it right. It's a white mac n' cheese, noodles, and we top it with barbecue. We smoke our own pork butts and all of our own briskets. That's got pork on it, but we'll have options in other locations. It will be served in our barbecue stands, for sure, as well and Legends."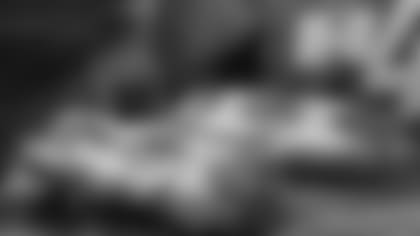 A slice of pizza meets a sandwich for a unique Mile High creation. Fans can choose delectable Italian meatballs or sausage, produced locally by Polidori Sausage, toasted on a hoagie bun, topped with marinara, pepperoni and sliced mozzarella cheese.
Chef DeJohn: "We were trying to figure out, because our pizzas do really well, so we were like, 'OK, what are we missing?' It's Italian. So this is sausage — Polidori Sausage, which is a great local sausage company — they're three-to-one Italian smothered with pizza sauce, with mozzarella and hand-cut pepperoni. Awesome. And one-ounce meatballs. So that will be offered in only one artisan stand at 127 — same with Chef Elise's pizzas."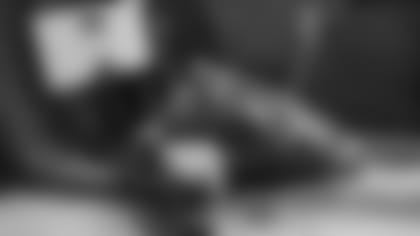 A twist on the classic sandwich — tender, steaming hot corned beef piled high on marble rye, with Thousand Island dressing and sauerkraut.
Chef DeJohn: "Everybody likes a reuben. It's one of those sandwiches that I think is iconic. We're doing our sandwiches a lot better this year. We're going to toast the buns. We're heating everything to order, so it's nice and fresh."
New Healthy Options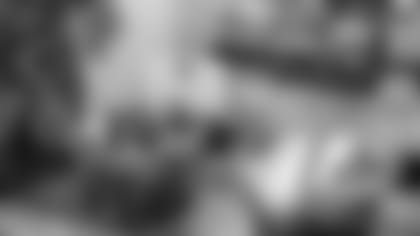 Superbowl Acai Energy Bowl
A vegetarian, non-GMO and organic bowl of superfood-based acai smoothie, topped with a full profile of dressings, fruits and nuts. Acai's jam-packed flavor and lasting energy make it the perfect solution for gameday. Fans can add peanut butter or almond butter for extra protein.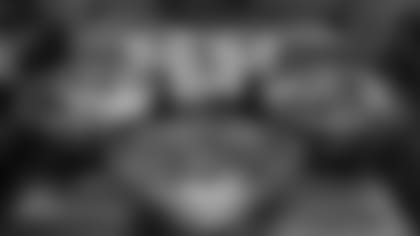 Gluten Free Vegetable Snack Trays
Carrots, celery and sugar snap peas, accompanied by hummus or ranch dip.
Guests will have the option of Italian Chopped or Garden Fresh (vegetarian).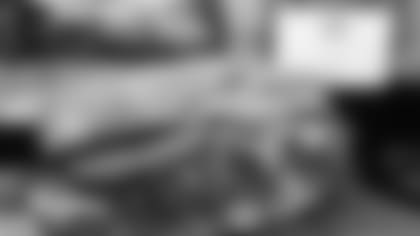 Gluten Free Turkey Hoagie
Tender-smoked turkey breast, cheddar cheese, lettuce tomato on a locally-produced gluten-free bun.
New/Returning Beverage Items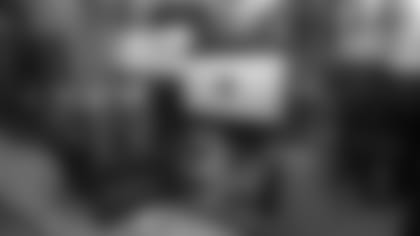 Broncos Stadium at Mile High is now serving 25-ounce Bud Light cans throughout the concourses.
United in Orange Pale Ale
Back again is the United In Orange Pale Ale. In collaboration with local favorite Breckenridge Brewery, the pale ale is brewed with orange juice, orange peel and is moderately hopped to provide balance to the sweetness. Fans can find it on tap on each level of the stadium and in the signature Breckenridge Brewery bar in the South Stands.
There is also the half-pound Blitz Burger, featuring locally-sourced beef from Colorado's Gold Canyon Ranch, American cheese and a freshly prepared house-made "United in Orange" Bacon Onion Jam created in collaboration with Breckenridge Brewery.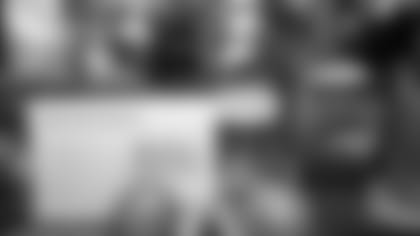 A new season means new flavors with this fresh and exciting take on a classic margarita. Featuring the sour-sweet bite of Mexican tamarind, this margarita is set to be your favorite offseason pick up.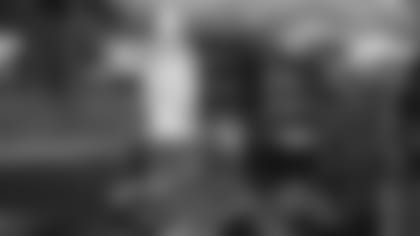 The basic mule has never looked better than it does in Broncos' blue. With blueberry puree and fresh basil, fans will never order a classic mule again.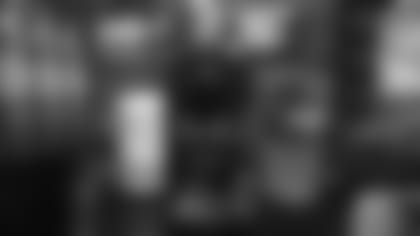 Featuring Breckenridge Bourbon, fresh sour mix, and a float of 10 Barrel's Raspberry Crush, the Colorado Sour is a whiskey sour unlike any folks have ever had.
Spiked Seltzer will now be offered throughout the stadium as a low-calorie, gluten-free option for fans.
New technology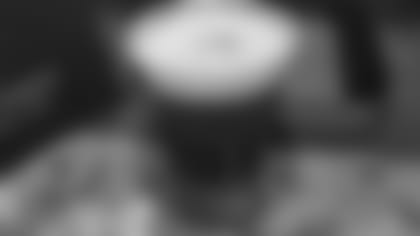 Ripple Technology Draught Beers
Using malt-based extract, this new technology "prints" images onto the beer foam of Bud Light draught beers in only 8 seconds. A variety of Broncos, Bud Light and football-themed images will be available. There will be two machines in the Bud Light Champions Club for all home games and large events.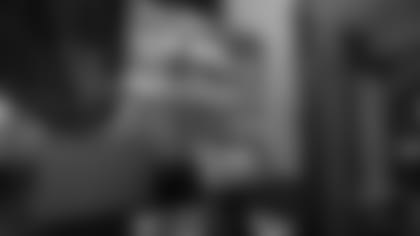 There are 55 new iPad terminals at portable locations throughout the stadium to add more convenience for card-carrying guests.
Available exclusively in the United Club Levels at Action Stations, Markets, BBQ and Club Grills, these kiosks feature Tapin2 Touch Screen Technology to enhance ordering efficiency
Beer vending enhancements
Many beer vendors this season will be carrying handheld ordering devices that allow them to accept credit cards
New partners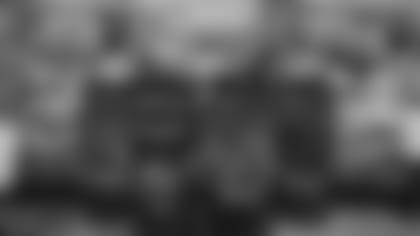 505 Southwestern has been named a proud partner of the Denver Broncos. The popular Denver-centric brand will offer Broncos-approved chips, dips and green chile to Broncos fans. Known for its flame-roasted green chile sourced from nearby Hatch Valley, 505 has now expanded into premium salsas, queso dip and stone-ground corn tortilla chips. Its Hint of Hatch tortilla chips are one of the first to use authentic Hatch Valley green chiles, which are also used in its salsas and many are non-GMO.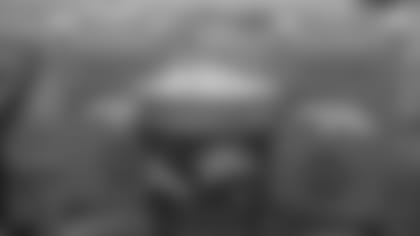 City Pop Gourmet Popcorn is now a proud partner of the Denver Broncos as well. The renowned Denver-based brand will offer savory and sweet fan favorites throughout Broncos Stadium at Mile High and will continue to have over 70 flavors in-store and online at its website.