DETROIT -- **The Detroit Lions are winless. In Week 1, they coughed up a 21-3 lead at San Diego. Seven days later, the Vikings gashed them for 199 yards on the ground -- including 134 from RB Adrian Peterson.
But just last year, the Lions were within one game of the NFC North crown -- and had the Green Bay Packers deadlocked at 14-14 in the regular-season finale at Lambeau Field before wilting in the chill.
"We know what we're facing -- their home opener, kind of a tough place to play, kind of a lot like what we faced a week ago [in Kansas City]," Head Coach Gary Kubiak said. "We'll have to play extremely well and protect the football. We understand the challenge."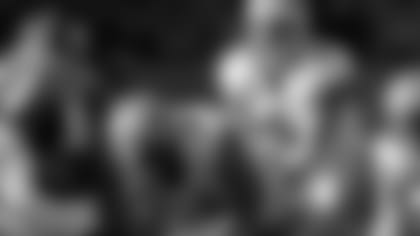 OFFENSE: THERE'S TREASURE EVERYWHERE
It's not just about Calvin Johnson, the Lions' perennial Pro Bowl wide receiver. The addition of Golden Tate via free agency last year opened up new dimensions for the Lions' attack. Although Tate doesn't have a touchdown so far this season, he is an effective, potent underneath threat.
Tight end Eric Ebron is off to a solid start (nine catches for 96 yards) and provides another option down the middle.
"I think it's still a very strong, balanced offense," said Broncos ILB Brandon Marshall. "I know they're having some struggles, I think, in the front. Other than that, they have great firepower -- a quarterback with a strong arm, great receivers, great tight ends, great backs and great skill position players."
QB Matthew Stafford is an effective pilot for the offense, although he has been under siege from opposing pass rushers this season and dealt with a rib injury this week.
"He's a tough quarterback. He's been that way his whole career and even if he is banged up he can sit back there and pick defenses apart," Ware said. "We have to be sort of cognizant of that and be able to get pressure on him.
"You have to get pressure on him and make him one-dimensional to make him pass the ball so we can get some pressure on him."
If the Lions are to have multiple dimensions to their offense, it will be up to rookie RB Ameer Abdullah to provide it. Abdullah has per-carry and per-catch averages of 4.5 and 10.6 yards, respectively.
" "He's very quick," Marshall said. "The guy is a special talent, and I think we've just got to contain him. Everybody has to be sound in their gap and we've got to tackle well because he's very quick."
Teryl Austin's defense already faced a bumpy transition into the season with the free-agent departures of Ndamukong Suh and Nick Fairley, which forced the Lions to start from scratch on the interior of their defensive line, which was dominant last year and a significant reason why the Lions ranked among the NFL's defensive leaders in multiple metrics.
The absence of OLB DeAndre Levy has exacerbated matters. He's doubtful for Sunday night because of a hip injury, robbing the Lions of a productive leader who was going to be relied upon as a foundational pillar more in the wake of Suh's departure.
Through two weeks, the Lions are giving up an average of 6.17 yards per play (27th) and one first down every 3.07 snaps (26th). Against the pass, the Lions are worse, allowing a first down once every 2.30 pass plays and 8.68 yards per pass play, which is 31st in both categories.
However, Kubiak cautions not to read too much into the Lions' recent defensive woes.
"I just think it's early in the season," he said. "They were the No. 2 defense in football last year. Somebody mentioned to me [Friday] morning and said, 'Yeah, but they don't have Suh anymore.' Well, they replaced him with one of the greatest inside players in the [league] in [DT Haloti] Ngata. They're a good defensive football team. They've played two tough road games against two good football teams. They're coming home.
"We've got our work cut out for us. They've been a really consistent group. They don't give up a lot of big plays."
SPECIAL TEAMS: EXPLOSION IMMINENT?**
Like more and more teams, the Lions are willing to use primary offensive weapons for return duty: Abdullah on kickoffs, Tate on punts.
Abdullah's blinding straight-line speed and ability to read holes makes possible his 31.5-yard average on six returns. Only Washington's Rashad Ross (36.2 yards) surpasses him.
Tate's dazzling quickness and ability to create missed tackles lends itself well to punt returns. After returning just 17 punts in his first three years with Seattle, he averaged 11.5 yards on 51 returns in 2013. He did not return any punts last year, but averaged 12.0 yards on his three returns the last two weeks.
"[Tate] is a game-breaker," Broncos Special Teams Coordinator Joe DeCamillis said. "We're going to have to do a great job on him. The young kid from Nebraska, Ameer Abdullah, he's broke some big ones ... It will be a real challenge again."