ENGLEWOOD, Colo. -- **It took some excruciating cuts for the Broncos to trim the roster to 53 players, and perhaps none was more painful than inside linebacker Steven Johnson.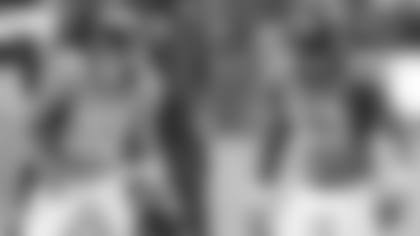 A starter during the second half of the 2014 season after Nate Irving tore his medial collateral ligament, Johnson was one of 20 players waived or released in advance of the 2 p.m. MDT deadline to get down to 53 players.
The suspensions of safety T.J. Ward (one game) and defensive end Derek Wolfe (four games) were the final transactions that got the Broncos to the league-mandated limit.
Johnson joined the Broncos as a college free agent in 2012 and immediately became one of their key special-teams contributors, notching a team-leading 27 tackles in that phase over the last three years.
With the decision to waive Johnson, 2014 fifth-round pick Lamin Barrow and undrafted rookie Zaire Anderson, the Broncos have just four inside linebackers on the 53-man roster, with just two backups -- Corey Nelson and Todd Davis -- behind Brandon Marshall and Danny Trevathan, both of whom are returning from offseason surgeries.
"We feel like they're healthy and ready to go," Elway said of his starting inside linebackers. "That was definitely a consideration, but we felt that they're healthy and as I said, ready to go."
Davis started for Marshall late last season and played extensively in the postseason loss to Indianapolis. Nelson saw some brief work on defense last year, but mostly distinguished himself on special teams before a strong training camp.
"He can run, and he's a guy that's up-and-coming as an inside linebacker," Elway said of Nelson, a seventh-round pick last year. "He's made huge strides over last year, but also is a guy that is very important on the special teams because of his athleticism and ability to run."
Johnson wasn't the longest-tenured Bronco to not make the roster Saturday. That was guard Ben Garland, who has been with the Broncos in some capacity (military leave, practice squad or primary roster) since the 2010 offseason.
"Ben's worked so hard making the transition from defensive line to offensive line," Executive Vice President/General Manager John Elway said. "He's the kind of guy you'd like to have your daughter marry, so any time you let go [of someone] like that, it's tough. He's worked so hard and really tried to make that transition. Unfortunately, there weren't enough spots, but Ben will be one of those guys that gets an opportunity."
The second-longest-tenured player let go was CB Tony Carter, who first joined the Broncos as a college free agent in 2009 and played two games, was waived a year later and returned late in the 2011 season, playing 43 total games in the three-plus seasons that followed. Carter missed most of training camp and the preseason because of a nagging groin injury.
"I don't think we let a guy go today that I don't think can play in this league," Head Coach Gary Kubiak said.
OTHER NOTES ON THE 53-MAN ROSTER:
... Don't call it the "final" 53-man roster. The Broncos have added and released players on the day after the deadline twice during the Elway era and four times in the last seven years overall. "It's fluid now, and it will be fluid throughout the season," Elway said, later adding, "We'll look at the wire and see waht's available."
... Two players who spent the entire 2014 regular season on injured reserve came back to make the 53-man roster in their second training camp as Broncos: WR Jordan Norwood and DE Kenny Anunike.
... Three of the 12 players signed by the Broncos to reserve/future contracts in December and January are on the 53-man roster: center Matt Paradis, WR Bennie Fowler and CB Curtis Marsh. Paradis and Fowler were signed to future contracts after finishing the 2014 season on the practice squad.
... Along with Paradis and Fowler, the Broncos kept three other players who spent at least one week on their practice squad last season: OLB Shaquil Barrett, S Josh Bush and K Brandon McManus. Elway said that Barrett "really took" to the offseason program, and "did a tremendous job on his body, changed his body and got a lot stronger."
... Six rookies made the 53-man roster: first-round pick Shane Ray, second-rounder Ty Sambrailo, fourth-round OL Max Garcia, fifth-round CB Lorenzo Doss, sixth-round NT Darius Kilgo and seventh-round QB Trevor Siemian. The last time the Broncos kept at least as many draft picks on their post-preseason 53-man roster was in 2012 (seven). The average for the Elway era is 6.0.
... Kubiak indicated Tuesday that the Broncos "could be a five-, six-, seven-receiver football team depending on how things play out over the weekend," and they went with six: Demaryius Thomas, Emmanuel Sanders, Cody Latimer, Norwood, Andre Caldwell and Bennie Fowler. Some or all of the latter three receivers could factor heavily into the special-teams units.
... Elway cited special-teams proficiency as a reason why Marsh snatched a spot. Marsh beat out Carter and rookie Taurean Nixon for one of six cornerback spots on the 53-man roster. "We thought he'd be that sixth [cornerback] that could help us on special teams," Elway said.
... The Broncos kept four running backs: starter C.J. Anderson and backups Ronnie Hillman, Montee Ball and Juwan Thompson. Kapri Bibbs was the only runner on the 75-man roster who did not stick on the initial 53-man squad.
"We still think that Montee can hopefully continue to improve," Elway said. "He was in the top 53 in our minds; that's why Montee's here. We still have high expectations for Montee."
... For the first time since 2003, the Broncos will not have at least one undrafted rookie on the 53-man roster at the deadline.
... Nine offensive linemen made the roster: starters Sambrailo, Evan Mathis, Paradis, Louis Vasquez and Ryan Harris and reserves Garcia, Gino Gradkowski, Michael Schofield and Shelley Smith.
... After waiving Dominique Jones and Marcel Jensen, the Broncos have only two pure tight ends on the roster: Owen Daniels and Virgil Green. The Broncos also kept TE/FB James Casey. Green is listed on the depth chart as Casey's backup at fullback.
... Denver kept three quarterbacks, including Siemian, who was the only one of the Broncos' three seventh-round selections to stick on the initial 53-man roster. This is the sixth consecutive season in which Kubiak has carried three quarterbacks on his first regular-season roster as an NFL head coach.
... Injuries did not keep Anunike and OLB Lerentee McCray from making the 53-man roster. McCray practiced one day this week after missing four weeks with a groin injury. The Broncos hope to have Anunike back at practice this week after he underwent an Aug. 20 knee scope that determined he had no further damage to his knee.
"Both of them are day-to-day, I would say," Kubiak said. "They've got a chance [to play against Baltimore. We need to keep going, but we're expecting them back pretty quickly."
Kubiak added that McCray was probably "a little bit ahead" of Anunike.
... On the initial depth chart issued after the cut to 53, Hillman moved from the third unit to the second team. Thompson is the No. 3 running back, Ball is on the fourth team.
... With Wolfe suspended, Antonio Smith is listed as one of the two starters at defensive end along with Malik Jackson.
... David Bruton Jr. moves up to the first team at strong safety in the wake of Ward's one-game suspension. Josh Bush is listed behind Bruton.
... Omar Bolden is listed as the first-teamer on punt and kickoff returns. Norwood is the No. 2 punt returner. WR Emmanuel Sanders will be in the mix, even though he is not listed on the depth chart.
"Emmanuel has been working with [Special Teams Coordinator] Joe [DeCamillis]," Kubiak said. "Even with the time missed [because of a hamstring injury], he;s still been able to go out there and continue to catch."
TERMINATED / VESTED VETERAN

POSITION
PLAYER
EXP.
COLLEGE
CB
Tony Carter
7
Florida State
NT
Sione Fua
5
Stanford

WAIVED

POSITION
PLAYER
EXP.
COLLEGE
ILB
Zaire Anderson
R
Nebraska
ILB
Lamin Barrow

2
LSU
RB
Kapri Bibbs
2
Colorado State
WR
Isaiah Burse
2
Fresno St.

C
Dillon Day
R
Mississippi St.
S
Josh Furman

R
Oklahoma St.
G
Ben Garland
2
Air Force
TE
Marcel Jensen
2
Fresno St.

ILB
Steven Johnson
4
Kansas
TE
Dominique Jones
4
Shepherd
WR
Corbin Louks

1
Nevada
DL
Chuka Ndulue
R
Oklahoma
CB
Taurean Nixon
R
Tulane
OLB
Gerald Rivers

2
Mississippi
OT
Kyle Roberts
R
Nevada
OT
Charles Sweeton

R
Tennessee-Martin
WR
Jordan Taylor
R
Rice
DE
Josh Watson

R
Clemson

RESERVE / SUSPENDED

POSITION
PLAYER
EXP.
COLLEGE
S
T.J. Ward
6
Oregon
DE
Derek Wolfe
4
Cincinnati