ENGLEWOOD, Colo. --Brandon Marshall spent over a year dealing with a foot injury and its aftermath. Now he is on the mend following surgery to repair his right index finger.
Marshall spent this week's practices mostly watching from the sideline and taking mental repetitions after undergoing the procedure, completed by Dr. Randy Viola of the Steadman Clinic in Vail. Viola will re-evaluate the injury next Tuesday, Marshall said.
"Right now I'm just rehabbing and focusing on getting my range of motion and my strength back," Marshall added. "So they're just holding me out so I don't do any more damage -- because I don't want to get another procedure on it."
The honorable mention All-Pro selection first felt finger discomfort when he forced Jamaal Charles to fumble in the final minute of the Broncos' Week 2 win at Kansas City last September. Bradley Roby recovered the loose football and returned it for the game-winning score that eventually proved decisive in the AFC West race.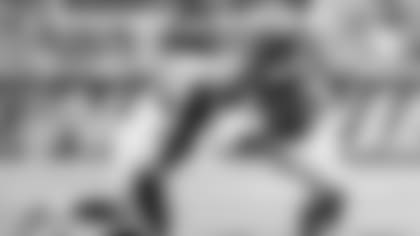 The injury did not affect his playing status, and the only snaps he missed last season were due to a late-season high-ankle sprain.
On the positive side, Marshall's foot has completely healed from the Lis franc injury he suffered in December 2014 and the subsequent placement of screws in his foot to aid in healing. Marshall played the 2015 season dealing with the pain from one of the screws being broken. He chose to bypass surgery to remove the screws during the season and play through the discomfort.
When he had the procedure to remove the screws in the offseason, doctors left a piece of one screw in his foot. Marshall said if it had been removed, it would have lengthened the time needed to recover from four weeks to three months; he would have had to remain on crutches while he healed.
But that piece has no impact on his comfort and ability to play on the foot, and it could remain in him the rest of his life.
"It doesn't bother me," Marshall. "It was the other part, the screw head, that really bothered me."