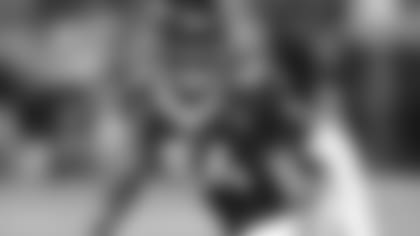 ENGLEWOOD, Colo. --Inside linebacker Brandon Marshall saw the worst side of humanity when he recently received a letter containing a fusillade of racist epithets and a threat of bodily harm.
Marshall reported the letter to the team's security department, and NFL Security is expected to be involved in the matter.
"It was extremely concerning," he said. "To me, it just lets me know that stuff still exists. That's the reason I put it out -- to expose what everybody thought was maybe put to bed, put to rest. But that stuff is still alive, and still exists."
It isn't the first time Marshall has received a letter tinged with vitriol and racism, but it is the first to include a physical threat, Marshall said. The letter said, "We are channeling a devastating hard hit for you!! Something to make you an invalid in a wheel chair [sic]," and included 11 racist pejoratives.
"And just so many racist, derogatory terms that were in it," Marshall said. "It was a bunch of crazy things that were in it. I'm like, 'Man, this is wild.' That kind of stood out to me -- that somebody would have that much hate or malice to me, or put that energy into writing something like that and sending it to me.
"It takes so much energy to hate. I just don't understand it."
The return address on the letter said it was from "Mrs. Jackson's 6th-grade class," but Marshall believes that was a cover.
"On the back it said, 'We love you, Mr. Marshall.' They wanted to make sure I got it," he said.
"At first it said, 'Great player,' so I had a smile on my face, and then it says, 'Not,'" Marshall added. "And I actually let Shane [Ray] read it after I read it, and he was taken aback by it as well."
"Disgusted," Ray interjected.
"Exactly, that's the word. Disgusting, disheartening, deplorable -- you can use a bunch of words for it," Marshall said.
But the exact opposite words could be used to describe the flood of supportive messages he received via Twitter and Instagram after he posted the images of the racist letter.
"I've heard good things like people saying, 'Just because I didn't agree with what you did, I still care about you as a human being. I still wouldn't wish any harm or malice towards you,'" Marshall said.