ENGLEWOOD, Colo. --Inside linebacker Brandon Marshall has been everything the Broncos hoped he would be in moving to his new role in the 3-4 defense. He's shed blockers, fought through traffic and pushed his way to the team lead in tackles with 24, including 12 total stops on Sunday.
But perhaps the best sign of all for Marshall's progress is that he played against Detroit with less pain than he endured in Weeks 1 and 2.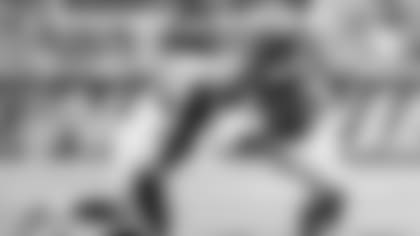 "The first two games, my foot was hurting pretty bad. Last game was a lot better," he said.
"I'm so thankful for it because I think as the season goes on, I think I'll just get better."
One of the two screws inserted in Marshall's foot during April surgery broke during the preseason. That should not cause him any structural problems; the screws had already done their job to provide stability during his recovery.
But in the two games immediately after the screw broke, he played through excruciating pain -- but played well, getting a sack in the Week 1 win over the Ravens and the forced fumble from Jamaal Charles that led to the game-winning Bradley Roby fumble return in Week 2.
"In the first two games, it was hurting during the game," Marshall said. Last game, I didn't really feel it. I just want to keep that up. Hopefully, I'll be good (in) a couple of weeks."