ENGLEWOOD, Colo. --The truest impact of a person is in what he or she leaves behind.
So Peyton Manning's effect on the Broncos cannot yet be measured. Sure, there were two Super Bowl appearances, one world title and 55 wins that the Broncos racked up in the four years in which he was their quarterback.
But Manning's impact on the locker room lingers in his teammates -- not just on the offensive side, but on defense.
You need look no further than the core of the Broncos' defensive alignment and its ensuing mayhem -- linebacker Brandon Marshall for that.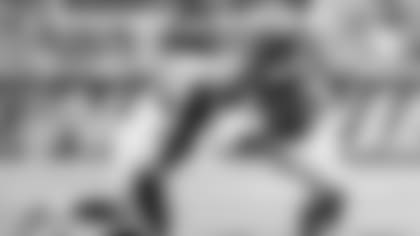 "Him talking to me and encouraging me and kind of helping me in my process, him helping the young guys [and] him just being here -- I think it definitely lives on, on and off the football field," Marshall said.
"Those guys come around once in a lifetime, or once every 100 years probably," he continued. "Peyton. Ray Lewis. So that's going to be instilled in the organization. That's going to be instilled in the culture. Peyton, he was here four years, and he instilled something in this culture that will be there for a while."
Marshall knows the defense will need to meet that standard of driving oneself from within that Manning demonstrated, because their daily work looks so different.
Every day during OTAs and training camp from 2012 through last year, Manning challenged the defense -- and toughened it in the process. In three of Manning's four seasons with the Broncos, the defense ranked in the league's top three in total yardage allowed; only a 2013 campaign shredded by injuries to Champ Bailey, Von Miller, Derek Wolfe and Chris Harris Jr. in the playoffs stood as an exception.
Now Marshall and the defense must work toward again being the league's best without perhaps the most cerebral quarterback ever to play the game exposing every mistake they make.
"Just being on the sideline looking, I'm like, 'Man, it's different,'" Marshall said. "We've got [Mark] Sanchez, Paxton [Lynch} and Trevor [Siemian], but it's just different without 18.
"I'm not going to lie, it was a sense of comfort when you had 18 under center. Everybody was at ease. Last year, he didn't have his best year, but regardless, you still went into the game each and every snap comfortable because we had Peyton Manning under center.
"Yeah, he threw all of those interceptions, but regardless, I think everybody still believed in him. We all did. He came out and played lights out against New England. It was just a sense of comfort that, 'OK, we've got Peyton; we're good.' Not to be relaxed, but, 'We've got 18 under center.'"
Now they don't, of course. No matter who starts in Week 1, the Broncos will have a quarterback still adjusting to the offense and still perfecting his timing with their receiving corps. So, once again, a heavy burden will fall on the defense.
And perhaps no one on the unit will carry an increased weight like Marshall will.
In his fourth season on the Broncos, Marshall has gradually grown into the quarterback of the defense. In moving to Danny Trevathan's vacated spot as the weak-side inside linebacker -- also known as the 'mo linebacker," he expects to see a little less traffic -- and a lot more opportunity to make the kind of plays he's racked up since Trevathan's injuries forced him into the lineup two years ago.
"I like it, man. You're more protected," Marshall said of the position shift. "You've kind of got free range a little bit, so I like that. It's kind of what I played my first year starting at the 'will.'"
Marshall was ready for extensive work in 2014 mostly because he studied feverishly, allowing his athleticism to do the rest. But Manning had an impact on getting him ready for that role, as well.
Manning is a perfectionist. The defense he counseled and challenged is, too -- which generated results last week, punctuated by its three-interception day to close the week last Thursday.
"[Aqib] Talib and some other guys were getting interceptions, and I'm like, "Okay, we're going to be just like it was last year,' and once we get those edge rushers back, it's going to be hell -- again," Marshall said.
"It's tough on us because our defense is demanding. We play so much man coverage. It's demanding, but everyone rises to the occasion."
The defense will have to rise a bit more -- but Marshall thinks it has the talent and attitude to do it.
From 2012-14, the offense drove the Broncos to their success. Now, Chris Harris Jr. and Derek Wolfe are signed to long-term contracts. Marshall and Von Miller are potentially next in line, with a host of other young players developing. Aqib Talib, DeMarcus Ware, T.J. Ward and Darian Stewart have been outstanding free-agent signings.
This era could belong to the Broncos' defense. Could 2015 is just the beginning of a multi-year run of dominance on that side of the football -- in which the defense assumes a dominant place like the the Manning-led offense had?
"Absolutely," Marshall said. "And if you look at the guys [who got big contracts], nobody got their money and relaxed.
"They still want to be great. They got their money, and they still said, 'I've got something to prove.' Wolfe still has something to prove. Chris still has something to prove."
And that may be Manning's lasting gift: the attitude that permeates the team. When Manning arrived in Denver in 2012, he was already set for life and had a Super Bowl ring on his finger. If he had retired at that point, the Pro Football Hall of Fame induction was a lock.
But Manning kept plowing forward. He had his big contract; he then spent four years earning it and in the process delivering perhaps the best football of his career.
Marshall expects -- and has seen -- a similar mindset with others in Denver.
"They paid high-quality individuals as far as their work ethic and mindset, because sometimes you might pay a guy and he's like, 'OK, cool. I'm set.' D-Ware made a lot of money in his career, too.
"But guys hold each other accountable, and we've got the perfect culture to be great for a long time."
That culture and Manning's role in helping create it is the most important aspect, and his lasting gift to the Broncos' locker room.